Australian developer plans $800 million extreme sports park near Town Square
January 21, 2017 - 7:19 am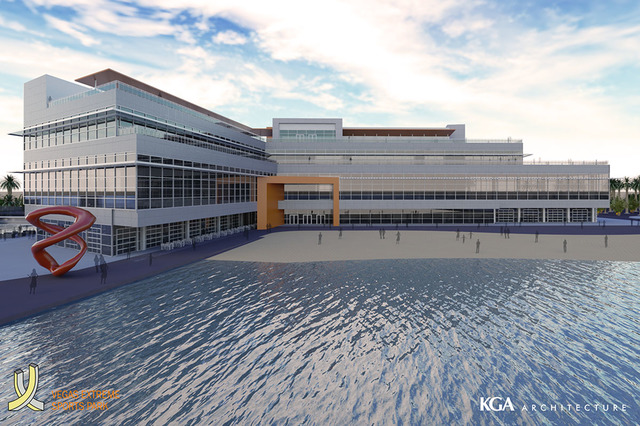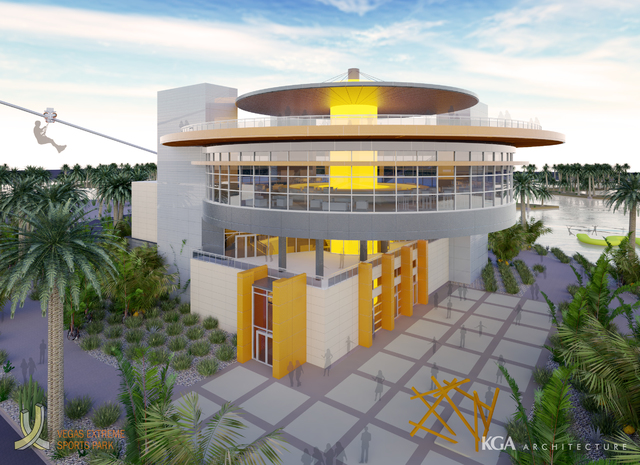 Josh Kearney has the plans, the site lined up and, he says, the money. And after upping his vision for an extreme sports park in Las Vegas, he wants to start building.
Kearney, a 37-year-old Australian who says he lives here and in Los Angeles, has filed plans with Clark County for a dirt biking/surfing/wakeboarding/rock climbing/hotel project south of the Strip. It will be called The Edge, he says.
He's looking to start construction in April or May, he told me this week, and to finish within 2½ years of the groundbreaking. The total price tag, he said, is probably $800 million.
Needless to say, it's a massive project.
Plans filed with the county show a 130-acre project at the southeast corner of Las Vegas Boulevard and Sunset Road, across the street from the Town Square retail hub in one direction and McCarran International Airport runways in the other.
It would include off-road dirt biking areas, wakeboarding lakes, surfing lakes, an indoor mountain-biking track, indoor skydiving, rock climbing, bungee jumping, zip lines and a 15-story, 640-room hotel with a casino, convention space, restaurants and two rooftop swimming pools.
The lakes and pools would need an estimated 65.8 million gallons of water, according to the planning documents.
All told, Kearney said: "No one's done a park like this."
Las Vegas is filled with super-sized real estate projects, and if Kearney pulls it off, his will pump some sports-oriented excitement into the valley's tourist scene, the bedrock of the local economy.
But, in a town with a lengthy history of investors pitching huge projects and never building them, plans like Kearney's sound all too familiar. Will his be another addition to Las Vegas' ever-growing list of projects-that-never-were?
Asked what he would tell skeptics or critics who think his project will never get built, Kearney said he's fully devoted to opening it.
He's filed stacks of architectural and other plans with the county, and Kearney said he's spent a "substantial amount of money" on the project, though he did not say how much. He also said he doesn't need financing.
"My every passion, every intention is to build this thing," he said.
Kearney said he's an engineer who has developed projects in Australia, and that he comes from a family of developers. He also has pitched a sports park here before.
He unveiled plans in 2013 for a 40-acre park called Vegas Extreme, which, according to a news report at the time, would cost $50 million and feature wakeboarding, motocross, zip lines, surfing and other activities.
According to the report, he needed financing and a place to build the attraction.
In February 2016, his group announced that Vegas Extreme Park, as it was called, had found a home "on the Las Vegas Strip." The 90-acre project would include two wakeboarding lakes, electric dirt bikes, surf ponds, rock climbing, indoor skydiving and beach cabanas, the announcement said.
He previously planned to lease the project site but now intends to buy it, he said.
"It's just evolved into a much bigger creature than it was originally," Kearney said this week.
Still, his theme park isn't the only one on the drawing board these days.
Genghis Cohen, owner of shooting range Machine Guns Vegas, says he aims to break ground by September on XPark Las Vegas in Sloan.
Plans for the project a few miles south of the M Resort have called for an ATV and dirt-bike obstacle course, a 180-foot bungee tower, a speedboat area with man-made channels and a shooting range.
Cohen said in September that the park would cost $25 million to $30 million.
He told me this week that project elements would be built and assembled off-site and that he hopes to open XPark by the end of this year, "God and county willing."
Will Las Vegas have two new places for high-octane excitement? Time will tell, but one thing's for sure: It's never boring to see what people are cooking up, even if the meals are never served.
Contact Eli Segall at 702-383-0342 or esegall@reviewjournal.com. Follow @eli_segall on Twitter.