Casino companies see opportunities in Laughlin with retirees
Updated October 20, 2018 - 7:27 am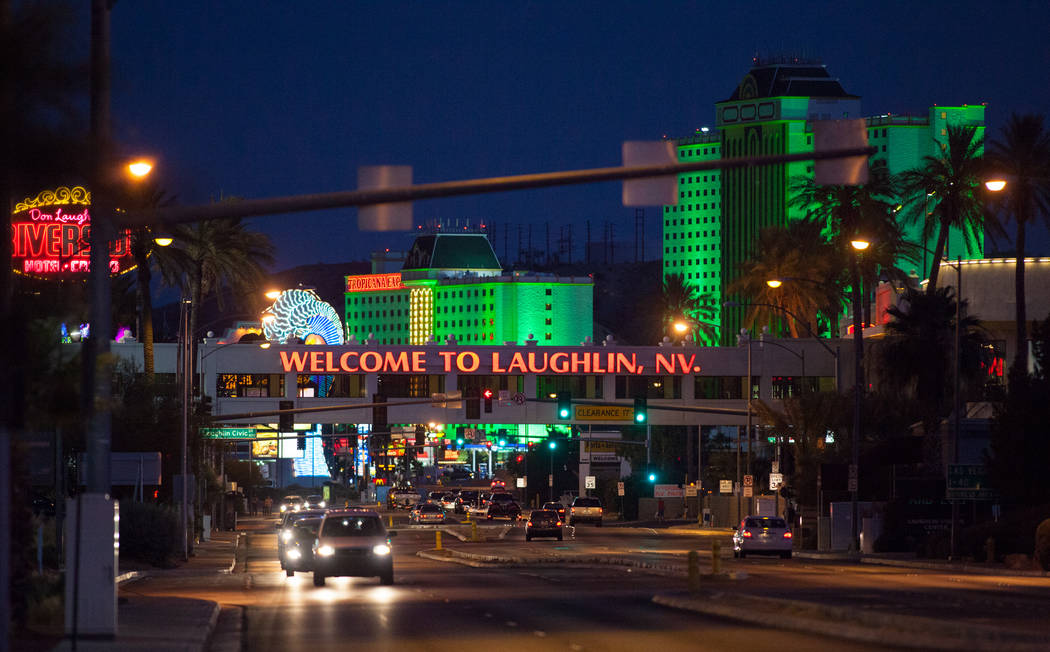 Laughlin isn't exactly known as a wild tourist town.
With a string of casinos along the Colorado River some 100 miles southeast of Las Vegas, it's popular with retirees who drive in and offers low-priced rooms, buffets and plenty of sunshine and open desert.
"No nightlife club crowd, clearly," Clark County Commissioner Steve Sisolak, whose district includes Laughlin, told me in 2014.
But compared with Las Vegas, Laughlin's visitors are more likely to gamble and spend more time and money trying to win big. And casino owners have noticed.
Laughlin has seen a burst of hotel sales in the past year or so, thanks primarily to PT's Pub owner Golden Entertainment. Led by Chairman and CEO Blake Sartini, Las Vegas-based Golden acquired the Aquarius in 2017 as part of its $850 million purchase of the Stratosphere and two other hotels, and announced this summer that it was buying the Edgewater and the Colorado Belle for as much as $190 million. That deal is expected to close in the first quarter next year.
Reno-based Eldorado Resorts also announced this spring that it was acquiring billionaire Carl Icahn's Tropicana Entertainment, whose casinos included the Tropicana Laughlin. The $1.85 billion deal recently closed.
Overall, as Jefferies analyst David Katz wrote in a research note this summer, Laughlin is "stable" and "undervalued."
Laughlin's tourism market is a fraction of Las Vegas', but its visitor totals aren't dipping as much as Las Vegas' this year, and its gambling revenue is rising faster than the Strip's.
Packed with megaresorts, Las Vegas offers God-knows-how-many more shows, restaurants, shopping and other activities than its smaller rival. This year through August, some 28.2 million people visited Las Vegas, and the Strip generated about $4.3 billion in gambling revenue. By comparison, 1.3 million people visited Laughlin during that time, and the town generated $349 million in gambling revenue, according to Las Vegas Convention and Visitors Authority data.
Still, Las Vegas' visitor volume through August was down 1.1 percent from the same period last year, compared with a 0.5 percent dip in Laughlin, and the Strip's gambling revenue was up 0.9 percent, versus a 2.5 percent bump in Laughlin, LVCVA data show.
Laughlin relies more heavily on seniors to fill its rooms — 58 percent of its visitors last year were retirees, versus 17 percent in Las Vegas — but more of its tourists come to strike it rich.
Some 98 percent of Laughlin visitors last year gambled while there, compared with 74 percent in Las Vegas. Among those who hit the casino floors in Laughlin, the average gambling budget for their trip was almost $635, and they spent an average of 5.1 hours a day at it, compared with a $541 gambling budget in Las Vegas and an average of 1.6 hours per day on the floor, according to the LVCVA.
Of course, Laughlin is by no means a sure bet for casino owners. Laughlin-Bullhead International Airport only has charter flights, albeit from more than 100 cities, according to its website, and with the vast majority of visitors driving in, rising gas prices can dampen guest volume in the remote tourist town.
The Laughlin Event Center gets big-name performers, and the town has outdoor recreation, but overall, Laughlin seems light on activities outside the casinos, especially compared with Las Vegas.
Laughlin isn't for everyone, but with tourists dropping cash at the tables and slots, some new investors are getting in on the action – even if it's a bit sleepy.
Contact Eli Segall at esegall@reviewjournal.com or 702-383-0342. Follow @eli_segall on Twitter.