Faraday Future may need to hold onto Apex property — for now
Updated July 14, 2017 - 4:43 pm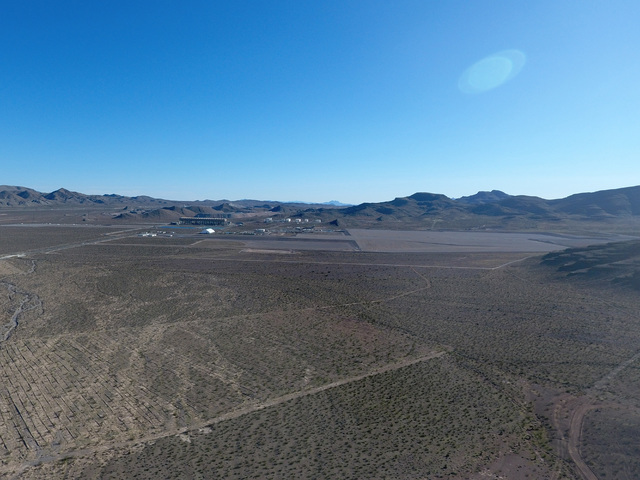 Faraday Future may have bailed on building its car plant in Apex Industrial Park, but the electric-car startup isn't washing its hands of the site.
It can't. The Chinese-backed company still owns 930 acres of land in Apex, having bought the spread last year for around $29.4 million, Clark County records show.
It's unclear what, if anything, Faraday will do with the property. But even if it wanted to sell it, finding a buyer could be tough.
Land sales haven't exactly skyrocketed in Apex since Faraday's much-hyped auto factory was unveiled, property records indicate, and developers have largely steered clear of the park amid a shortage of utility grids.
For now, industrial builders can still find at least a few dozen "good" project sites – each spanning 10 acres or more – in other areas of North Las Vegas, said Colliers International broker Dan Doherty, an industrial-property specialist.
Doherty figures the savings in Apex — land there sells relatively cheap — don't justify the costs needed "to make it buildable." Plus, business owners would have to find employees willing to commute to the industrial park some 25 miles northeast of the Strip.
"Do you know of any benefit to be in Apex?" he said.
Still, Doherty says Apex will be "a viable alternative one day" as development sites elsewhere run low. He also think it's better that Faraday hold on to its land, because "there's no buyer for it and there could be in the future."
Faraday had planned to build a 3.4 million-square-foot factory in Apex that would produce up to 150,000 electric vehicles annually, state records show. It broke ground on the plant last year, but construction had stalled amid reports of financial troubles.
Asked if Faraday plans to sell its land or do something else with it, spokesman Mike Cooperman sent me a statement Friday that largely repeated what Faraday said on Monday, when it announced it was looking for an existing industrial facility and had "put a hold" on the Apex project.
Faraday did not say how long exactly the "hold" would last.
"As the land owner, we remain committed to the buildout of the Apex site for long-term vehicle manufacturing and firmly believe North Las Vegas is an ideal place for us to be," the company said.
Faraday's plans sparked hopes of a growth spurt in Apex and broader economic impact. Politicians were especially gung-ho.
The Nevada Legislature convened a special session in December 2015 and approved a $335 million incentive package for Faraday, even though its ownership was largely shrouded in secrecy, it didn't have a publicly identified CEO and it hadn't started selling cars.
(A few weeks after the session, it unveiled a concept vehicle at the CES tech conference in Las Vegas – a single-seat, 1,000-horsepower Batmobile-looking car.)
Shortly before the special session, when Faraday announced it would build its $1 billion plant in Apex, Gov. Brian Sandoval said the auto factory was "another meaningful step toward the creation of a New Nevada based on innovation, technology and entrepreneurship."
Assemblyman Paul Anderson said the announcement was "further proof that Nevada is emerging as a leader in our changing global economy."
Reports of Faraday's troubled finances eventually started piling up, but North Las Vegas Mayor John Lee brushed the stories aside.
As quoted in a Las Vegas Sun story in January, he said: "I'm not the least bit concerned. I can tell you right now: This will be built."
Contact Eli Segall at esegall@reviewjournal.com or 702-383-0342. Follow @eli_segall on Twitter.