Las Vegas house flippers again show handsome profits, report shows
House flipping has been a favorite pastime in Las Vegas for years.
And lately, the get-rich-quick tactic has reached its most lucrative level since the bubbly days of old.
Las Vegas house flippers booked an average gross profit of $51,500 per deal in the first quarter. That's up 29 percent from the same period last year and the biggest haul since at least early 2005, according to Attom Data Solutions, which defines a flip as selling a home within a year of buying it.
Southern Nevada is one of the most popular places in America to flip houses, helped in no small part by reality TV shows and Las Vegas' fast-cash image. Profits have been steadily rising since the recession but jumped to higher-than-usual levels recently amid a shrinking inventory of listings and heated competition for lower-priced homes.
Las Vegas is a seller's market right now — and that, it seems, is only helping flippers who want to unload properties.
Flipping was a hallmark of the boom years last decade: Almost anyone could get a mortgage, home values were skyrocketing and it was all too easy to sell for a quick profit. And few places got as crazed with the tactic as America's gambling mecca, where flips comprised more than 19 percent of home sales by late 2004, according to Attom.
Flippers took heavy losses when the market crashed, and the tactic tapered off for a while. But with a glut of cheap homes up for grabs during the recession, it eventually surged again. Investors crowded foreclosure auctions, buying properties not only to turn into rentals but also to sell.
Last decade, flippers helped inflate property values until they burst. This time around, let's hope the tight housing market doesn't grow so much — and so fast — that our expanding waistline breaks its belt again.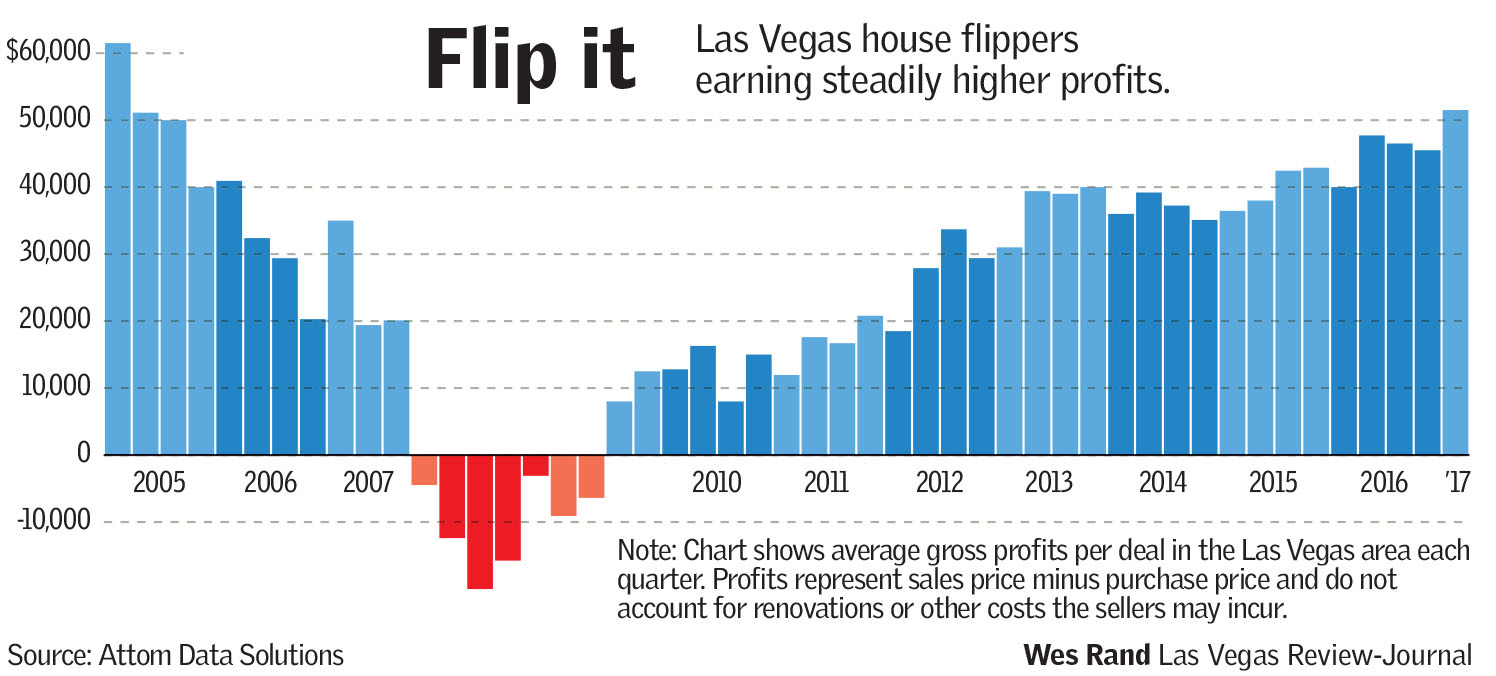 New exec at GLVAR
The Greater Las Vegas Association of Realtors has a new operations boss.
The real estate trade group, which boasts nearly 13,000 members and 30-plus employees, announced Tuesday that it hired Lance Ferguson as chief operating officer.
He fills the vacancy left by Wendy DiVecchio, who was promoted to chief executive on Jan. 1.
Ferguson has lived in Las Vegas for 19 years and, before joining the association, was facility director of dental-implant manufacturer Implant Direct, according to the announcement.
They're everywhere
The Siegel Group, owner of the ever-growing Siegel Suites chain of low-priced apartments, has picked up another property.
The company announced Thursday that it bought the 168-unit Paradise Park Apartments, 446 E. Twain Ave., for $8.2 million.
It already has a rental complex next door at 454 E. Twain, across the street at 455 E. Twain and a few blocks away at 955 E. Twain.
Feeling the squeeze
With prices rising and inventory dropping, are homes still affordable in Las Vegas?
According to a report Friday by listing service Zillow, the typical home for sale in the Las Vegas area would require buyers to spend 22.8 percent of their income on mortgage payments.
That's above the national rate of 20 percent but below such metro areas as Denver (27.3 percent), Miami (30.1 percent) and Los Angeles (46.8 percent), Zillow reported, comparing median list prices to median incomes.
Looking for more-affordable options? Try Chicago (18.5 percent), Detroit (14.2 percent) or Cleveland (12.7 percent).
Before you make fun of the Midwest, just remember, yours truly was born there, in the great, freezing state of Michigan.
Contact Eli Segall at esegall@reviewjournal.com or 702-383-0342. Follow @eli_segall on Twitter.