Las Vegas housing still weaker than many cities, but more signs positive
January 28, 2017 - 7:47 am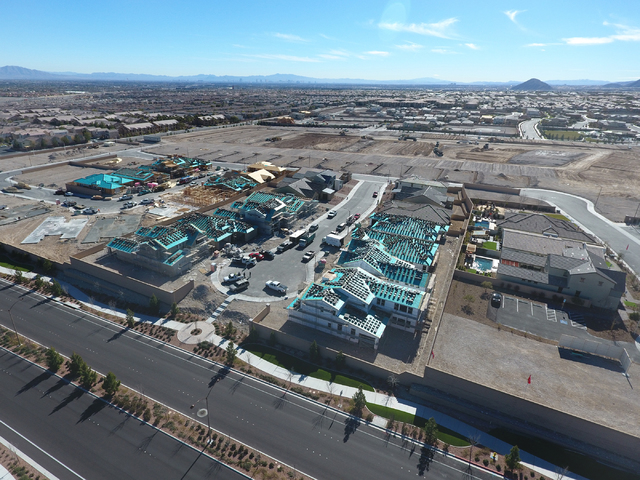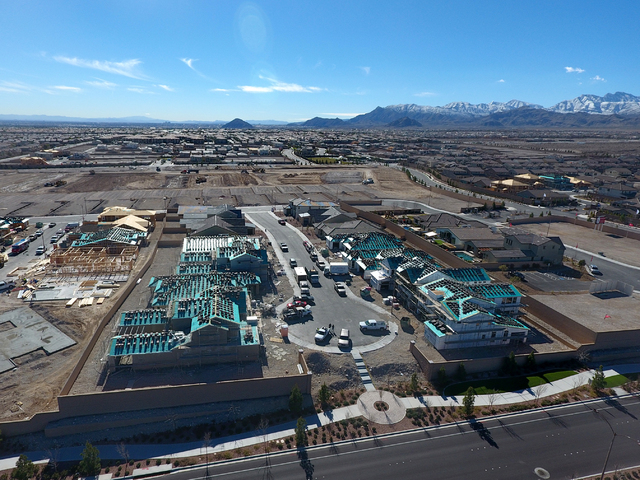 Rising sales, higher prices, more construction and fewer foreclosures.
All in all, Las Vegas' housing market had a busy year in 2016. It was still weaker than many other cities in some regards, but business picked up, and problems that linger from the recession kept easing.
With year-end numbers still rolling in, here's a look at how the market fared.
CONSTRUCTION
Las Vegas homebuilders booked the most sales in years in 2016 and notched prices that flirted with the peaks.
But before you worry about another wild housing boom — the kind that, last time around, was quickly followed by a crashing economy — just remember that construction is still a fraction of what it once was.
Builders closed almost 8,000 new-home sales in Clark County last year, up 17 percent from 2015 and more than double the low point of about 3,900 in 2011, according to Home Builders Research.
The median sales price of December's closings was $337,060, up 8 percent from a year earlier and just shy of the record $338,560 reached in summer 2007.
Last year was the highest sales tally since 2008, according to Home Builders Research but was still far below the levels of prior years.
Builders sold 17,900 new homes in 1995 and a peak of almost 39,000 in 2005, during the bubble, before the recession wiped out the market.
RESALES
Despite the uptick in construction, the housing market here is dominated by resales, and last year this segment posted higher sales totals and prices and a shrinking inventory of listings.
Buyers picked up 41,720 previously owned houses, condos and townhomes in Southern Nevada last year, up 8 percent from 2015, according to the Greater Las Vegas Association of Realtors.
Among single-family homes — the biggest chunk of the market — the median sales price in December was $235,000, up 8 percent from a year earlier.
Unlike new homes, resale prices are still far below their peak: The median for single-family homes topped out at $315,000 in mid-2006.
Meanwhile, around 10,200 single-family homes were listed for sale by the end of 2016, down almost 14 percent from a year earlier, according to the GLVAR.
As always in housing, keep an eye on interest rates this year: Higher rates boost borrowing costs, potentially scaring off prospective buyers, and rates rose sharply around the country after Donald Trump won the presidential election in November.
Las Vegas was ground zero for the U.S. housing crash last decade, and the market here still has plenty of weak spots. As Home Builders Research founder Dennis Smith said recently, mortgage rates need to "stay as low as possible for as long as possible" for Las Vegas to continue its "upward climb from the depths of the Great Recession."
DISTRESSED HOUSING
After the bubble burst, it seemed almost every homeowner with a mortgage in Southern Nevada was underwater, and lenders were seizing properties all over town.
Those problems have eased considerably in recent years, including in 2016, but they're by no means a thing of the past.
Lenders repossessed 4,000 homes in the Las Vegas area last year, down 18 percent from 2015 and 89 percent from 2009, when repos peaked at 35,000, according to housing tracker Attom Data Solutions.
Still, Las Vegas had the 15th-highest foreclosure rate in the country last year among 200-plus metro areas listed, reports Attom, as 1.2 percent of local homes were hit with a foreclosure-related filing.
Also, just under 17 percent of local homeowners with mortgages were underwater — meaning their debt outweighed their home's value — in the third quarter last year.
That's far below a peak of 71 percent in early 2012 but still second-highest among large metro areas, according to home-listing service Zillow.
Las Vegas' housing market has come a long way since hitting bottom five or six years ago, and the recovery is sure to keep dragging on for some time.
But look on the bright side: At least repo crews aren't banging on doors throughout the neighborhood anymore.
Contact Eli Segall at 702-383-0342 or esegall@reviewjournal.com. On Twitter at @eli_segall.