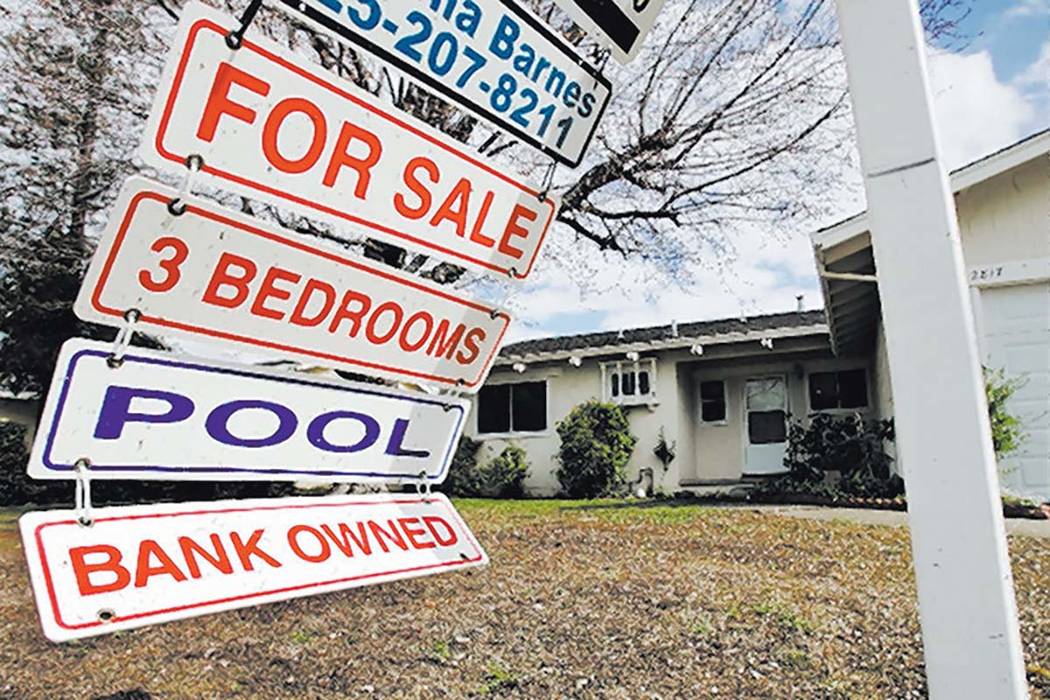 Banks are slamming the brakes on foreclosures in Las Vegas, and at first glance, the numbers are encouraging, even amazing.
Some 30 homes a month were hit with default notices in both August and July, compared to a monthly average of around 380 in the six months prior.
At the same time, creditors scheduled upcoming auctions for around 75 homes in July and 85 in August. Before that, they were scheduling an average of 235 auctions a month this year, according to housing tracker Attom Data Solutions.
Does all of this mean that Southern Nevada — the epicenter of America's foreclosure crisis after the economy crashed — has (finally!) shed its repo woes? That the blue-taped foreclosure notices are, once and for all, disappearing from neighbors' doors and windows?
My advice: Don't get too excited.
The plummeting repo activity came after a new foreclosure law, Senate Bill 490, kicked in. Approved by the state Legislature this past session, the law took effect June 12 and made permanent the state's Foreclosure Mediation Program, which had been scheduled to expire.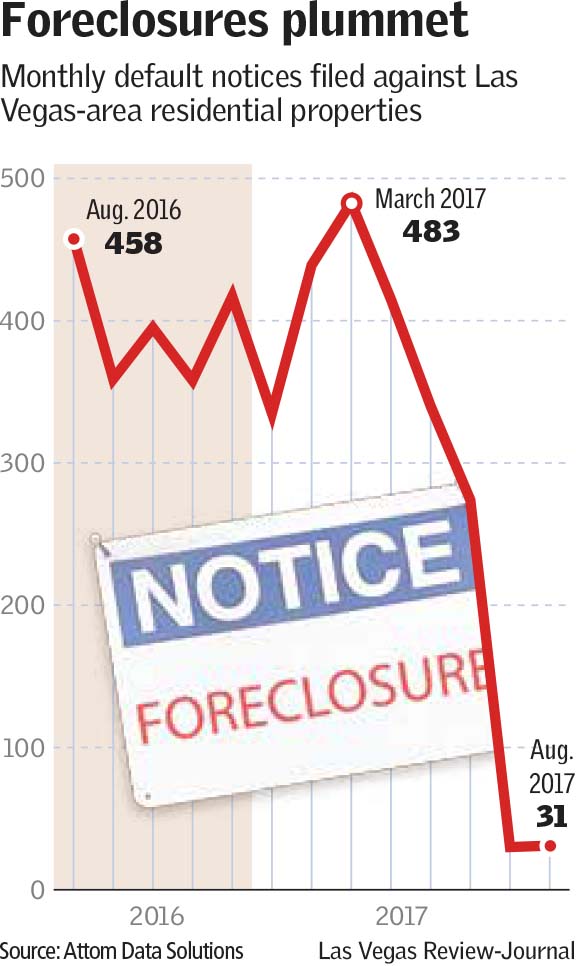 The Nevada Supreme Court had been required to administer the program, but under the law, that oversight fell to Home Means Nevada Inc., a state-launched nonprofit.
Jon Gedde, chairman of the Nevada Mortgage Lenders Association, said the recent plunge in foreclosure activity is "100 percent" a result of the new law.
He figures foreclosure filings will eventually "get back to a normal pace," and that lenders will move through the backlog that recently built up as they waited for the program's new administration to take shape. But he's still not sure what the foreclosure-mediation process will look like.
Phyllis Gurgevich, president and CEO of the Nevada Bankers Association, said relevant forms and notices "simply weren't available" for a time, and the group administering the program "wasn't operational."
But she also said the legislation did not allow "any time for implementation," as it took effect the same day Gov. Brian Sandoval signed it.
When Sandoval approved the measure, Home Means Nevada "did not have an office, did not have a staff. There was nothing," board president Perry Faigin said.
The group had been formed to help distressed homeowners, but after that program ended, Home Means Nevada effectively shut down early this year. The Legislature revived it to oversee the mediation program, Faigin said.
The group received its initial funding of $300,000 in late August, found office space and hired an operations manager, Michelle Crumby. Her first day was Sept. 11.
Faigin says the group "had to start from scratch." It's moving quickly, he said, "but I'm sure not fast enough for some."
For now, delinquent borrowers are getting some breathing room, although it's not the first time banks pulled back after a new foreclosure law took effect in Nevada.
The Nevada Legislature in 2011 enacted the "robosigning" law, which required banks, under threat of felony charges, to provide more paperwork before seizing homes.
In October 2011, the month it took effect, about 800 default notices were filed against local homes — compared to a monthly average of some 3,300 in the nine months prior, Attom's numbers show.
Lawmakers in 2013 passed a measure that relaxed the robosigning law, making it easier for banks to repossess homes. But lenders still pulled back when the law kicked in.
In the first five months of 2013, lenders slapped an average of some 1,650 default notices a month against Las Vegas-area homes, according to Attom. That June, the month the new law took effect, the tally dropped to just 320.
Contact Eli Segall at esegall@reviewjournal.com or 702-383-0342. Follow @eli_segall on Twitter.