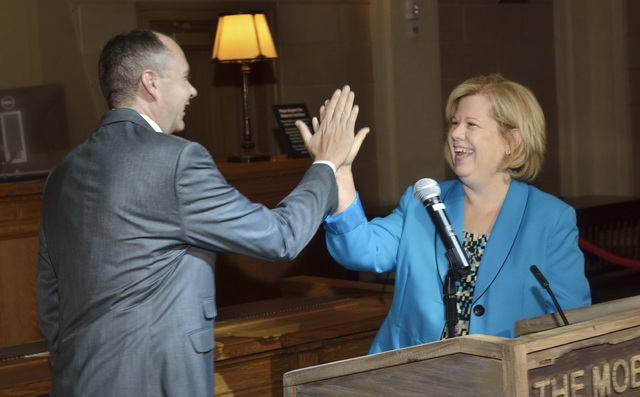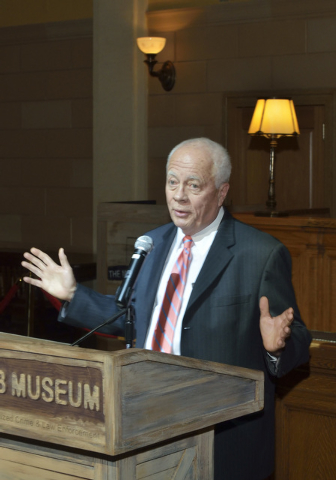 Business Press Founder Alisa Cromer will always remember the first issue she published 30 years ago.
"It had a typo on the cover; I'll never forget it," she said. "We printed 10,000 copies so that was a little painful."
In 1983, Cromer, a Washington, D.C., native, accepted a position as a night cops reporter for the Las Vegas Review-Journal. The following year, she felt that the business community needed more of a voice.
"As I saw the business community growing, there was an appetite for a business journal," she said. "I started a phone survey where I looked up categories of businesses in the Yellow Pages and called each business to ask if they would advertise in our business journal and a majority said they would as long it was around for at least a year."
The Business Press immediately began selling whatever advertising it could to keep the magazine afloat.
"We had some advertising, but it was very lean," she said. "There were two of us to start; I hired an editor right away and then a salesperson and fairly quickly
our staff grew. For the most part we were all young and starting out, but I also brought in people who were older and wiser with more experience. It was a big adventure and a lot of fun."
Cromer said the Business Press covered stories about small businesses, real estate, gaming and those who provided services to the business community.
"Everyone was starting something and all you needed was a business plan, you didn't need an MBA. You could start a real estate company because the population was growing so rapidly that almost anything worked," she said. "When you move to Las Vegas if you were going to fail, you'd fail rapidly and if you were going to succeed, you'd succeed rapidly. It was one of the few places in the country that had this dynamic because you were surrounded by temptations and no one would be there to stop you."
A NEW ECONOMY IS BORN
According to Tom Skancke, CEO and president of the Las Vegas Global Economic Alliance, America was beginning to see the power of a new tech economy 30 years ago.
"Fax machines and cellphones were just being talked about and the thought of being able to send a correspondence via a cable was unheard of," he said. "In Las Vegas, casinos had not yet proliferated in other states as they do today, and other global political, economic and technological innovations had yet to transform the economy to what it looks like today, so you're just talking about a Las Vegas Valley that looks very foreign to the 21st century Southern Nevada economic landscape we see today."
During the past 30 years, Las Vegas has seen gaming and tourism economies grow, as well as breaking records for visitor volume and revenue from gaming, Skancke said.
"Throughout that time, as we've reached new milestones and celebrated new business openings, we've maintained our perch atop the world's busiest convention destinations and Las Vegas became of the most recognizable brands in the world," he said.
"At the same time, we've watched the Las Vegas Valley suffer through the worst recession it's ever endured. That crisis left us shaken, but it also served as a call to action to diversify our economy and grow industries new to Southern Nevada that will help this community better compete in a 21st century knowledge economy that truly operates 24/7 around the globe."
Advances in automation, online retailing, the proliferation of outsourcing, and globalization are four of the most important evolutions of business over the past 30 years, according to Terry Shirey, executive vice president and chief financial officer of Nevada State Bank.
"Businesses today feel more pressure to operate as efficiently as possible as technology has pushed down the cost of production throughout the world," he said. "Today changes happen much more quickly, and businesses need to be ever vigilant to changes in technology and consumer demand. Many businesses are also still trying to find their footing in a regulatory and political environment that can sometimes be unpredictable."
BRIGHTER FUTURE ANTICIPATED
The future of the business environment in the Las Vegas Valley is extremely bright, Skancke said.
"The work we are doing today as a region is more about collective thinking than the 'silo' approach that was so much a part of our past," he said. "The new direction we're taking in economic development is really pretty simple: It's about fostering a more prosperous, diverse, and connected regional economy that will help our Southern Nevada residents thrive in a global economy."
In 2010, Cromer founded Local Media Insider, an online trade journal that provides the best practices for emerging business models, where she provides research tactics and strategies to guide executives to success in today's business world.
"There are a host of new challenges today and what's good for businesses used to be to cut taxes and it's no longer that simple," she said.
"There are new marketing tools so now you're required to be confident with so many tools and platforms and so many businesses have consolidated so the players are much larger and more competitive. It's a new world."
Contact reporter Ann Friedman at afriedman@reviewjournal.com or 702-380-4588. Follow @AnnFriedmanRJ on Twitter.