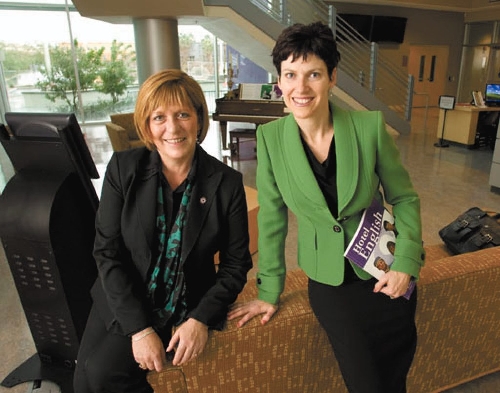 Nevada's recession has proven tough on just about everybody.
From workers who have seen their pay slashed to businesses that have lost half or more of their sales, few people — save bankruptcy attorneys and repo men — have seen their fortunes improve in the past three years.
But not everyone has folded under the pressure.
Legions of local professionals adapted to the slump, accepting a reality that has pushed them into new lines of business.
Here, we share three stories of survival, each offering their own lessons on flexibility in the face of hard times.
a remodeled business plan
For nearly three decades, building luxury houses provided great business for Christopher Homes.
The Las Vegas company built more than 1,600 local homes from 1981 to 2008, specializing in high-end properties on golf courses and in upscale master plans.
Then the recession arrived, and as for the city's housing market, well, you know the rest.
"About a year ago, we really analyzed the market and tried to come up with our best estimate of what the market would look like over the next few years," said Chris Stuhmer, Christopher's owner and chief executive officer. "We saw that the amount of business in the future, and the market complexities that are contributing to lower real estate values, were going to create a very difficult environment for us to create and produce houses on a profitable basis."
So Christopher turned from building new homes to remodeling existing ones. Today, home remodels comprise roughly 90 percent of the business Christopher conducts. That's a major change for a company that made 100 percent of its sales on new homes before the recession.
It's not just the revenue source that's changed. Clients have completely different expectations when remodeling.
"In a successful remodeling job, it's much more about the experience than the finished product," Stuhmer said. "We have focused a lot of our attention on managing that experience. We inconvenience homeowners as little as possible."
Since it officially launched its remodeling business in March, Christopher has remodeled kitchens, added bedrooms and built second floors onto single-story homes. Contracts are averaging about $90,000 in cost, though Christopher has handled renovations ranging from $20,000 to $800,000. The company should have 50 to 60 jobs in its renovation portfolio by March; about 25 percent of its business comes from homeowners who live in houses built by Christopher.
The new direction has helped the company stay in business, but Christopher's annual sales remain roughly 80 percent below where they were before the recession, Stuhmer estimated. It's also down to 16 or 17 employees, compared with more than 100 workers at its peak. But Stuhmer said he holds out hope for the long-term future, saying there's a good chance the company could get back to building the 100 or so homes a year it developed before the downturn.
"The market isn't going to stay the way it is now forever," Stuhmer said. "The question is how long it takes to come back. We'll need significant improvement in the local and national economies, as well as some job growth, before any material changes happen in our local market."
driving growth in a recession
Dale Amos bought local payday-lending outfit Star Loan Centers in December 2007, just as the nation's recession was getting started.
It might seem like a fortuitous investment, given the greater need for cash advances that typically comes with a slumping economy. But like practically any business in Southern Nevada's especially deep downturn, Star Loan Centers needed a boost along about late 2008.
That's because collecting on payday loans became particularly difficult in the recession. If a borrower skips out on his obligation, a lender can get a court order to garnish the borrower's wages, but that's possible only if the consumer has a job — an increasingly scarce proposition in a state that leads the nation in unemployment.
Plus, the legal wrangling can take months or years. The business must take the borrower to small-claims court and win a decision. That can take six months or more; Star's portfolio contains cases that are well over two years old.
With auto titles, on the other hand, there's no court action required to collect on a loan, and when someone does default, the repossession process can conclude in as little as a week.
So Amos, Star Loan's owner and president, decided in November 2008 to add car-title loans to the company's services.
"I just happened to be a car guy. I knew about cars," Amos said of the business decision. "I looked at our loss ratio on payday loans, and I looked at the drawn-out collection extravaganza. For the most part, people are not going to lose their vehicles. If they go on unemployment, we'll work out a payment arrangement. People do what they can to avoid losing their cars."
Today, car-title loans make up 70 percent of Star Loan Centers' portfolio. That success on the auto side has enabled the company to be more selective about the payday loans it makes, Amos said.
"There's just a huge demand of people needing money. We over-scrutinize now," he said. "We can pick and choose our business at this point."
Title loans have also allowed Star Loan Centers to grow in the downturn. The company's portfolio has expanded 300 percent since March, Amos said, and it's negotiating a lease on a second location to complement its original outpost on Sahara Avenue.
On top of that potential second office, Star Loan isn't done evolving. Amos said he's in talks with possible partners to open a sales lot to turn around cars his company has repossessed. He'd offer on-site financing as well.
"We'll be able to handle both sides of the business," he said.
bringing training back
You'd think speaking the language of your company's customers is a necessity.
The recession has taught Ronna Timpa otherwise.
Timpa is founder and president of Workplace ESL Solutions, an 18-year-old Las Vegas business that teaches basic English and Spanish to workers in sectors ranging from government to hospitality. In the depths of the recession, many companies slashed their training budgets after determining that it was a luxury to teach employees English as a second language at the workplace.
"They told me, 'If we're laying off workers, we can't have ESL training," she said.
So Timpa watched as the downturn stole roughly 50 percent of her annual sales.
Her business-saving epiphany came at a May trade show. As she addressed a crowd at a New Mexico convention of the National Association of Workforce Development Professionals, an attendee from Florida jumped up and down in the back of the room, telling her that his work force-investment board needed her educational program, but couldn't afford it on-site. Instead, he could put her materials on the Internet for her, and she could train online at a much lower cost.
"I'd had offers for years to put everything online, so I was like, 'Yeah, yeah, yeah,' " Timpa recalled. "The next thing I knew, he sent me a sample chapter."
The draft helped Timpa see the possibilities. She could customize online training for any business, and she could even reach displaced workers.
"Now, we can reach international customers who've been contacting me for years, and we can make them their own curriculum in a heartbeat. We could reach thousands of people at a fraction of the cost," she said.
Timpa has teamed up with Vegas PBS, which has a work force-training division, to develop her classes. She's transforming her textbook, "Hotel English," into an online version, and Vegas PBS will provide closed-circuit video capabilities for instructors to help guide students through the Internet material. Once the final product rolls out in the spring, a hotel operator will be able to stream interactive-video lessons into multiple properties, and combine them with Internet lessons.
But it's consumers who will benefit the most from the new training initiative, Timpa said.
"We can reach so many people with this. Customized training (online) doesn't replace face-to-face learning, but it gets everyone excited about speaking English to their customers," she said. "And the more people you have trained in (English as a second language), the more you'll have people talking with your customers and giving exceptional service."
Contact reporter Jennifer Robison at
jrobison@reviewjournal.com or 702-380-4512.