Businessman behind NHL drive has blue-jeans, relaxed approach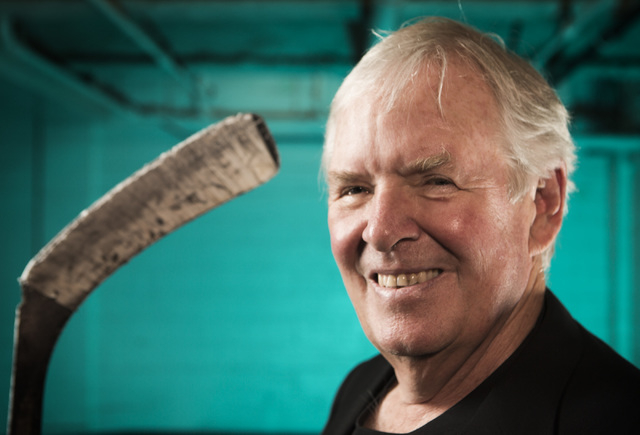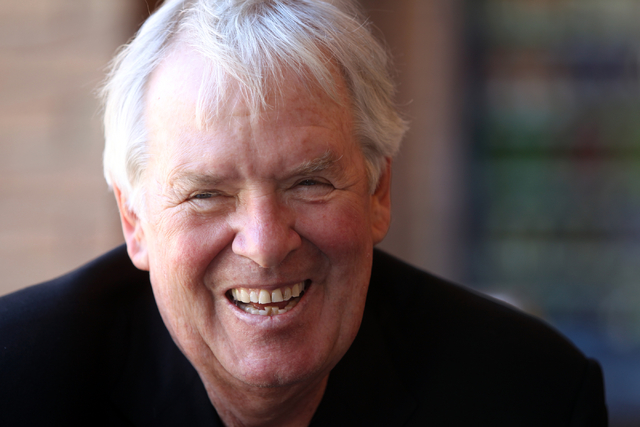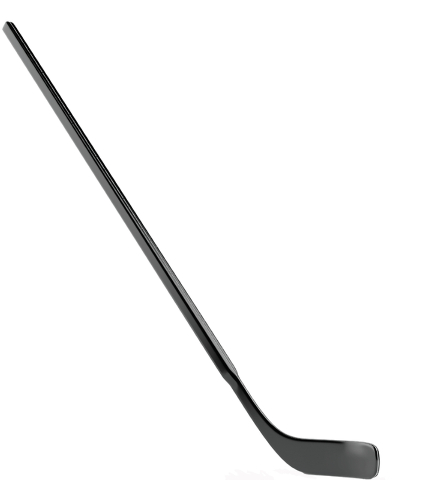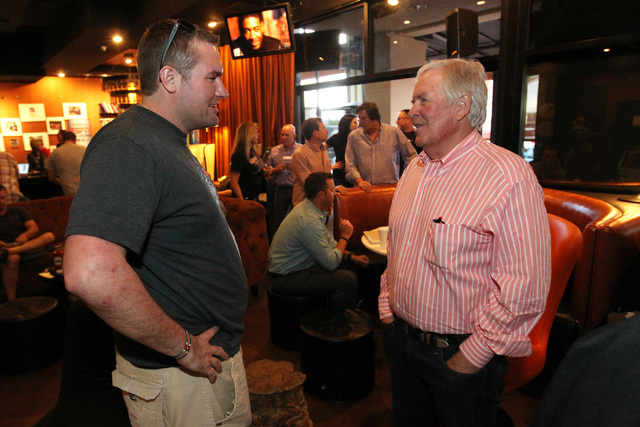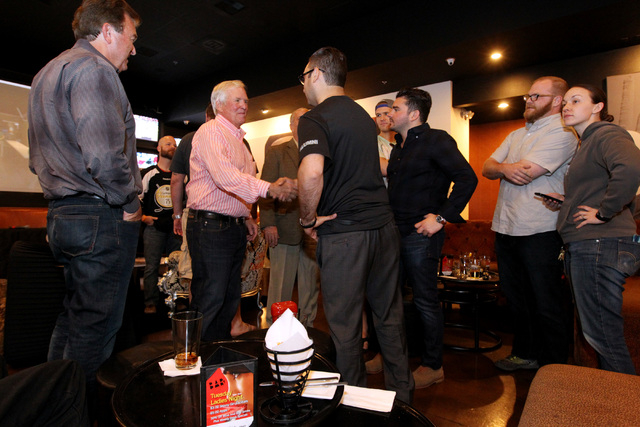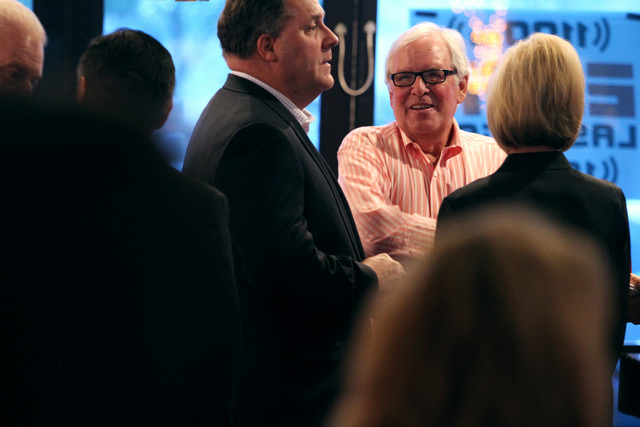 He leads a company controlling 44 percent of the title insurance business in the United States, but Bill Foley seems more comfortable wearing blue jeans than a dark suit.
After all, William P. Foley II tells everyone to just call him Bill.
On a recent evening, the 70-year-old Foley is lounging on a sofa at the Born and Raised sports bar, chatting about his bid to start a National Hockey League team in Las Vegas that would play at the new, privately financed $375 million arena being built behind New York-New York on the Strip.
Foley, whose quick smile complements a disarming personality, informed 50 hockey fans at the suburban bar that NHL team owners already believe he would be a good owner.
NHL Commissioner Gary Bettman thinks highly of Foley, chairman of Fidelity National Financial. On Feb. 10, when Foley launched a season ticket deposit campaign. Bettman told reporters he was impressed with the 1967 U.S. Military Academy at West Point graduate's résumé and background.
It's a résumé packed with a wide array of career interests — federal contract negotiations with Boeing in Seattle; law work in Phoenix; title insurance brands generating billions of dollars annually from a Jacksonville, Fla., headquarters; a slew of restaurants from Carl's Jr. to J. Alexander's; more than a dozen wineries in the western United States and a golf course community and cattle ranch in Montana.
And now a prospective NHL franchise in Las Vegas.
Foley is so confident he'll own a Las Vegas big-league team that he and his wife, Carol, bought a home in Summerlin. He's partnering with the Maloof brothers, who owned the National Basketball Association's Sacramento Kings from 1998 to 2013, on the NHL franchise. Foley would own 80 percent; the Maloofs, who live in Las Vegas, would have a 20 percent stake.
Among the Born and Raised crowd was Caesar Espinosa, a salesman who works for Foley's title insurance companies and who met Foley in 1987.
"It's that quiet strength, confidence; if he puts his mind to it, he gets it," Espinosa said. "If Bill Foley wants a hockey team here, we'll get a hockey team here."
Foley said goodbye to Espinosa as he left with Carol to get dinner — but not without some instructions for the commercial sales executive.
"Sell some titles," Foley advised Espinosa.
A few minutes later after Foley had left, Espinosa said, "Now I'm going to be lying in bed tonight, thinking how am I going to get more titles."
A STRICT REGIMEN DOESN'T SIT WELL
Foley is a fourth-generation Texan, the son of an Air Force officer born in Austin who spent boyhood summers in the Texas Panhandle.
When Foley was in high school in Maryland, his father suggested a military academy for college. Foley picked West Point.
The academy's strict regimen didn't go well for Foley, who described himself as a "goof-off" in high school who had good grades and enjoyed sports.
"I would see a chipmunk at West Point and I would say he was lucky — he was free," Foley said.
After his 1967 graduation, most West Point graduates were assigned to Vietnam. Not Foley. As the son of an Air Force officer, Foley was allowed to enter the Air Force. He wanted to be a fighter pilot.
But Foley's eyesight was not 20/20, dashing his pilot career and prompting his assignment to Seattle, where he negotiated millions of dollars worth of federal military contracts with Boeing.
In Seattle, Foley met his wife, Carol, then a flight attendant.
By 1974, Foley began practicing law in Phoenix after attending the University of Washington School of Law for his degree. He found time to earn a master's of business administration degree from Seattle University in 1970.
After negotiating military contracts in Seattle, Foley's legal work in Phoenix was chasing bank customers with debt problems.
"I had 70 motions and was 69-1," he said.
A SERIAL ACQUIRER
In 1984, a full decade after starting his law career, Foley led the buyout of a small title insurance company, Fidelity National Title, in Phoenix. He'd build the company into a giant.
"The title insurance industry was so bad at marketing and taking care of the customer that I thought I could do it better," Foley said.
Thirty-one years and 350 acquisitions later, Foley has earned the reputation as a serial acquirer. Foley said he'd like a stake in the new arena being built by MGM Resorts International and Anschutz Entertainment Group.
Tom Hagerty, a Fidelity National Financial board member, said Foley has impressive skills in both deal making and operations.
"He's this very rare combination of spectacular deal skills and operation skills. The guy has tremendous energy," said Hagerty, who is managing director and chief investment officer of Thomas H. Lee Partners, a Boston-based private equity firm.
"He builds first-class organizations," said Hagerty, who has known Foley for about 20 years and has worked with him on seven or eight major investment deals.
As Fidelity National Financial chairman, Foley oversees a miniempire of wineries, restaurants and commercial developments in Montana.
Fidelity National oversees a half-dozen title insurance brands such as Ticor Title, Fidelity Title, Lawyers Title and Chicago Title — plus a variety of restaurants including J. Alexander's, Village Inn, O'Charley's and 99.
Foley was once a director at Carl's Jr. burger chain parent CKE Restaurants, and owned the Checkers drive-thru burger brand.
"It was immediate gratification," Foley said. "I bought sick companies and fixed them."
These days, Foley owns a 28,000-acre dude ranch, Rock Creek Cattle Co., in Montana, and 13 wineries in the western United States.
Sailing hasn't always been smooth for Fidelity National Financial.
In 2011, the company agreed to pay $4.5 million to resolve a Housing and Urban Development Department accusation of breaching a federal law governing real estate closings.
The department accused Fidelity National of breaching the Real Estate Settlement Procedures Act by paying illegal kickbacks to real estate agents who steered business its way.
"This agreement should be a signal to others that these business practices won't be tolerated," acting Federal Housing Administration Commissioner Robert Ryan said then.
In 2012, homeowners in California filed a class action lawsuit accusing Fidelity National Financial and other title insurance companies of illegally kicking back fees to real estate agents.
The lawsuit claimed Fidelity National Financial used a Web-based platform called TransactionPoint, which "allowed kickbacks and referral fees to be disguised as 'sublicense fees' or 'access fees.' "
Foley downplayed the kickback allegations, saying he was not involved.
OTHER SPORTS ARE OUT, HOCKEY IS IN
The chance to own a sports team landed Foley in Las Vegas.
He couldn't afford to buy a National Football League team, which has an average value of $1.43 billion, according to Forbes. And Foley said Major League Baseball and the National Basketball Association did not appeal to him.
But when the Maloof brothers contacted Foley two years ago about starting a NHL team in Las Vegas, he was in.
"He's very driven. He's very successful in whatever he has done in his career," said Joe Maloof, the oldest of the four Maloof brothers.
"He'll be someone who will learn the league and dive into this while at the same time he'll hire the right GM and coach and the right scouts. I know he's very excited. Gavin and I have worked really well with him. He seems like a driven guy who wants to get this done," Joe Maloof said. "He hires great people around him. The people who work for him are very dynamic."
Foley met Bettman and NHL Deputy Commissioner Bill Daly in December 2013 and was off and running.
The MGM-AEG arena is scheduled to open in spring 2016, and Foley ambitiously aims to have an NHL team playing there during the 2016-17 season. Foley said there will be a team name contest but that he retains veto power on the name.
After drawing more than 10,000 season ticket deposits from individual fans and small businesses, Foley-Maloof is now selling deposits to companies including casino operators and airlines. Foley expects to the corporations to buy another 3,000 season ticket deposits for a total in the 13,000 range.
"As an owner, I know we have a strong fan base. To me, this is a no-risk investment," Foley said.
Contact reporter Alan Snel at asnel@reviewjournal.com or 702-387-5273. Find him on Twitter: @BicycleManSnel