Businessman hopes to launch NHL ticket drive in February
December 9, 2014 - 5:02 pm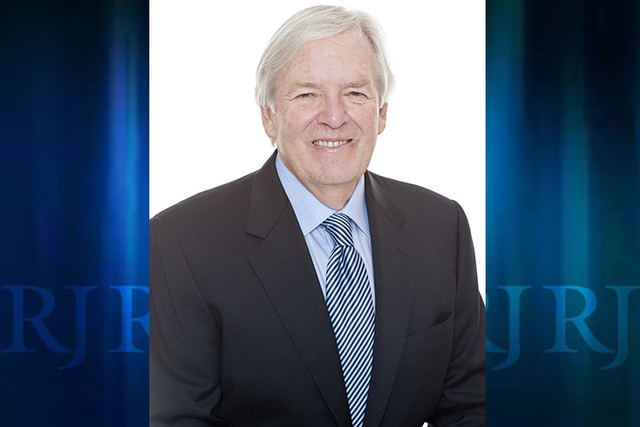 Billionaire title-insurance businessman Bill Foley, who is part of an ownership group seeking a National Hockey League franchise in Las Vegas, said Tuesday he hopes to launch a ticket reservation drive in February as the first step toward showing the NHL that Las Vegas is a viable market.
"The door is open. Now we have to walk through the door," Foley told the Las Vegas Review-Journal. "We want to demonstrate to the NHL that there is a lot of interest in Las Vegas."
"Las Vegas is a sports town," Foley said. "If we can deliver the right product on the ice, people will support it."
Foley was given the green light by NHL Commissioner Gary Bettman this week to explore Las Vegas as a potential market to play host to a NHL franchise.
Foley, a West Point graduate, lawyer and accomplished golfer, is chairman of Fidelity National Financial, which provides title insurance and mortgage services. Several Fidelity National Title offices are in the Las Vegas area. Foley also owns a winery and vineyards in California and pizzerias, restaurants, a working cattle ranch and golf course community in Montana.
"The NHL is very interested in Las Vegas," Foley said. "They want to make sure that if it comes to Las Vegas it would be supported by locals, not just out-of-towners."
The Las Vegas market has more than 2 million residents and draws 40 million visitors a year.
Foley is joining forces with the Maloof family, which founded and now owns 2 percent of the Palms and also owned the NBA Sacramento Kings from 1998-2013.
"They contacted me, and we like each other and trust each other," Foley said.
Foley said the ownership group's name is "Las Vegas Hockey Vision."
A catalyst in bringing a NHL team to Las Vegas is the new MGM Resorts International-Anschutz Entertainment Group arena, which is being built behind New York-New York on the Strip. The $375 million arena is scheduled to open in April 2016 and will be built to NHL and NBA specifications.
The building will have 18,000 seats for hockey but more for other events such as boxing. It looks to host an inaugural event in either late April or early May 2016.
Foley said he has been talking with MGM Resorts and AEG officials about the arena being the home for an NHL team. AEG owns the Los Angeles Kings, the defending Stanley Cup champions, and its CEO, Dan Beckerman, is the team representative on the NHL Board of Governors.
The Foley-Maloof group does not know what an NHL expansion fee would be, but reports indicate it would be in the $400 million range. The NHL last expanded in 2000 with the Minnesota Wild and Columbus Blue Jackets, with each franchise paying $80 million to the league
Las Vegas Hockey Vision wants to take ticket reservations, names and emails from local residents as part of a ticket drive and also provide a website that would provide seat map technology to show sight lines from seats, suites and club areas to the ice, Foley said.
He noted local residents would be able to sign up for ticket plans such as quarter-, half- or full-season plans.
The Foley-Maloof group is one of several prospective NHL and NBA groups talking with MGM and AEG officials about being a sports team tenant.
"This is certainly a group we have talked to quite a bit," said Ted Fikre, AEG vice chairman and chief legal and development officer.
"This group is very engaged and serious about this. They have been devoting quite a bit of energy and exploring this opportunity," Fikre said. "They're now at a point where they want to test the market, develop a sales and marketing plan and prove that the market works … I know these guys are gearing up for a robust effort to begin marketing."
Foley said the arena, which is being privately financed by MGM Resorts and AEG 50-50, is a major factor behind wanting to launch an NHL team.
The building will offer various premium seating options such as 42 suites, eight event-level suites and club options. MGM Resorts will buy a portion of the suite inventory, Fikre noted.
The NHL does not have any official expansion plans for Las Vegas, but the league is intrigued by the market. Messages left for NHL Deputy Commissioner Bill Daly, who recently visited the arena construction site, and public relations official Frank Brown were not returned.
Foley envisions the new franchise opening a new hockey practice facility that could be used by local residents when the team is not practicing and also forging relationships with youth hockey leagues to grow the sport in the Las Vegas Valley.
Foley said he believes a Las Vegas franchise does not necessarily need to be coupled with a second team to enter the NHL. Other cities mentioned as potential homes for NHL teams are Seattle and Quebec City.
Foley said his goal is for the Las Vegas franchise to win a Stanley Cup within eight years of entering the league.
Foley, who lives in Jacksonville, Fla., also owns homes in Montana and California. He noted his wife, Carol, is already hunting for a house in the Las Vegas area.
Contact reporter Alan Snel at asnel@reviewjournal.com or 702-387-5273. Find on Twitter: @BicycleManSnel