Businessman targets 130,000 'avid hockey fans'
January 16, 2015 - 5:01 pm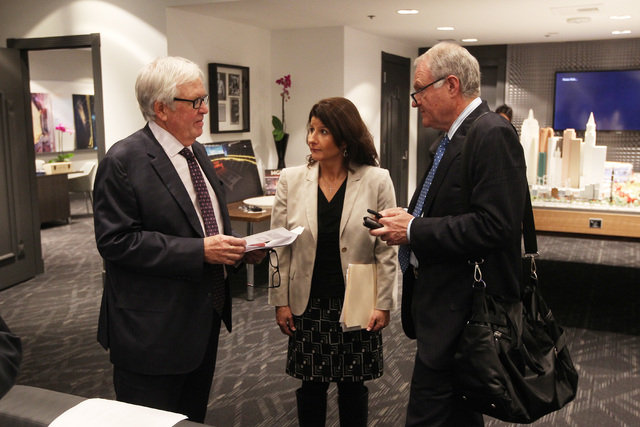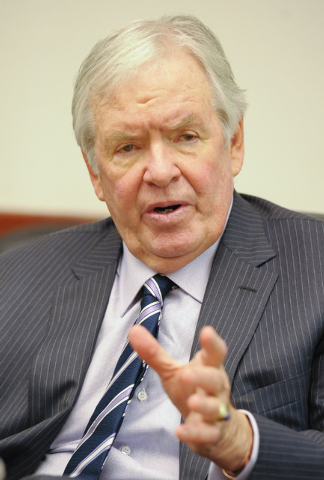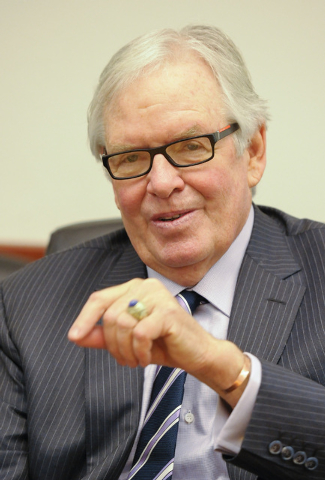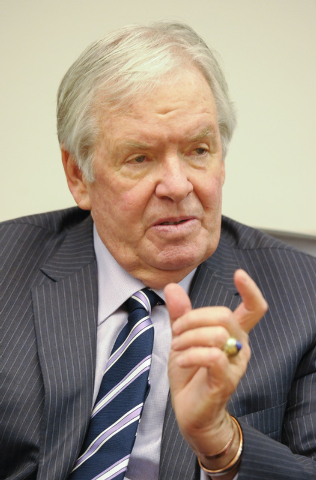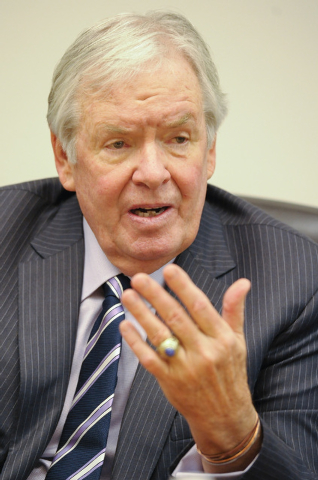 Bill Foley is counting on 130,000 "avid hockey fans" with incomes of at least $55,000 in the Las Vegas market to plunk down $150 to $900 for a season ticket deposit as the first step toward creating a National Hockey League expansion franchise at the new $375 million arena being built behind New York-New York.
Foley, 69, a billionaire title-insurance and mortgage company chairman from Jacksonville, Fla., is spearheading an ownership group that includes the Maloof family of Las Vegas, former owners of the NBA Sacramento Kings from 1998-2013.
Foley visited the Las Vegas Review-Journal on Friday to discuss the group's season ticket deposit campaign, which is set for a Feb. 10 launch. The Foley-Maloof group aims to collect at least 10,000 season ticket deposits by the end of March to show NHL brass that Las Vegas is a viable market for major-league hockey.
He's confident the NHL will award a franchise if more than 10,000 season ticket commitments are made.
"It would be a big advantage to be the first professional franchise in Las Vegas," Foley said.
Foley's comments noted that:
— Terms for a lease at the MGM Resorts International/Anschutz Entertainment Group (AEG) arena, scheduled to open in April 2016, have been reached. The building will have about 18,000 seats for hockey. AEG owns the NHL Los Angeles Kings.
— One effort to generate ticket sign-ups is to work with local companies to have payroll deductions for employees who want to pay a ticket deposit.
— Building a regional youth hockey program is pivotal to cultivating a fan base.
— His ownership share with the Maloofs will be 60/40 or 66/33.
— The NHL has given the group permission to use its logo as part of the ticket campaign.
— A core advisory group called the Las Vegas Founding 50 is expected to have about 75 members by the end of Friday, with each member charged with selling 60 ticket deposits.
— Deposits amount to about 10 percent of the season ticket deal. They will be refunded if a team is not secured and kept if a franchise is awarded.
— Ticket sales staffers will be hired, a call center opened and ads will include billboards and digital.
— About 3,500 people gave their emails to the group.
Foley said his efforts with the NHL began in December 2013 after brothers Gavin and Joe Maloof contacted him about launching a hockey club in Las Vegas. Foley has no prior background in working with a sports team. The Maloof family founded and now owns 2 percent of the Palms.
"We're a deep-pocketed ownership group," Foley said. "We're in this for the long haul."
In December, NHL Commissioner Gary Bettman gave Foley the green light to pursue the ticket deposit drive.
At the time, Bettman said, "The sole purpose here would be to give, in this unique circumstance, Mr. Foley and his colleagues an opportunity to measure the level of interest in the market by conducting a season ticket drive … All it's doing is letting him measure, for his interest and ours, whether or not the market will support a team — at least from that measure alone."
Foley argued that Nevada's lower taxes compared to the taxes in other states would be a "competitive advantage for hockey players" to come to Las Vegas.
Aiming to have a Las Vegas team start in the 2016-17 season, Foley said most games would be on Sunday afternoons and Tuesday and Thursday nights. Individual game tickets would range from $20-$220. The average NHL ticket is $63.
Foley said the hockey game will be more than just about sports at an arena. "This should be an event. We want fans to come early and stay late."
Until a ticket deposit website is launched, fans can log onto www.vegaswantshockey.com.
Foley, a West Point graduate, lawyer and winery owner, said his love for hockey began when he was a second-grader in Ottawa. He said he lived there for a few years as a young boy.
Foley declined to discuss the cost of an NHL expansion fee, but reports indicate it would be in the $400 million range. The NHL last expanded in 2000 with the Minnesota Wild and Columbus Blue Jackets, with each franchise paying $80 million to the league.
Contact reporter Alan Snel at asnel@reviewjournal.com or 702-387-5273. Find him on Twitter: @BicycleManSnel.