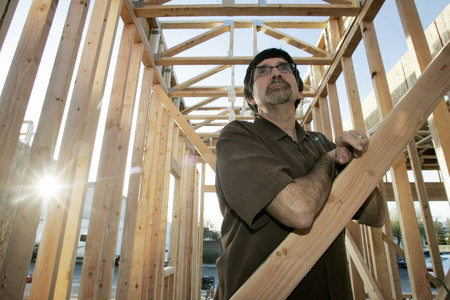 Las Vegas homebuilder Wayne Laska isn't going into hibernation. That's for bears, not businesses.
The founder and principal of StoryBook Homes continues to build in the worst housing market Laska has seen since he started as a sales agent with Lewis Homes in 1985.
StoryBook has nine new homes in standing inventory — completed but unsold — and 18 others under construction, including two-story homes with three-car garages that are selling for $260,000 in southwestern Las Vegas.
"I think for homebuilders, it's a tough go right now," Laska said at the private company's office at 2580 Montessouri St. "I think the key is we all have to run smaller businesses. That's not new to homebuilding. We're not any different than a casino company like MGM (Mirage) or Harrah's (Entertainment). If you're overladen with debt burden, you've got to do something and become smaller from a debt point."
Laska started StoryBook in 2003 and built 162 new homes at the peak of the market in 2006. Last year, StoryBook built 63 homes, up from 50 in 2008. He expects 2010 to be even better.
StoryBook recently bought 60 residential lots at Mountain's Edge master-planned community for $14,000 each, with an additional $7,000 in improvements needed.
"In 2002, they called me an idiot for buying all that land," Laska said. "Then in 2005 I was a genius. Now in 2009 I'm an idiot again."
Question: Why did you get into homebuilding?
Answer: I used to fix airplanes. I had a mobile airplane repair business at McCarran. I wanted to get a pilot's license and fly, but I needed something in the interim. I had a real estate license and I went to work for Lewis (Homes) and liked it so much I decided to stay at Lewis and forgo the airplane business.
Question: How has the industry changed over the years?
Answer: Back in 1985, it was very stable, but very competitive. There was not a lot of home appreciation, maybe 1 (percent) to 2 percent a year. Land prices were stable and not so much of a problem. What happened was pure speculation and that drove prices to unsustainable levels.
For 15 to 18 years, you had a very stable, competitive market. If you weren't a very good builder, you would not survive because the margins were so thin. Lewis was a solid, process-driven homebuilder that took care of customers.
In the last six or seven years, due to speculation and lack of affordability, they drove prices to unsustainable levels so that the average Las Vegan could not afford housing. The good news is we're now back to prices from the late 1990s, back to affordability again. You can buy a home now for $200 to $300 (a month) less than it costs to rent the house.
Question: Are homes in Las Vegas constructed as cheaply as people say they are?
Answer: No. Our homes are not Energy Star, they're Energy Star Plus. The air conditioner is better, the insulation is better, the ducts, the radiant barrier in the ceiling, walls are fire-rated. To say we're building cheap homes … it's just not true. Builders have to take quality to a much higher level because we don't want customers coming back and suing us. There will always be problems, but we'll fix them. We sold 21,000 homes at Lewis and KB and never had a construction defect issue.
Question: Did we build too many homes in Las Vegas?
Answer: Unfortunately, yes. I think we have built too many homes and the market has to absorb them. Keep in mind (that) over the last 21/2 years we haven't built enough. We're a 20,000 new-home market a year and we built 8,000 in two years. New homes will get built, but a fraction of what used to be built. The industry is down 90 percent. What other business or industry could stand a 90 percent reduction? It's going to return, maybe not to the level we saw before, not in my lifetime.
Question: How will you do better this year than last?
Answer: We developed the company virtually debt-free. Everything we're building on, we own. We gave the rest back to the banks. We did workouts with seven different lenders. We took our debt to zero and built the company back up, slowly back up. We have to be conservative. We have to look at business differently, be prudent and not have excessive risk and we have to diversify.
Question: How will you do that?
Answer: I'm not sure yet.
Question: Have you changed how you conduct business given today's economy?
Answer: The first thing is you have to go by general business practices that apply to all businesses. Do what you say you're going to do. Make a commitment and follow through. Return customer phone calls. You have to make a commitment with your employees, your customers, your vendors and suppliers and let them know what you're doing and where you're going. You have to pay your bills. Now we look at the business as everything has to be streamlined, no excessive costs. You have to make prudent and conservative estimates for revenue because our biggest concern is REOs (bank-owned homes). There are 30,000 to 50,000 homes that eventually have to come to market.
Question: As one of the few remaining private builders, what have you done to survive the housing downturn?
Answer: Deleveraging. Readjusting costs. We were selling at an average of $275,000 in 2006. Now our average is $160,000. Builders were paying $120,000 to $140,000 for a finished lot at the peak. Now it's $40,000 for lots. Now we're getting much better numbers on direct construction. Those costs have come down 25 percent. It doesn't matter if you sell at $275,000 or $160,000, as long as your costs are commensurate with what you're selling the home for.
Question: Residential building permits are down 41 percent for the year, averaging about 300 a month. Is homebuilding dead?
Answer: We may only do 5,000 homes, but we'll have a new-home industry this year. If construction is the second-highest industry in Nevada, why hasn't the state come out with a tax credit like California to encourage home ownership on top of the $8,000 federal tax credit (for first-time buyers)?
Question: Where do you see the industry headed?
Answer: I think 2010 is going to be a mirror of 2009. We're going to have an industry, but it's going to be a fraction of what it used to be. It's going to be competitive. We're competing with other builders, but more importantly, we're competing against the banks. They're the wild card and what they do could influence the industry more than anything else. A lot of builders have decided not to be in the industry. It's a cleansing process. I'm a capitalist. Strong businesses survive and weak ones go out of business.
Contact reporter Hubble Smith at hsmith@reviewjournal.com or 702-383-0491.
VITAL STATISTICS
Name: Wayne Laska.
Position: Principal, StoryBook Homes.
Family: Wife, Catherine; sons, Thomas, Nathan, Taylor and Collin.
Education: Clark High School; University of Nevada, Las Vegas, business marketing.
Work history: Sales agent for Lewis Homes, 1985-1999; vice president of sales for KB Home, which acquired Lewis, 1999-2002; started StoryBook Homes in 2003.
Hobbies: Spending time with family; going to the beach in San Diego; skiing; and golf.
Favorite book: The Bible.
Hometown: Las Vegas.
In Las Vegas since: 1968.
StoryBook Homes is at 2580 Montessouri St. and can be reached at 877-7040.