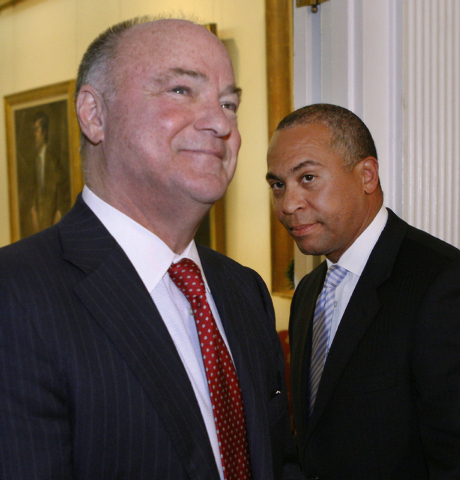 Caesars Entertainment Corp., which spent $100 million on a failed effort to win a Massachusetts gaming license, has sued the state's top casino regulator in federal court, claiming a conflict of interest and his actions caused the casino giant's departure from a proposed $1 billion Boston-area gaming complex.
In a lawsuit filed late Wednesday in U.S. District Court in Boston, Caesars said it believes Massachusetts Gaming Commission Chairman Stephen Crosby interfered in the company's now-dissolved partnership with the Suffolk Downs Race Track in a proposed $1 billion hotel-casino complex near Boston's Logan International Airport.
Attorneys wrote in the 33-page complaint that Crosby violated Caesars' "contractual rights to fair consideration" in the Massachusetts gaming license application process. The company had a 4 percent ownership stake in the partnership and an agreement to manage the facility.
In October, Caesars was dropped from its partnership with Suffolk Downs after state gaming investigators found four areas of concern about the company's potential suitability.
The company sued Crosby both individually and in his role as chairman of the gaming commission. The company is seeking unspecified monetary damages and wants Crosby, who had a 45-year career in state policymaking and entrepreneurship before being named gaming commission chairman, removed from the process.
Caesars officials declined comment Thursday. But in an interview with the Review-Journal last month, Caesars Chairman and CEO Gary Loveman, who lives in the Boston area and spent 13 years lobbying Massachusetts to legalize casinos, criticized the gaming commission as "being staffed by people who have never been in the (gaming) business."
Massachusetts Gaming Commission spokeswoman Elaine Driscoll said in a posting on the commission's website the lawsuit was "without merit," and the investigators acted independently "to protect public interest."
Chairman Crosby had no role in the investigation, report or recommendations," Driscoll said. "As this is now pending litigation, neither Chairman Crosby nor the Commission will comment further on this matter."
Caesars said in the lawsuit the company was held to a different standard than other license applicants.
It singled out MGM Resorts International, which is seeking approval for a casino in Springfield. The company received a favorable suitability recommendation from investigators on Monday, despite concerns raised in 2009 by New Jersey gaming regulators over MGM Resort's partnership in a Macau casino with Hong Kong businesswoman Pansy Ho. MGM Resorts, which has a 50 percent ownership stake in the Borgata in Atlantic City, gave up its license for the property, but has filed an application to have it restored.
Caesars said in the lawsuit that "Crosby's conflicts of interest and his failure to timely disclose them" damaged the company.
Caesars said Crosby failed to publicly disclose his friendship and past business relationship with Paul Lohnes, part-owner of an Everett, Mass., land parcel where a proposed $1.2 billion gaming complex operated by Wynn Resorts Ltd. is to be located. Wynn and Caesars were competing for the single Boston-area gaming license that was being offered by the state.
According to the lawsuit, Crosby told the governor's office in August of his relationship with Lohnes, who he has known since 1970 and was a business partner for seven years. Last week, Crosby announced he would not participate in Monday's scheduled suitability hearing for Wynn Resorts.
Caesars attorneys said Lohnes "stands to gain a significant financial benefit" should Wynn receive the lone gaming license.
In the lawsuit, Caesars attorneys claimed Crosby influenced the company's suitability process. Caesars said the "commission's staff issued an incorrect and unprecedented recommendation" that the company had not met its burden" to establish suitability.
The Massachusetts Gaming Commission's Investigations and Enforcement Bureau said in an Oct. 18 letter that Caesars should not be found suitable because of the company's relationship with the Gansevoort Hotel Group and other issues. The New York-based company, which was providing the naming rights to $180 million renovation of Bill Gamblin' Hall on the Strip, had an investor with alleged ties to Russian organized crime.
The Suffolk Downs partnership was dissolved before Caesars could address those concerns. The company offered to end the Gansevoort project.
In the lawsuit, Caesars said Karen Wells, the bureau's director, failed to disclose to the commission that Spectrum Gaming, a New Jersey-based consultant that conducted the investigation of Caesars for the state, recommended the company be found suitable.
"Chairman Crosby and members of the commission's staff have made untrue and misleading statements about plaintiffs and their affiliates," according to the lawsuit. "Chairman Crosby deprived plaintiffs of their due process and equal protection rights and tortiously interfered with plaintiffs' relationship with Suffolk Downs and right to fair consideration in the gaming suitability process."
Caesars said the actions "caused and continues to cause" the company to suffer "reputational and economic injury."
In an interview with the Review-Journal before the lawsuit was filed, Crosby said Massachusetts gaming regulators were concerned with Caesars outside compliance committee, which allowed the Gansevoort relationship to continue.
In the lawsuit, Caesars defended the compliance committee as being "comprised of some of the most experienced regulatory experts in the world."
Crosby told the Review-Journal the commission planned to invite Caesars and Suffolk Downs to a hearing to establish suitability.
"Suffolk Downs apparently decided that they did not want Caesars to pursue the offered opportunity, and elected to ask Caesars to withdraw," Crosby said. "That was Suffolk's decision, not ours. To this day, none of the commissioners knows how we would have voted on Caesars' suitability, had they presented their case to us."
The race track's dropping of Caesars was viewed as a reason voters in East Boston rejected the casino idea. Recently, Suffolk Downs signed a partnership agreement with Mohegan Sun to change the casino proposal and place the development in Revere, where voters had approved a casino.
Contact reporter Howard Stutz at hstutz@reviewjournal.com or 702-477-3871. Follow @howardstutz on Twitter.