Caesars Palace bellman garners fame through lifetime of casino service
November 1, 2009 - 10:00 pm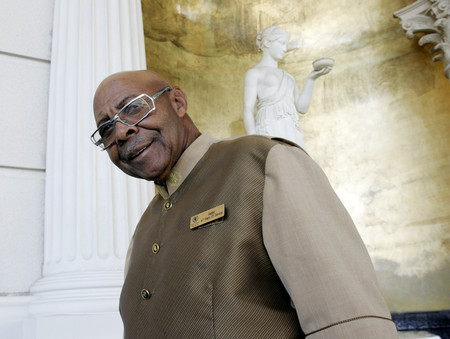 His name is Clyde Watkins, but everybody calls him Rabbit.
On an early Monday afternoon, the 72-year-old bellman was getting his picture taken with a group of tourists in front of the casino.
"People from all over always ask, 'Is Rabbit still here?' " Watkins said, who has been at Caesars Palace for 43 years. "I'm the most recognized face at Caesars. I'm known all over the world. The old players used to come out here, now their kids are coming. Everybody knows Rabbit."
Watkins was hired in 1966 after the late casino manager Danny Stein spotted him throwing dice at the craps table. Three years later, after Watkins recruited the first black dealer to Caesars, he went to the bell desk where he has been ever since.
Watkins got his first job in 1953 at the Flamingo when he was a teenager. He was put on the wash line catching hot dishes. His mom had to lie about his age, adding three years to his application, so he could get hired.
He also spent time working at the Royal Nevada, the Fremont and the Dunes.
Although Watkins' working life has focused on casinos, he also spent time on the road hustling pool, and was a boxer from 1955 to 1957.
He also drove black entertainers from the Strip to the Moulin Rouge, attended the first 15-round championship fight in Las Vegas — Archie Moore and Nino Valdez in May 1955 — and saw a glass thrown by Frank Sinatra hit the wall by his head.
The nicest guy he ever met, Watkins said, was another member of the famous "Rat Pack" — Dean Martin.
"I used to go up to his room and drink with him and talk with him," he said.
Everybody knows Rabbit.
Question: How did you get the name Rabbit?
Answer: When I was kid, we would play football out there on the rocks and a dirt field. A girl gave me that name. I'll never forget her name, Frankie. She said, "You're not going to catch Rabbit." It just stayed with me all through.
Question: How did you come to work at Caesars Palace?
Answer: I was shooting dice and (casino manager) Danny Stein said, "Hey, that Rabbit down there. We'd like to have him over here because he's a pit crony. He really knows all about the cards and dice." I asked what they wanted me to do, and they said they'd find something for me to do. I started on Oct. 11, 1966. I started working in the pit, running money and chips, setting up the pit. They tried to get me to deal, but I didn't want to deal.
Question: How did you become a bellman?
Answer: After I wouldn't deal, Danny Stein asked me if there was anything I wanted to do. I told him I wanted to be a bellman. He told me, "Go up to that desk and tell them you want to be a bellman." So I went up there, and they told me, "We got 500 ahead of you for a bellman's job." So I go back and tell Danny Stein. I don't know what Danny told the bell captain, but he came running down to the pit asking what size uniform I wear. But I had to train somebody in the pit because there was nobody that could do what I did. That was 1969. I would also bring in the high roller black players. People would call me and say they'd like to get into Caesars, and I would bring them in. I could get all the best fight tickets, bring in all the black high rollers.
Question: What has kept you at Caesars all these years?
Answer: Good treatment. I would hook up with the (property) presidents all the time. They would know if there was anything they wanted to know about Caesars, see Rabbit. Rabbit knows more about the hotel than I do. When (former MGM Mirage CEO) Terry Lanni was here, he told people, "Whatever Rabbit needs, you give it to him." I would tell him what was going on and he'd go fix it.
Question: What was your first job?
Answer: I went to work at the Flamingo when I was still in school. I started out in the kitchen catching dishes. The chef came back there one night and saw the older guys had me back there catching those hot dishes. He said, "Why'd you put that kid back there?" They said, "We're breaking him in right." So the chef got angry at them and told me to go to his office. I thought he was going to fire me because I wasn't experienced enough keeping up. I'd done the best I could. He said I was a good little worker and that they shouldn't have put me back there. He said I was going to work with him on Wednesday nights and he was going to train me in the kitchen to set up for the cooks. He would leave me a list because I could read and write.
Question: What did you do after leaving the Flamingo?
Answer: I traveled the country hustling pool. I played in almost every state. I made a tour all through the South, up through Tennessee, all the way into Pontiac, Mich. Then I went down to St. Louis, where my grandmother was buried. I visited my people. I then played from St. Louis all the way to Oakland, Calif. I did this off and on for 10 years starting in 1958. But I never stayed out of Las Vegas more than three months.
Question: Why did you quit at the Dunes?
Answer: I was a casino porter, and one of the bosses told me to go to the cage and get a box of Cuban cigars. So I go over and the guy in the cage gives me the cigars. So I'm coming back to bring the cigars to the pit and dice go down (to the floor). I go to pick them up and someone picked (the cigars) up and took them over to Abe Herman (casino manager). He asked me who asked me to go get the cigars or I'm going to have to fire you. I wouldn't tell him nothing and I told him, "Naw, you ain't going to fire me." I had a bucket full of ashes sitting there. So I go over and bust the bucket right in the 21 pit.
Question: Are you thinking about retiring?
Answer: Any day now. I've raised my kids, sent them to college. I've got six kids and supported every one of them. I've done everything.
Contact reporter Arnold M. Knightly at aknightly@reviewjournal.com or 702-477-3893.
VITAL STATISTICS
Name: Clyde "Rabbit" Watkins.
Position: Bellman and unofficial ambassador, Caesars Palace.
Age: 72.
Family: Wife Barbara, six children and three grandchildren.
Education: Las Vegas High School.
Work history: Flamingo (kitchen) 1953-1955; Royal Nevada (head steward) 1955; Fremont (casino porter) 1956-1957; Dunes (casino porter) 1958-1965; Caesars Palace (casino porter) 1966-1969; Caesars Palace (bellman) 1969-present.
Hobbies: Shooting pool, watching football and boxing.
Hometown: Las Vegas.
In Las Vegas since: 1943.
Quotable: "I'm the most recognized face at Caesars. I'm known all over the world. The old players used to come out here, now their kids are coming. Everybody knows Rabbit."
Clyde "Rabbit" Watkins can be found at the Caesars Palace bellman's desk off the porte cochere.