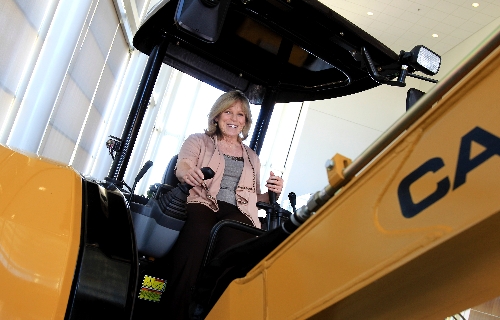 In 1931, Jim Cashman started his heavy-equipment business in Las Vegas with the sale of six Caterpillar Model 60 tractors to the Hoover Dam project.
Eighty years later, the woman who married Cashman's late grandson has guided the company through Nevada's worst recession since "Big Jim" himself experienced it in the 1930s.
MaryKaye Cashman, chairman and chief executive officer of Cashman Equipment, is now looking to the future, reviewing all sectors of the business to see which ones need special attention.
In the past 12 months, the company has entered into the vocational truck market and has taken on six new ancillary product lines, expanding its portfolio of technology products and services.
Cashman Equipment has delivered 167 new machines so far this year in its 110,000-square-mile Caterpillar dealership territory, which includes mining operations in Elko. That compares with 141 new deliveries for all of last year.
The company's construction sales have increased more than 50 percent since July 2010, and rentals have reached the highest volumes since the economic downturn in 2007.
"We're on course, if we maintain our current pace, we'll have doubled our delivery of new machines from last year," Cashman said.
She was presented with a proclamation Thursday from Henderson Mayor Andy Hafen recognizing Cashman Equipment's 80th anniversary.
"You're very important to us," Hafen said. "You built this beautiful LEED-certified industrial building, the best in the state. You've certainly been cautiously optimistic during the downturn."
Henderson benefited when Cashman Equipment was squeezed out of North Las Vegas by eminent domain, forced to give up a portion of land used for equipment display to make way for the new interchange at Interstate 15 and Craig Road.
Cashman was unable to negotiate a deal with the city of North Las Vegas, so she bought 53 acres at 3300 St. Rose Parkway and built a 300,000-square-foot headquarters facility in 2008 that is the largest LEED-certified (Leadership in Energy and Environmental Design) industrial building in the state.
"The timing was excellent," Cashman said Thursday next to a C530 mini-excavator in the facility's massive lobby.
"Big Jim" Cashman started with just one office and shared it with another business. He formed multiple businesses through Cashman Enterprises, including a car dealership, and had fewer than 10 employees for the first 30 years. The company now has more than 600 employees, including 220 in Henderson and about an equal number in Reno.
What would "Big Jim" say if he walked into the new headquarters?
"I think he would be elated that the family traditions have continued, that we continued to progress and meet our commitments to our customers and keep all our promises," Cashman said.
Mining operations have been growing at levels unseen since 2004, creating a need for additional personnel to serve Nevada's multibillion-dollar mining industry.
"Our story is not just about mining," Cashman said. "We're seeing upticks in both Las Vegas and Reno."
Mike Pack, president and chief operating officer of Cashman Equipment, said construction companies depleted their fleets during the recession, using trucks and tractors until they broke down, then taking parts from older equipment to fix them.
Now they need to be replaced.
Rental business is up because of depleted fleets and because nobody feels comfortable about buying new equipment without long-term federal funding in place for highway construction projects, Pack said.
Not only does Cashman Equipment bring tax revenue and jobs to Henderson, the company brings history, said Bud Cranor, communications director for the city.
"One of the biggest names to build our city has been Cashman," he said.
Jim Cashman came to Las Vegas in 1904, a 19-year-old farm boy from Missouri, with 10 cents in his pocket, as the story goes. He became a respected entrepreneur in Southern Nevada and is largely credited with founding Helldorado Days rodeo and parade. He also helped cut a road through the mountain pass from Las Vegas to Baker, Calif., which would later become Interstate 15.
Jim Cashman is listed in the Review-Journal's "First 100" who shaped Southern Nevada and was inducted into the Southern Nevada Business Hall of Fame.
Contact reporter Hubble Smith at hsmith@reviewjournal.com or 702-383-0491.