Casino workers feeling fleeced
February 24, 2010 - 12:00 am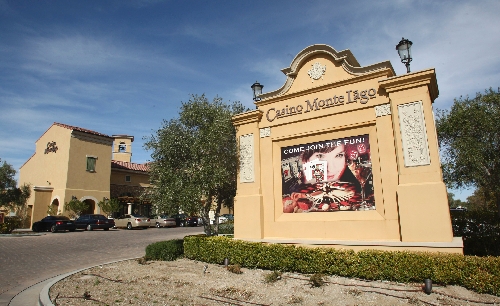 Owners of the soon-to-close Casino MonteLago are using an exception under federal law to slice in half the amount of pay owed their 177 workers.
The only gaming location at the bankrupt Lake Las Vegas resort shuts down in three weeks.
Under the U.S. Department of Labor's Worker Adjustment and Retraining Notification Act, management is required to give employees 60 days notice when a business is planning to shut down or provide 60 days of pay.
Employees of Casino MonteLago were told on Feb. 16 the casino would be closing and they would receive 30 days of pay.
CIRI Lakeside Gaming, which has operated the 40,000-square-foot Casino MonteLago since 2007, said lack of visitation and the impending shutdown of the Ritz-Carlton Lake Las Vegas in May were the primary reasons for announcing the casino would close on March 14.
John Tipton, a Denver-based attorney who represents CIRI Lakeside Gaming, said the ownership was negotiating for additional funding. However, when the Ritz-Carlton's planned closure was announced on Feb. 8, negotiations collapsed.
Tipton said the Ritz-Carlton's action was unexpected and unforeseeable.
"These circumstances are a clear exception to providing the 60-day notice pursuant to (the WARN Act)," Tipton said in an e-mail, citing the subsection that covers a reduction in the notification period. "The owners also made it clear why the notice period was being reduced."
Employees, he said, were asked to sign a document saying they had received a copy of the WARN Act.
Several people, claiming to be employees of Casino MonteLago, contacted the Review-Journal saying they were threatened with "immediate termination" if they questioned the 30-day payments.
Deanne Amaden, a spokeswoman for the U.S. Department of Labor in San Francisco, said the only way employees can challenge management's decision is through a lawsuit in U.S. District Court.
"There is no wording for enforcement written into the act," Amaden said. "If the employees feel what is being done wasn't done properly, a judge would have to determine the outcome."
Amaden said Casino MonteLago owners were required to a provide notice of the closure with the Nevada Department of Employment, Training and Rehabilitation and with the "chief local official."
Gaming Control Board Chairman Dennis Neilander said the agency had received a notice Feb. 16 of the planned closing. He said it was not clear the company would only pay workers for 30 days.
Patrick Chapin, a Henderson attorney, said he had been retained by three Casino MonteLago employees concerning the matter. He sent a letter last week to Casino MonteLago Chief Executive Officer Johan Finley and is waiting for a response from the company's legal counsel.
Casino MonteLago was small by Las Vegas standards, with 635 slot machines and a dozen table games .
Contact reporter Howard Stutz at hstutz@reviewjournal.com or 702-477-3871.