$950M investment involving Strip hotel revealed
Updated August 25, 2023 - 3:53 pm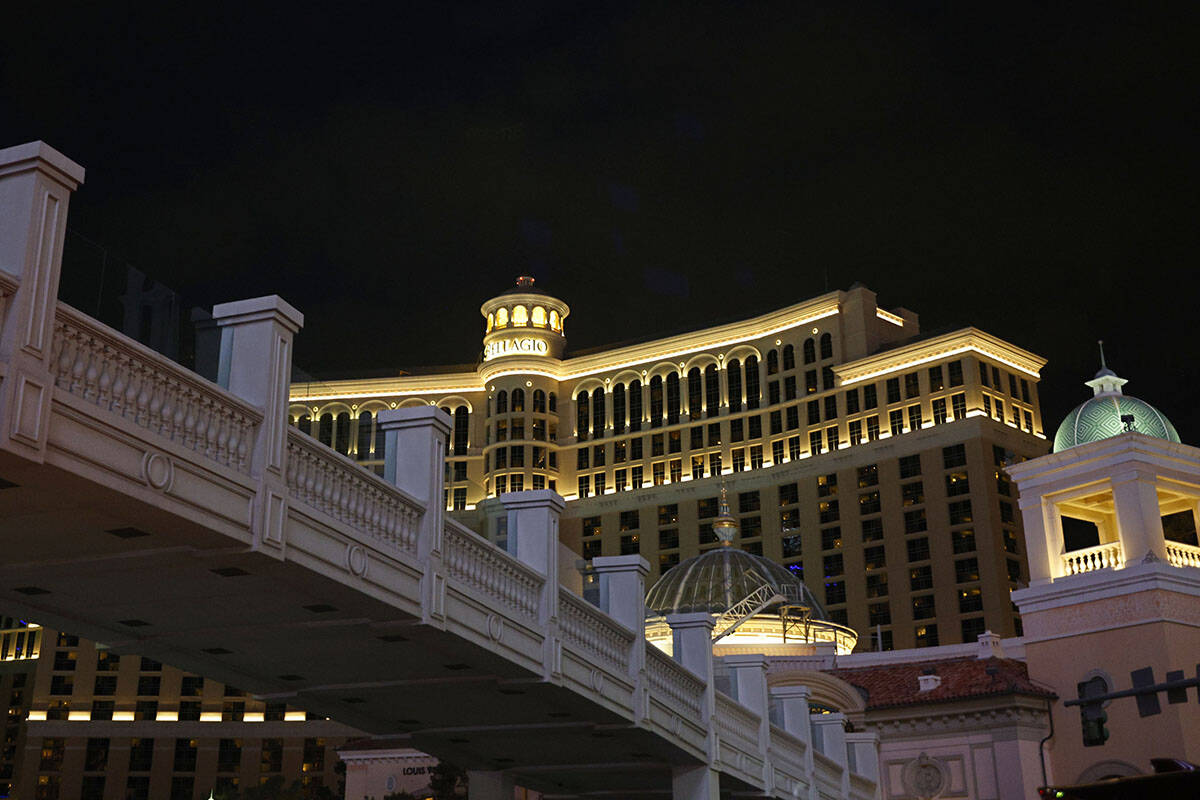 Visitors to Bellagio won't see any changes in operations as a result of the formation of a new joint venture land ownership deal announced Friday.
Realty Income Corp., a San Diego real estate investment trust that is an S&P 500 company listed on the New York Stock Exchange, signed an agreement to invest $950 million to acquire common and preferred equity stock from New York-based Blackstone Real Estate Income Trust Inc.
Upon closing, expected to occur in this year's fourth quarter, Realty Income will invest $300 million of common equity in the joint venture, subject to certain adjustments, to acquire a 21.9 percent indirect interest in the Bellagio resort-casino and the land it sits on, according to a release issued by both companies.
Realty Income also will invest $650 million to acquire a yield-bearing preferred equity interest in the joint venture.
When the transaction closes, Blackstone will retain 73.1 percent ownership of the property. The remaining 5 percent ownership will be retained by MGM Resorts International, which manages the 3,933-room Strip resort and affirmed in a Friday email that operations there would remain unchanged.
Blackstone acquired the Bellagio land in 2019, then valued at $4.25 billion. Analysts say the property's value has increased to $5.1 billion and that Blackstone sold a piece of its investment to raise cash.
In the initial transaction, MGM agreed to pay rent that steadily increases by 2 percent during the 30-year term of the lease and that remains unchanged.
"Realty Income seeks to invest in high-quality real estate at scale in partnership with operators who are leaders in their respective industries," Realty Income President and CEO Sumit Roy said in a statement,
"This transaction to acquire an interest in the Bellagio, an iconic property, represents our second investment in the gaming industry and exemplifies the advantages of our size, scale and access to capital. We are pleased to initiate our Credit Investment platform through a preferred equity investment in the Bellagio joint venture. Credit Investments are a natural adjacency to our traditional business, allowing us to provide additional value to our clients while leveraging our core competencies in transaction sourcing and structuring, and real estate and credit underwriting and monitoring."
Nadeem Meghji, the head of Blackstone Real Estate Americas, said the transaction demonstrates the strong demand for high-quality assets.
"The Bellagio is an iconic property in the heart of the Las Vegas Strip and we look forward to our continued ownership of this asset, now in partnership with Realty Income. This partial sale represents another terrific outcome for BREIT (Blackstone) shareholders."
In a report to investors later Friday, John DeCree of Las Vegas-based CBRE Equity Research said it wasn't surprising that Realty Income became involved in the project after the presumed partner, Vici Properties Inc., passed on the deal.
"We believe the implied cap rate today (Friday) highlights the desirability and long-term underlying value of casino real estate assets, particularly on the Las Vegas Strip," DeCree said in his report.
"Moreover, (Blackstone) has been a well-known seller of assets in order to meet mounting redemption requests, yet it continues to fetch favorable valuations. We believe the favorable exit valuation on this one is indicative of the scarcity of premier Las Vegas Strip casino resort real estate like the Bellagio," he wrote.
Blackstone shares, traded on the Nasdaq exchange, closed up 66 cents, 0.7 percent, to $99.66 in trading nearly twice the daily average volume Friday, while Realty Income shares closed down 36 cents, 0.6 percent to $56 on volume half the normal daily average.
Contact Richard N. Velotta at rvelotta@reviewjournal.com or 702-477-3893. Follow @RickVelotta on X.