Adelson takes leave from Sands Corp. to resume cancer fight
Updated January 8, 2021 - 11:33 pm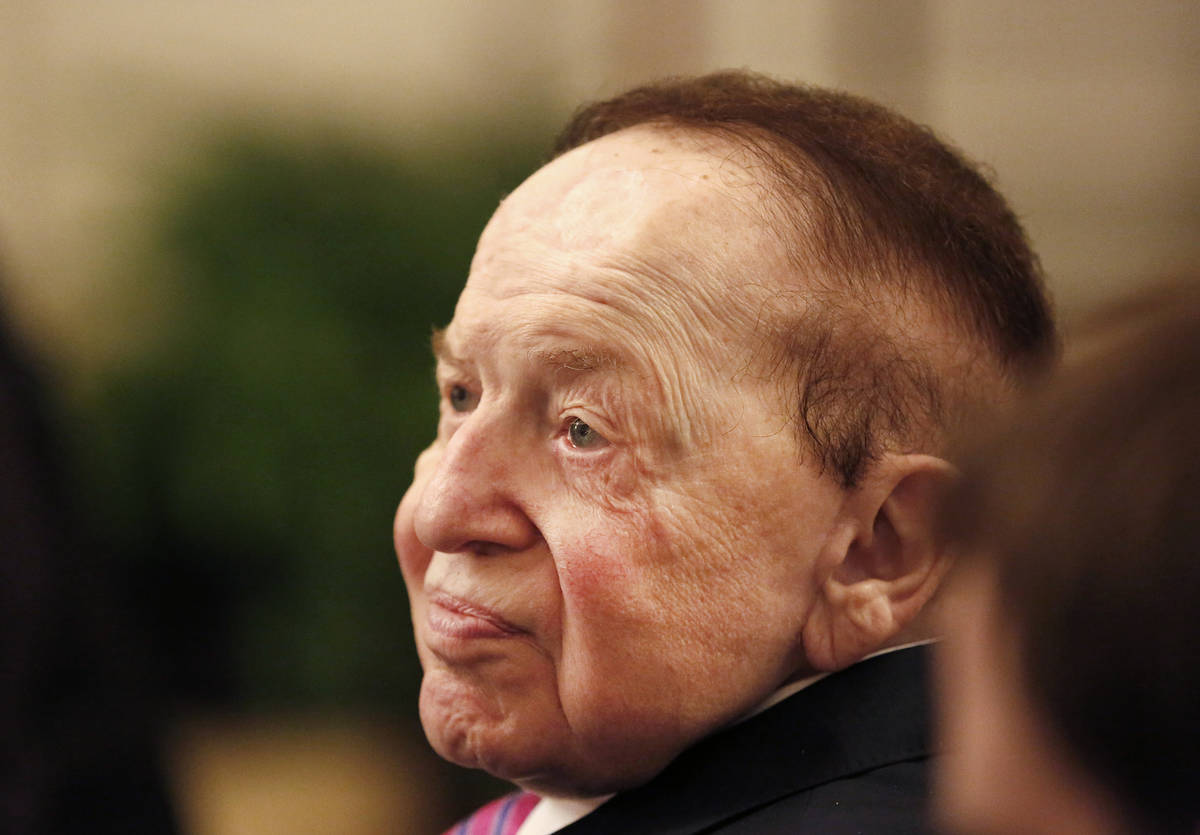 Las Vegas Sands Corp. chairman and CEO Sheldon Adelson is taking a medical leave of absence to resume his fight against cancer.
Adelson, 87, was diagnosed in February 2019 with non-Hodgkin lymphoma, a form of blood cancer that can spread rapidly, especially in older adults.
President and Chief Operating Officer Robert Goldstein has been named acting CEO and acting chairman of Sands and Sands China Ltd. while Adelson receives further treatment for lymphoma. Goldstein will also continue his role as president and chief operating officer, according to a Thursday statement from Sands.
In a Thursday note to investors, J.P. Morgan analyst Joseph Greff said he doesn't expect any changes to occur at Sands with Goldstein at the helm. The 65-year-old has been with the company roughly 25 years, and Greff noted that he is "universally respected" by investors, casino operator peers, employees and the Adelson family.
"(We) have long viewed Rob Goldstein as 'the next man up,' " Greff said.
Deutsche Bank Research analyst Carlo Santarelli agreed and said Goldstein is "more than simply well equipped" to perform Adelson's active duties.
"We do not believe there will be concerns around a change in strategy in Mr. Adelson's absence," Santarelli said in a Thursday note.
According to the American Cancer Society, non-Hodgkin lymphoma is one of the most common cancers in the United States, accounting for about 4 percent of all cancers. Treatment methods depend on the type and stage of the cancer but may include chemotherapy, immunotherapy, targeted therapy drugs, radiation, stem cell transplants, or surgery.
Adelson worked through his initial treatment in early 2019, despite various side effects from the medication that restricted his availability to travel or keep regular office hours.
He owned roughly 57 percent of Sands' outstanding common stock as of Dec. 31, 2019, according to filings with the U.S. Security and Exchange Commission. The CEO is estimated to be worth $35.6 billion by Forbes and is ranked the 19th-richest American.
Some of Adelson's fortune has been spent on political contributions and philanthropic work.
Adelson and his wife, Dr. Miriam Adelson, were listed as the top individual donors for federal campaign contributions by the Center for Responsive Politics, donating a total of $218.3 million from 2019 to 2020.
The two opened the Adelson Clinic in 2000, a private nonprofit that specializes in chemical dependency and drug addiction. In 2007, the couple established the Adelson Family Foundation, whose homepage says its primary purpose is to "strengthen the State of Israel and the Jewish people." The following year, they opened the Adelson Educational Campus, Nevada's only Jewish school offering prekindergarten to 12th grade.
Adelson, founder of the Comdex computer trade show, purchased the aging Sands on the Strip in 1989. He opened the Sands Expo & Convention Center nearby the following year and imploded the Sands in 1996 to make room for more modern resorts: The Venetian, which opened in 1999, and Palazzo in 2008.
His high-end casino empire has since expanded to Singapore and the Chinese territory Macao. In Las Vegas, the company is also connected to the $1.66 billion MSG Sphere project, a 17,500-seat performance venue being built east of The Venetian. It's unclear what the company's future holds in Nevada: Representatives confirmed in October that the company is in "very early discussions" to sell its Las Vegas assets.
Sands shares closed down 0.6 percent Thursday to $58.15 on the New York Stock Exchange.
The Review-Journal is owned by the family of Las Vegas Sands Corp. Chairman and CEO Sheldon Adelson.
Contact Bailey Schulz at bschulz@reviewjournal.com. Follow @bailey_schulz on Twitter.