Agreement gives Adelson highest annual salary among S&P 500 CEOs
September 8, 2017 - 2:55 pm
Updated September 8, 2017 - 4:19 pm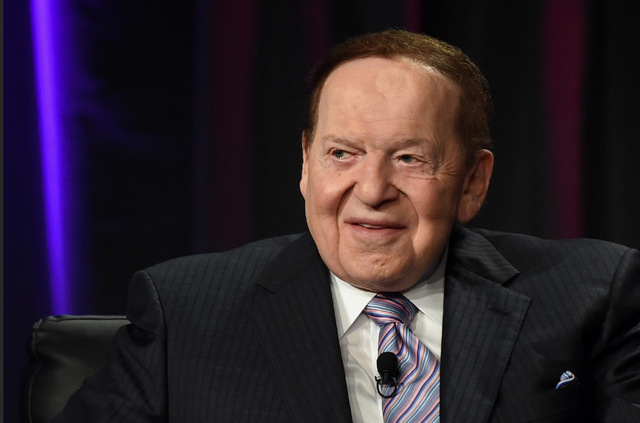 Las Vegas Sands Corp. Chairman and CEO Sheldon Adelson has signed a new employment agreement that gives him a 400 percent raise and the highest salary among S&P 500 chief executives.
Under the agreement, disclosed in a Securities and Exchange Commission filing, Adelson will receive an annual base salary of $5 million and will be eligible for an annual cash bonus of up to $12.5 million based on the company's cash-flow performance.
Adelson also can receive an annual stock option grant to purchase Sands common stock under the company's 2004 equity award plan with a total grant value of $1 million.
The new agreement also says Adelson may be reimbursed $200,000 annually for personal legal and tax preparation fees, reimbursed for the cost of a car and the driver of his choice, the use of a business jet for his and his companions' travel and security services for himself, his wife and his children until they reach the age of 22. Adelson also is eligible to receive perquisites and employee benefits commonly available to a company's senior executives.
The agreement's term expires on Dec. 31, 2021, and is subject to automatic extensions for successive one-year periods unless Adelson gives notice of his intention not to renew the agreement.
In addition to being Sands' top executive, Adelson also is the company's founder.
It was the first salary adjustment for Adelson since the company's 2004 initial public offering.
Bloomberg reported late Thursday that Adelson, 84, will have the largest annual salary among CEOs in the S&P 500. He has a net worth of $32.6 billion, according to the Bloomberg Billionaires Index.
Forbes reported Adelson's net worth at $35.5 billion, ranking him 14th on the Forbes 400 list.
The SEC filing also spells out Adelson's compensation should he resign, retire or be terminated.
The Review-Journal is owned by the family of Las Vegas Sands Corp. Chairman and CEO Sheldon Adelson.
Contact Richard N. Velotta at rvelotta@reviewjournal.com or 702-477-3893. Follow @RickVelotta on Twitter.