Al Faccinto, early executive of Caesar's Palace, dies
September 23, 2016 - 4:57 pm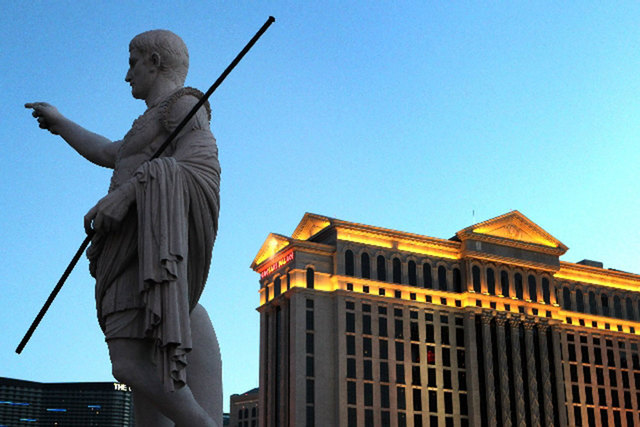 Albert "Moky" Faccinto Sr., an early executive of Caesar's Palace who helped to open the hotel and casino, died Sept. 17 at the age of 91.
Though the origins of his nickname have never been clear, Faccinto's commitment to serving Las Vegas was never a question, his son Albert "Big Al" Faccinto Jr. said.
"He treated his employees like family," the younger Faccinto said. A strong believer in second chances, Faccinto Sr. gave those who worked with him what he called a "final baptism."
His children attribute their father's balance of tenacity and compassion to his humble roots. Born in Steubenville, Ohio, in 1925 as an Italian first-generation American, the older Faccinto experienced the difficulties of the Great Depression and the poverty common of immigrants.
"He knew what it was like not to have milk at home," his son said.
But Faccinto climbed the ranks in the casino industry, eventually establishing himself as an executive of Caesar's Palace in 1966 after working at several other casinos, including the Dunes and El Cortez. Faccinto Sr. was instrumental in opening the hotel and casino that he intuitvely felt would see success.
Once established as director of casino operations at Caesar's Palace in 1972, Faccinto Sr. stayed until his retirement in 1985.
"He worked 14 hours a day," his son said. "But he ate dinner with us every night."
His father also committed himself to learning. He had to teach himself as a man who never received schooling past the 8th grade. His daughter, Barbara Bowman, remembers "seeing him read the encyclopedia one book at a time." He made it to Z.
His value of education inspired him to support the founding of Bishop Gorman High School alongside his wife, Helen Ann "Herky" Faccinto.
Faccinto is survived by his four children, Albert, Barbara, John, and Mary Ann, and 14 grandchildren.
"He was a man of few words, a man of great action," his daughter Mary Ann Mikulich said. "He lived by his word."
Public services will be held 3 p.m. Monday at St. Thomas More Catholic Community on 13o N. Pecos Road.
Contact Rachel Hershkovitz atrhershkovitz@reviewjournal.com or 702-383-0381. Follow @rzhershkovitz on Twitter.