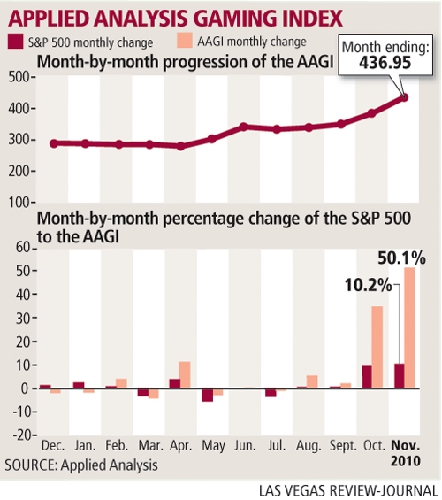 Want another sign the gaming industry might be on a rebound?
All 10 casino operators and gaming equipment manufacturers charted by Las Vegas financial adviser Applied Analysis showed increases in their average daily stock price during November compared with October.
Eight of the 10 companies are also above their November 2009 prices.
Applied Analysis principal Brian Gordon said Tuesday the industry is gaining after steps taken by companies to repair balance sheets damaged by the two-year recession seemed to take hold.
Meanwhile, gaming revenues in Nevada grew for the second straight month in September. Gaming revenues on the Strip are up 4.3 percent for the first nine months of the year.
"The gaming sector continued to benefit from rising investor expectations, increased visibility from third-quarter earnings reports and a general sense that the worst may be over," Gordon wrote in a report to the firm's clients.
The Applied Analysis Gaming Index grew to 436.95, its highest mark since May 2008.
Shares of Las Vegas Sands Corp. shined in November with an average daily price of $49.65, up almost 28 percent compared with October. Gordon said the company's valuation reflects a sharp contrast compared with the $2-per-share range the company experienced 18 months go.
Las Vegas Sands is also benefiting from its holdings in Macau and its newly opened resort in Singapore. The company's Asian gaming holdings accounted for almost 75 percent of the casino operator's $1.91 billion in third-quarter revenues.
"The increased demand (in Las Vegas Sands) has been fueled by an improved balance sheet, impressive early returns from investments in Singapore and respectable growth prospects," Gordon said.
Macau has also helped Wynn Resorts Ltd., and MGM Resorts International, the two other American casino operators with properties in the Chinese market. The average daily stock price of Wynn was up 9 percent in November while MGM Resorts' average daily price increased almost 7 percent.
The future prospects from Macau caused investment house UBS on Tuesday to increase its target stock price for Wynn Resorts, MGM Resorts and Las Vegas Sands.
The firm projected stronger gross gaming revenues in Macau for the 2011 through 2013 period, citing notable improvements in the VIP segment.
Wynn was given a price target of $133 per share while UBS maintained its buy rating on the company, up from a prior price target of $129. UBS reiterated a neutral rating on MGM Resorts and moved the price target from $12 a share to $13.
UBS moved its price target for Las Vegas Sands from $52 a share to $55 and reiterated a neutral rating on the shares.
According to Zacks Investment Management, analysts have jumped on the Las Vegas Sands bandwagon, giving the stock 15 "strong buys" and two "buy" ratings in the past few months.
On the Applied Analysis chart, Boyd Gaming Corp. saw its average daily stock price jump 16 percent in November after the company completed a $500 million stock offering.
The proceeds of the transactions were expected to extend debt maturities and pay down existing debt on its outstanding revolving credit facility.
Slot machine makers International Game Technology and Bally Technologies were the only companies with stock prices below their November 2009 levels.
"While a tone of guarded enthusiasm characterizes investor expectations for operators, the recovery timeline for gaming manufacturers is less certain," Gordon said.
Contact reporter Howard Stutz at hstutz@reviewjournal.com or 702-477-3871.