At these Las Vegas resorts, it's good to see red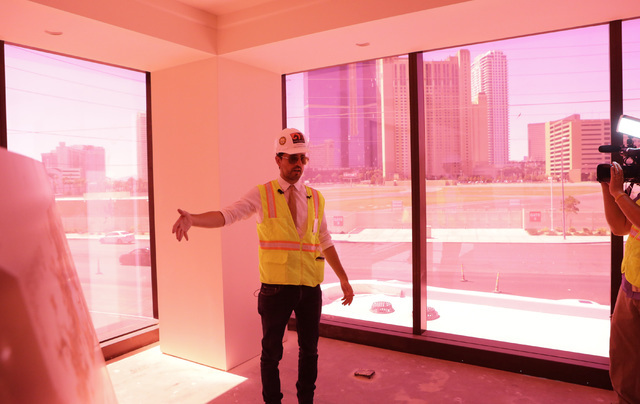 The Chinese are coming.
And two companies developing casinos in Las Vegas are getting ready for them.
Both are taking different approaches to getting a slice of the growing market, and you'll never confuse one for the other.
First in will be the Lucky Dragon Las Vegas, a 27,500-square-foot casino floor attached to a 203-room boutique hotel. The property — the first built from the ground up since The Cosmopolitan of Las Vegas opened in late 2010 — will have a 2½-story, 2,500-pound glass dragon suspended over the casino floor.
You'll see red when you lay your eyes on the Lucky Dragon. Dave Jacoby, the property's chief operating officer, gave media members a hard-hat tour earlier this month and said company officials considered about 100 different red glass samples before choosing the style and hue in place on the hotel building on Sahara Avenue about midway between the Strip and Interstate 15 and across the street from MGM Resorts International's Rock in Rio festival grounds.
In the Chinese culture, seeing red is good. That's considered a lucky color, so patrons will probably see plenty of it in the casino.
Jacoby said that's not the only thing players will see a lot of. Ttable games — read: baccarat — will dominate the floor.
"At most properties, about three-quarters of the table games are the traditional ones, blackjack, craps and roulette," Jacoby said. "But we're going to flip that, have three-quarters of them baccarat, maybe some pai-gow with a few blackjack and craps tables."
Jacoby added that table games will be the featured attraction with slot machines a secondary choice. So far, the floor distribution calls for 37 tables and 300 slots.
The property, though small, will have special gaming rooms to cater to high-end players. While it won't be seeking special licensing for private gaming salons, it will have special rooms for its top players.
Right about when the 200 construction workers are putting the finishing touches on the Lucky Dragon and the 800 employees are preparing to take their positions after the summer heat goes away, construction cranes will be put in place for the other Chinese-themed property coming to town.
That's the 3,000-room Resorts World Las Vegas megaresort, due to open in 2019 with a casino floor more than five times as large as Lucky Dragon's.
"We'll definitely be different from them, but I think we'll actually complement each other," Gerald Gardner, Resorts World Las Vegas' general counsel and senior vice president of government affairs, said in a recent telephone interview.
Resorts World's parent, the Genting Group, is a diversified, multinational company based in Malaysia with properties in the Philippines, Singapore, the United Kingdom and the United States along with its flagship Malaysian property.
As a result, Genting and the Resorts World brand already have an international following and are expected to draw the growing middle- and upper-middle-class Asian demographic.
Lucky Dragon, however, will seek out West Coast domestic Asians and Asian locals.
Gardner and Jacoby acknowledge that the high-rolling Asian players already have their favorite Las Vegas destinations with the big-boy MGM Resorts International, Wynn Resorts Ltd., Caesars Entertainment Corp. and Las Vegas Sands Corp. having their own stable of steady, loyal customers.
With Genting expecting to entice its own loyal clientele to Las Vegas and Lucky Dragon pushing for domestic players, there seems to be enough business to go around for everybody.
That's why Gardner believes two Chinese-themed properties less than a mile away from each other will both thrive and will expand the market instead of cannibalizing each other.
Gardner earlier this month said some Resorts World executives were in Las Vegas to put the finishing touches on hotel tower and casino floor designs. The refined designs were shipped to Genting's New York-based development team in preparation for the completion of foundation work.
Meanwhile, company executives and the board of directors in Kuala Lumpur delivered a $1 million equity package, the first piece of financing for what's forecast to be a $4 billion project.
Gardner said by November or December, people will start to see the project's 56-story hotel tower join the Las Vegas skyline.
Not quite as prominent is the 10-story Lucky Dragon, which, incidentally, won't have a floor with the unlucky No. 4, and is dwarfed by the nearby 41-story Allure residential tower. Jacoby said his company is talking with Allure officials to develop some tie-ins so that residents would look upon the Lucky Dragon as their neighborhood locals casino.
The Lucky Dragon could easily become a locals favorite when Rock in Rio comes to town. Within the casino's upstairs collection of Chinese dining options will be a balcony for fine-dining customers that will have a view of the festival grounds.
For years, travel experts have encouraged any company interested in attracting the Chinese market to be China-ready. The Lucky Dragon is going the extra mile by using Chinese-first signs, a strategy that is sadly lacking throughout Las Vegas.
Maybe these two properties will lead the way in rolling out the red carpet to the Chinese — with heavy emphasis on red.
The Review-Journal is owned by the family of Las Vegas Sands Corp. Chairman and CEO Sheldon Adelson.
Contact Richard N. Velotta at rvelotta@reviewjournal.com or 702-477-3893. Follow @RickVelotta on Twitter.
— — —
This column has been corrected to reflect that the Lucky Dragon will have special gaming rooms to cater to high-end players. It won't be seeking special licensing for private gaming salons, but it will have special rooms for its top players.
RELATED
Lucky Dragon boutique hotel to fill 800 positions by end of year
A year after groundbreaking, Genting passes another hurdle