Bergman, designer of major Las Vegas hotels, dies at 80
August 25, 2016 - 8:30 pm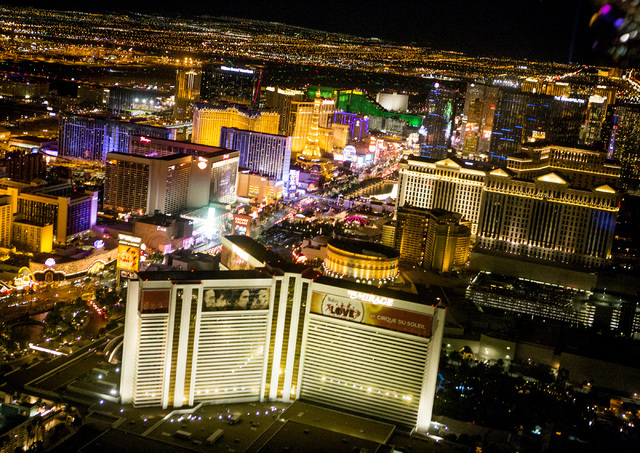 Long before his name became synonymous with the Strip, Joel Bergman was a regular of the Las Vegas Valley.
The Southern California native spent his childhood traveling with his parents and sister to the Sahara and Riviera on family gambling trips.
As an adult, armed with an undergraduate degree in architecture and a head full of ideas, Bergman returned to shape Southern Nevada's skyline and tourism industry.
"He is what we consider the originator of the modern-day casino," said fellow architect Paul Steelman, Bergman's friend and former employee. "There's approximately 30 casino sites on the Strip … and Joel designed more than one-third of them."
Bergman died Wednesday of natural causes at age 80.
Bergman spent more than 45 years designing casinos and was behind projects including Paris Las Vegas, The Signature at MGM Grand and the Trump International .
It all began on Aug. 20, 1936, when he was born in Los Angeles. After growing up in Venice he graduated with honors from the University of Southern California in 1965.
His oldest son, Leonard Bergman, remembers spending the early ′60s helping his father with a multitude of home improvement projects. Bergman also designed local churches while he finished his degree.
"Joel could do it all," said Leonard, 60. "He could conceive it, he could draw it, and he could build it."
By 1978, Bergman was working as megadeveloper Steve Wynn's in-house architect. He held the position for 16 years, designing both The Mirage and Treasure Island.
Steelman said he began working under Bergman after meeting him in Atlantic City in 1978. When The Mirage opened in 1989, Steelman remembers casino executives traveling from Europe, Asia and South Africa to see Bergman's creation.
"There's probably no other architect in the world who has affected tourism as much as Joel has," Steelman said. "He was as much of legend (to architecture) as a Elvis was to music."
In 1994, Bergman and fellow Wynn employee Scott Walls co-founded the Bergman, Walls & Associates architecture and interior design firm in Las Vegas. Bergman served as chairman through the end of 2015.
The company is now led by Leonard Bergman, and Bergman's youngest son, George Bergman.
Bergman's storied career has been punctuated by accolades such as the Sarno Lifetime Achievement Award for Casino Design in 2006 and his induction into the UNLV Artists and Entertainers Hall of Fame in 2013.
But George Bergman, 51, said awards never mattered much to his father. Bergman was more concerned about ensuring his clients received a building they and their customers loved.
"He cared about every aspect about architecture and design," George Bergman said. "It was never about what was best for him, it was about what was best for the client and his project."
Contact Michael Scott Davidson at sdavidson@reviewjournal.com or 702-477-3861. Find @davidsonlvrj on Twitter.