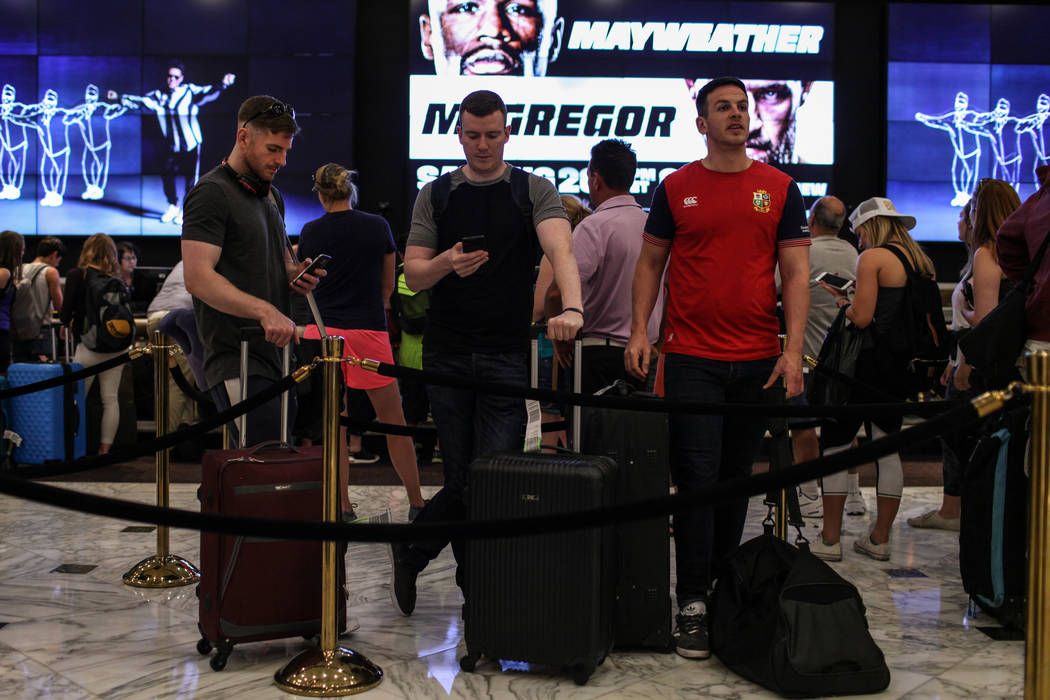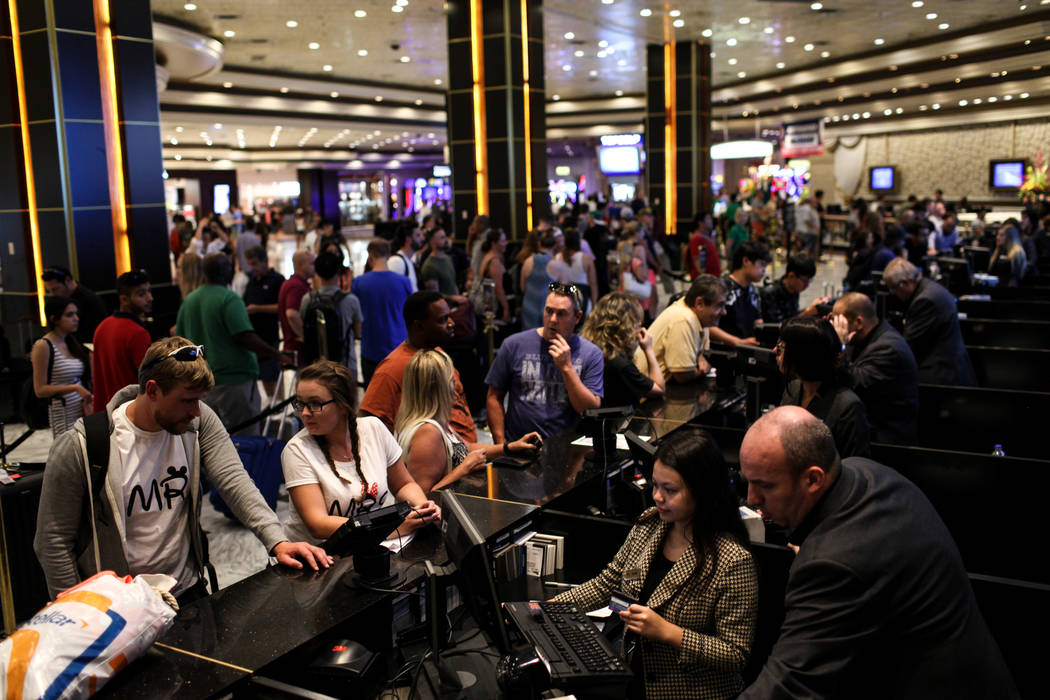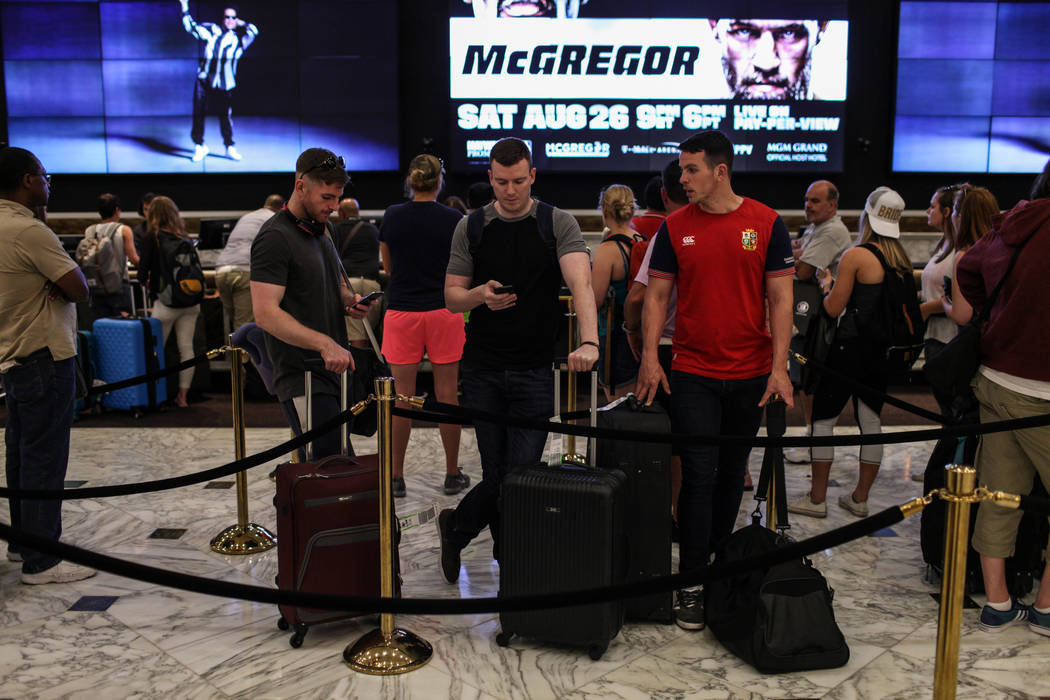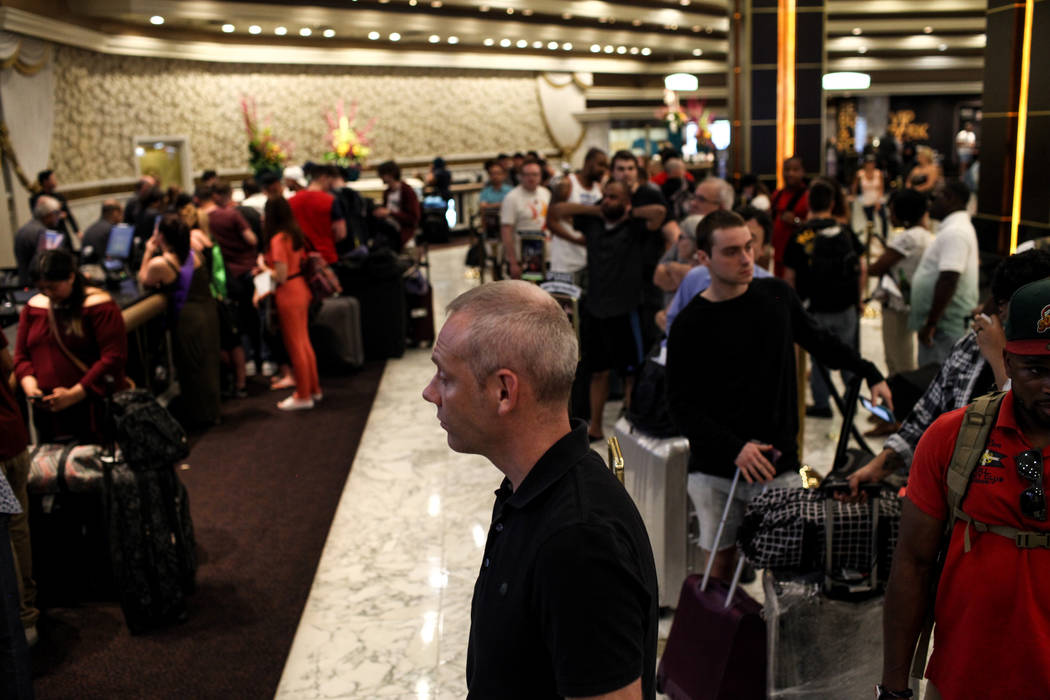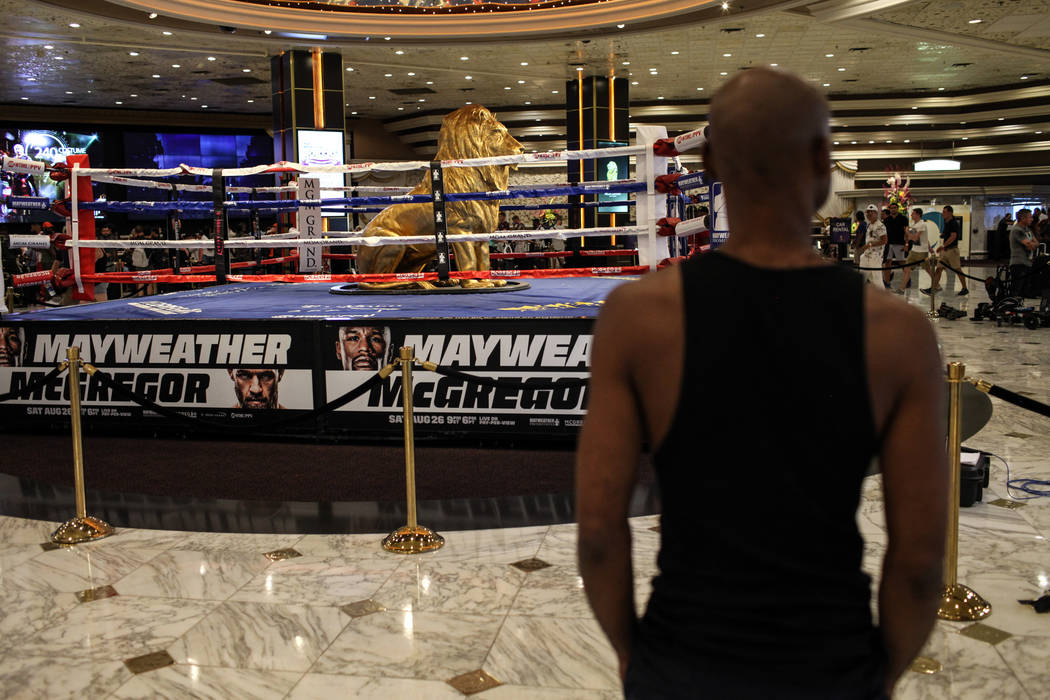 Waves of visitors are expected to descend on Las Vegas this weekend for Saturday's boxing match between Floyd Mayweather and Conor McGregor even as ticket sales trail promoters' expectations.
Strip casinos say they expect to sell out Friday and Saturday at well-above seasonal prices.
Sports books are preparing for a record handle.
"I don't think there is any shot of us not filling up this weekend,'' said Colleen Birch, senior vice president of revenue optimization at The Cosmopolitan of Las Vegas. "The city has a pretty amazing energy and tremendous amount of activity that people just want to be here for.''
High-rollers and celebrities will be arriving in private jets to gamble and party around the "The Money Fight.''
DJ Calvin Harris will entertain Friday at Omnia, where the best tables cost $30,000. Drai's nightclub will charge as much as $18,500 for its tables Saturday night to hear Chris Brown.
"We are going to see a big party in the city prefight and post,'' said Ryan Thompson, senior vice president and regional chief marketing officer for Caesars Entertainment Corp. "These types of events are huge successes for everyone.''
The MGM Grand has Mayweather-McGregor room keys and "Do Not Disturb" signs this weekend. pic.twitter.com/lEsVDeo9TT

— Arash Markazi (@ArashMarkazi) August 24, 2017
Thompson said he expects occupancy between the high 90s (percent) to full at its nine local properties.
The Cosmopolitan has all of its 21 new penthouses booked for the weekend, the first time that has happened since their completion this year.
"We are looking at the fight on par with events like the Super Bowl and New Year's Eve,'' said Birch.
Lower priced tickets
Mayweather vs. McGregor is a 12-round super welterweight matchup that pits the undefeated 40-year-old boxer Mayweather against the 29-year-old MMA superstar McGregor.
Promoters expected the fight to generate huge interest from boxing and MMA fans and priced tickets close to those for Mayweather's 2015 bout against Manny Pacquiao. That fight grossed $72 million at the gate, the highest ever for a live Nevada bout.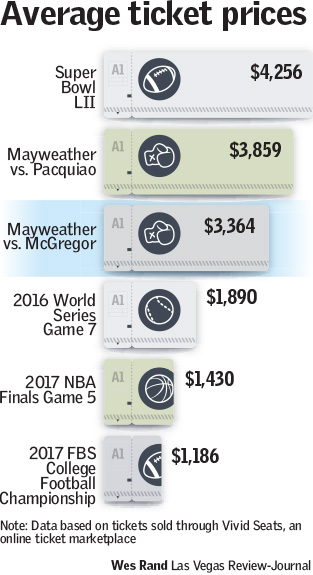 However, there are still more than 1,000 tickets available for the Mayweather-McGregor fight on the primary market and about 1,500 on the secondary market as of Thursday morning, said Jesse Lawrence of TicketIQ, an event ticket aggregator.
Many of those will get snapped up in the days and hours before the fight. Ticket buyers have learned over the years that they can get good discounts days before a major event, Lawrence said.
The fight will take place in the 20,000-seat T-Mobile Arena, which opened in 2016. The Mayweather-Pacquiao fight took place in the 17,500-seat MGM Grand Garden.
So even with a lower average ticket price, higher attendance will likely mean the Mayweather-McGregor fight will become the highest grossing bout at the gate.
"They are well on their way to breaking that record,'' said Ken Solky, president at LasVegasTickets.com, adding he just sold another 16 to a group from Ireland on Thursday. "The planes are landing and sales are brisk today.''
Betting record
It won't be the only record broken this weekend.
The betting interest has been historic for a combat sport, as the handle is expected to shatter the record $50 million wagered at Nevada sports books on the Mayweather-Pacquiao fight.
"It will be the biggest-bet event (this year) other than the Super Bowl," William Hill sports book director Nick Bogdanovich said. "It's going to be the biggest fight handle ever. Period. Whether it's boxing, gladiators or 'Game of Thrones.'"
The majority of the money is on Mayweather, a favorite ranging from minus-500 to minus-550, who has attracted a flurry of six-figure wagers in recent days. But most books still have a liability on McGregor, down to a plus-400 underdog.
William Hill has a multimillion-dollar liability on the UFC star, and a win by McGregor would result in the largest loss on a single sporting event in the company's U.S. history.
South Point also faces a liability on McGregor despite taking an $880,000 wager — the largest on the fight thus far — on Mayweather from the Maloof brothers, Joe, Gavin and Phil.
And MGM Resorts has a "significant liability in the seven-figure range" on McGregor despite taking a $500,000 bet on Mayweather.
Hotel price jump
Even though hotels are expecting to be fully booked, some have been cutting prices going into the final week, according to Lawrence of TicketIQ. He observed three- , four- and five-star hotels trimming prices Wednesday.
The cheapest prices available at MGM for the weekend fell $13 on Wednesday to $297 from $310, according to prices on Vegas.com.
However, prices are still high for what is a traditionally soft weekend. Prices at Aria, Mandalay Bay, Bellagio and MGM are 20 percent to 30 percent higher for this weekend compared with the following weekend, according to Vegas.com.
The year-over-year increase in hotel prices this weekend is set to be the largest so far in 2017, according to a report by JPMorgan.
"The year-over-year comparison is dramatic,'' said Caesars' Thompson, a view shared by The Cosmopolitan's Birch.
$6,000 cabanas, $10,000 memorabilia
McCarran International Airport officials say passenger load will be around 95 percent from Thursday until Monday, up from an average of 85 percent.
Some airlines have informed McCarran that they are fully booked on outbound flights Sunday and Monday.
"People will trickle in for an event, but they all want to fly out at the same time,'' said McCarran spokeswoman Christine Crews.
Everyone is taking advantage of the weekend onslaught to push up prices and hawk fight memorabilia.
Encore Beach Club is asking $6,000 and $5,000 for cabanas and daybeds, respectively, Saturday, compared with $4,000 and $2,000 on Sunday.
Nightclubs are increasing their table minimums and tightening guest list rules, said Jack Colton, who runs a website dedicated to Vegas party life.
Showtime is sponsoring a "pop-up shop'' selling fight merchandise inside Fashion Show mall. The merchandise will include T-shirts, posters, artwork and rare memorabilia ranging from $20 to $10,000.
Tour operators and ride-share drivers expect to do crisp business this fight weekend, especially from international visitors.
"If they are going to make it over here (from abroad) for McGregor, then they are going to do things that you can only do here like the Grand Canyon,'' said Danny Greenstone, a Strip ticket agent.
Lyft expects this week to "shatter records," said Las Vegas General Manager Yacob Girma. "We have been messaging drivers all week about the increase in demand that has already begun."
The fight lands on the same weekend that college football kicks off and two weeks before professional football starts, promising a good launch to the autumn betting period.
"We are hoping this weekend will kick off the whole season of Vegas money,'' said Brett Forster, bar manager at Irish pub Rock & Reilly's.
"Everyone is gung-ho this weekend.''
Review-Journal writers Todd Dewey, Ron Kantowski and Art Marroquin contributed to this report. Contact Todd Prince at tprince@reviewjournal.com or 702-383-0386. Follow @toddprincetv on Twitter.
Attendance records not in jeopardy
The fight, though, won't break attendance records.
And it may not generate the "buzz" that heavyweight fights of the previous century did, say veteran fight watchers.
Associated Press sports columnist Tim Dahlberg, who has written a book about the city's big fights called "Fight Town: Las Vegas — The Boxing Capital of the World" said he's not feeling the electricity as he has before other big fights — at least not yet.
"It's huge as an event, but I don't think it reaches the level, at least locally in Las Vegas, as Tyson-Holyfield II or Cooney-Holmes," he said.
The 1982 showdown between heavyweight champion Larry Holmes and challenger Gerry Cooney drew a crowd of 29,214 at the outdoor stadium at Caesars Palace — still easily the biggest turnout to witness a live prizefight in Nevada.