Bingo proves its popularity at downtown's Plaza
October 4, 2016 - 9:45 pm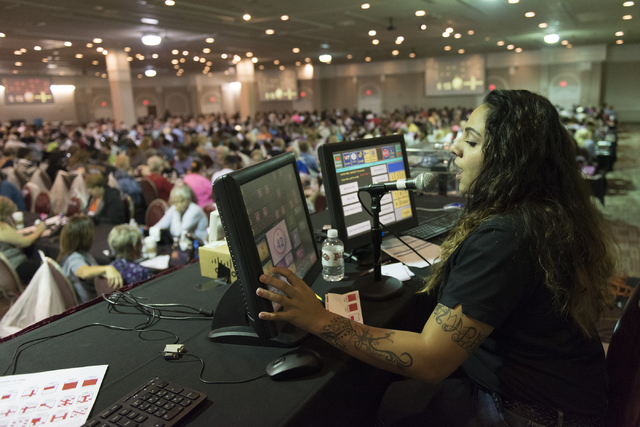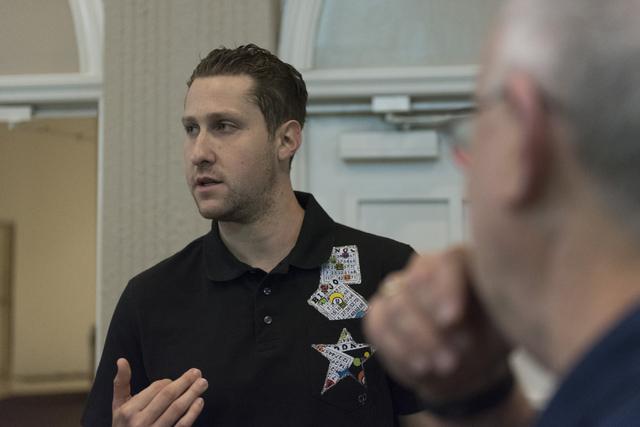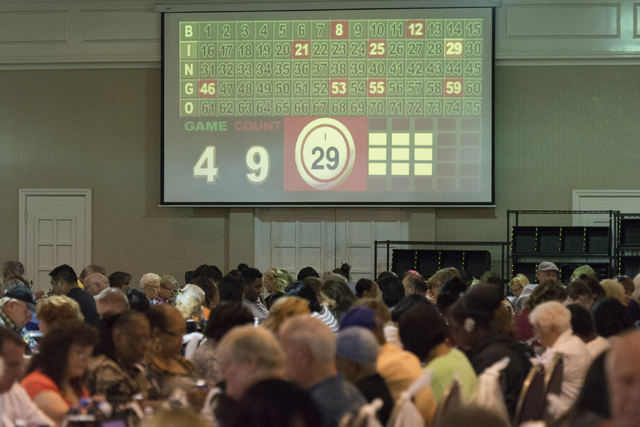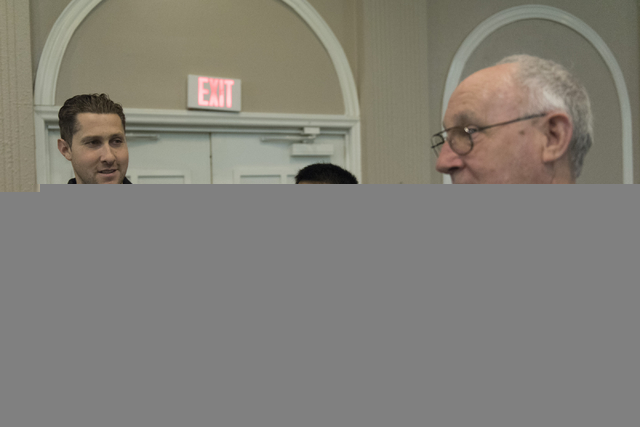 Tom Shifflett will never forget the first time he visited downtown Las Vegas' Plaza.
"There was a big park downtown, right near the train station," said Shifflett, a retired Marine from Oceanside, California. "I was here for the grand opening. In the hotel rooms, there are pictures of that opening on the walls, and I look at them and say, 'Yeah, I was here for that.'"
That was in the summer of 1971.
On Tuesday, Shifflett, dressed in a white long-sleeved bingo sweatshirt, and hundreds of his friends with similar game attire make regular visits to the Plaza so that they can scream the name of the game they love when they win: bingo!
About 800 people wrapped up two days and 64 games of the Plaza's Super Bingo event Tuesday afternoon.
For the players who come from as far away as Hawaii and Canada, Super Bingo is an opportunity to play as well as to socialize with people they've known for years or a chance to make new friends.
The Plaza management has discovered a gold mine in bingo and doubled the number of Super Bingo tournaments from three to six a year.
In December, the company is pulling out all the stops, featuring a $150,000 tournament Dec. 11-13 with 126 games. Every tournament date for 2017 already has been scheduled so players can make plans to be here.
Jonathan Jossel, the Plaza's hands-on CEO since being licensed in 2014, saw the potential for making bingo succeed even while other downtown properties have failed.
Bingo is played in about 30 Southern Nevada locations, most of them in the city's locals casinos, primarily the Station Casinos and Boyd Gaming properties. But the Plaza is the only one with the game downtown.
CUSTOMER SERVICE
Jossel's secret?
"You have to treat the customer right, make them feel appreciated — and we do," Jossel said.
He hired Weldon Russell, "the best bingo guy in the state of Nevada," Jossel said, an 18-year Station Casinos bingo manager who left the company to set up similar operations at tribal casinos in Oklahoma. When Russell grew weary of his frequent travel to Texas to get to the Oklahoma casinos, he signed on with Plaza.
Jossel also hired a "bingo ambassador" — that's what he's called on his business card — Reynz Ungos.
It's Ungos' job to make sure every bingo player has the best game experience possible. He knows dozens of players by name — and they know him.
"A lot of people think this is an old person's game, but we're trying to make it attractive to younger players, too," Ungos said.
The game gradually is swaying toward the younger demographic, but it isn't likely to shift dramatically with all the loyal fans the game and the property have.
"A lot of them plan family reunions around the tournament so that they can visit when they're here," Russell said. "There's a group that plans to have three generations of player at the next one."
That's how it is for Shifflett, whose visits this year have been bittersweet since the death of his wife, Eda, in January. Now, he visits regularly with his bingo family and they catch up on family life and current events when they gather.
"These people over here are from Vancouver, and these over here are from L.A., and they're from Austin, Texas, and they're from Denver," Shifflett said, pointing to the empty chairs of the people who have gotten up and stretched during a break in the action.
Each of them bought in for $130 for the bingo sessions or purchased room-and-bingo packages that start at $239 for a three-night stay. It's an open bar during the sessions, and most of the servers know the customers by name.
DOUGHNUTS, LUNCH AND A GIFT
About 2,000 doughnuts, bagels and muffins are put out just after the room opens at 7 a.m. — there are usually about 60 people waiting for the doors to open — and there are ice-filled coolers with bottles of water throughout the ballroom, the only place in the hotel large enough to accommodate the Super Bingo tournament. Players also get a box lunch and a gift — this year, it was a mini-tool kit with the Plaza logo on the pouch.
It all wraps up by about 4:30 p.m., but there are other sessions in the bingo hall if players haven't gotten enough.
The Plaza has a 280-seat bingo hall, but the tournament is staged in the remodeled ballroom, one of the areas that is a part of the Plaza's recent $35 million in renovations.
While players love the camaraderie of the event and greeting all friends, they also love the game — and to win.
"Yeah, I've won a few times," Shifflett said. "In June, I won $2,500, but only because I had to split $10,000 with three other players."
Many players like the tournament because most of the prizes are under the $1,200 IRS reporting threshold for gambling wins.
Russell said when he was licensed, a Gaming Control Board member asked him why the top prize was $1, 199.
"'Because that's just under the IRS reporting limit,' I told them," he said.
"They laughed and said, 'We know, we just wanted to hear what you'd say.'"
It's the same kind of laughter you hear when bingo fans get together to play their favorite game.
Contact Richard N. Velotta at rvelotta@reviewjournal.com or 702-477-3893. Follow @RickVelotta on Twitter.