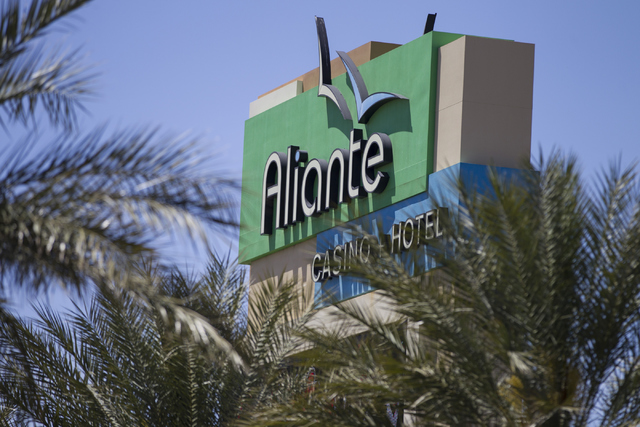 Boyd Gaming, a major player in the Las Vegas locals market, saw revenue and earnings inch up in the first quarter with three local properties new to the company providing a 38.7 percent bump in revenue for that segment.
The positive outlook resulted in the company's board of directors reinstituting its capital returns policy of share repurchases and dividends.
Results unveiled Tuesday afternoon met Wall Street analysts' earnings expectations and surpassed revenue projections.
The company's revenue climbed 9.6 percent to $605.3 million for the quarter that ended March 31, but Boyd's locals segment, which now includes Southern Nevada's two Cannery properties and the Aliante Hotel, reported revenue up 38.7 percent to $219.8 million.
The Aliante joined the company Sept. 27, while the Eastside Cannery and North Las Vegas' Cannery properties came under Boyd management on Dec. 20, making the first quarter the first with the three new properties contributing to results.
Boyd President and CEO Keith Smith said results from the three new properties were in line with company expectations.
Smith said the quarter was the eighth consecutive for cash flow growth in the locals segment. He said the company is capitalizing on positive economic trends in Southern Nevada, which includes the nation's fourth-fastest-growing metropolitan area.
Boyd's downtown Las Vegas segment was up 3.6 percent to $60.7 million, benefitting from additional downtown foot traffic and an expanded Hawaiian customer base.
The company, which blended its South, Midwest and Peninsula segments into one unit as a result of a third-quarter refinancing, reported a 3.1 percent revenue decline to $324.8 million.
Smith said positive trends in the company's results led to the company's board of directors to reinstating its cash dividend program. The company on July 15 will pay 5 cents a share to stockholders of record on June 15. The company also has allocated another $92 million for future share repurchase agreements.
Boyd stock rebounded in after-hours trading Tuesday with the stock price rising 21 cents, 0.9 percent, to $23.25 on average trading.
Contact Richard N. Velotta at rvelotta@reviewjournal.com or 702-477-3893. Follow @RickVelotta on Twitter.
Boyd by the numbers
First quarter earnings:
1Q 2017 1Q 2016
Net revenue $605.3 million 552.4 million
Net income $35.5 million $33.2 million
Earnings per share 31 cents 29 cents