Businessman sees growth in pari-mutuel based fantasy sports
December 23, 2016 - 4:22 pm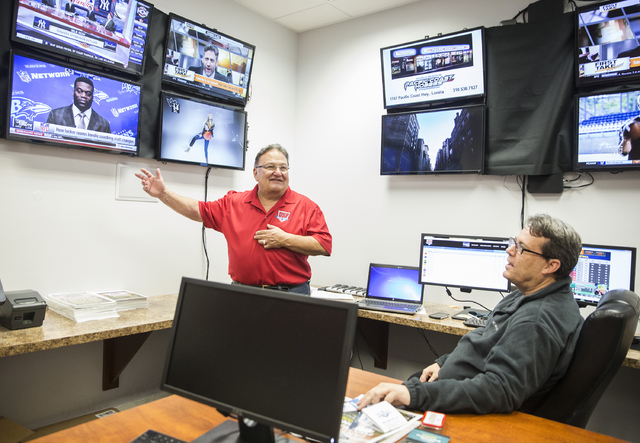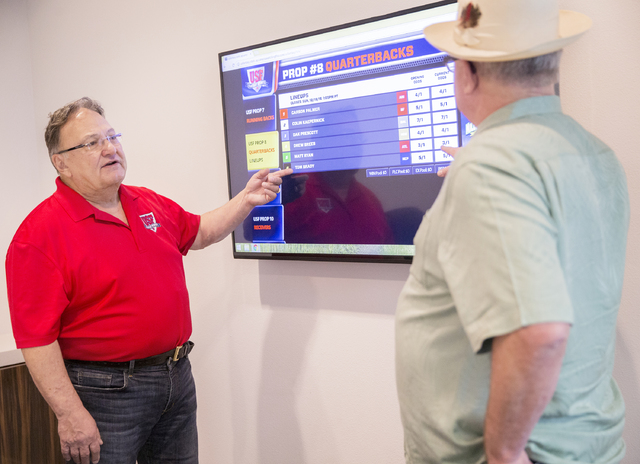 Vic Salerno's bid to fill the gap created by the absence of daily fantasy sports play in Nevada has grown exponentially during the football season and is making even greater strides outside the state.
Salerno, president of USFantasy and a 38-year veteran of the gaming industry, said handle has grown roughly 10 percent a week through the National Football League season. The company hasn't publicly reported handle figures.
"Once you get liquidity, it gets better for everybody," Salerno said from the company's office south of McCarran International Airport.
And by that, he means there's room for more types of bets within Nevada and more wagering locations in states that already allow pari-mutuel wagering.
Salerno's version of fantasy sports is different from the more conventional fantasy versions offered by FanDuel and DraftKings, companies that have tried and failed to convince the state's gaming regulators to allow them to operate in the state.
Over the past year, executives from those companies testified before the state's Gaming Policy Committee, a 12-member panel that includes Gov. Brian Sandoval, the heads of the Gaming Control Board and Nevada Gaming Commission and several experts with ties to the industry.
The daily fantasy sports model involves choosing players and tallying points based on performance, competing with other players nationwide.
FanDuel and DraftKings consider their contests games of skill; Nevada's regulators see them as games of chance and thus, gambling. The state welcomed the companies to become licensed, but they declined, knowing that if they admitted their games were a form of gambling they would have trouble operating in other jurisdictions.
BASED ON PARI-MUTUEL WAGERING
Enter Salerno and USFantasy, who were licensed by the state in June.
His system works through pari-mutuel wagering, from the French "wagering among ourselves."
Bettors who have wagered on horse racing know that bets placed on a field of horses become part of a pool that is split among those who backed the top three finishers — win, place and show — and the house.
The difference with USFantasy is that the athletes are the horses and players bet on a field of players in the same positions. The players finish based on points accumulated by performance — touchdowns scored, yards gained, catches made.
Salerno's bookmakers set opening odds, but they constantly change as players make their bets, right up to "post time" — in this case, the start of the first game.
In a recent week, quarterbacks Aaron Rogers of Green Bay, Drew Brees of New Orleans and Dak Prescott of Dallas went out as the favorites at 3-to-1, 5-to-1 and 8-to-1, respectively. The longshot was Marcus Mariota of Tennessee at 16-to-1.
Because there are 32 starting quarterbacks most weeks, the company often puts up different races among the high-tier players and the low-tier players.
There are multiple races for receivers and running backs as well as quarterbacks.
USFantasy has garnered attention locally with its "Million $ Seven" promotion — a contest to pick the winners of seven races to win $1 million with a $1 entry.
In addition to the traditional win, place and show bets, the company also offers daily doubles, pick-threes, exactas, trifectas and superfectas — essentially parlay wagers.
As the season has progressed, the company has added new races in a pari-mutuel format. For example, in the Chick-fil-A Peach Bowl game on New Year's Eve, one of the semifinal games for the college football championship, USFantasy is offering a victory by the University of Alabama by 10 to 19 points or 20 to 29 points as 5-to-2 co-favorites while a University of Washington win by 14 or more points opened as a 25-to-1 longshot.
Those games offer win, place and show bets so there's a margin for error, although bettors don't win as much money on show bets that win.
PART OF THE CHALLENGE
To Salerno, it's all part of the challenge of getting players to try the game because he thinks it's a concept that is simple, fun to play and will be enjoyed once tried.
USFantasy tickets are available at sports books in more than 50 locations in Southern Nevada, including all MGM Resorts International, Caesars Entertainment, Boyd Gaming and Station Casinos properties.
Salerno also has opened the door to growing betting pools by having other states' horse tracks and off-track betting parlors sign on with the company. The company recently locked down a deal with Mile High Racing and Entertainment in Colorado to offer its style of wagering in 10 locations there.
Salerno said other deals are on the way in other states.
"Once we get that liquidity up, we'll really have some winnings that will get people's attention," Salerno said.
The company also has branched into pari-mutuel bets on basketball, hockey, golf, boxing and mixed-martial arts and will have fantasy games in baseball when the season opens.
Robert Walker, the director of strategic planning for USFantasy, said the one complaint he's heard from some bettors involves the constantly changing odds up until the start of games, a big difference from conventional betting.
"It's different from conventional sports betting when you put money on a play that opens at 5-to-1 and then as more people bet on it, the odds go down to maybe 3-to-1," Walker said. "But it works both ways. You won't hear people complaining when their 5-to-1 wins after the odds have gone up to 15-to-1."
Contact Richard N. Velotta at rvelotta@reviewjournal.com or 702-477-3893. Follow @RickVelotta on Twitter.