Caesars CEO sees signs of renewed travel demand in 2021
Updated February 25, 2021 - 5:58 pm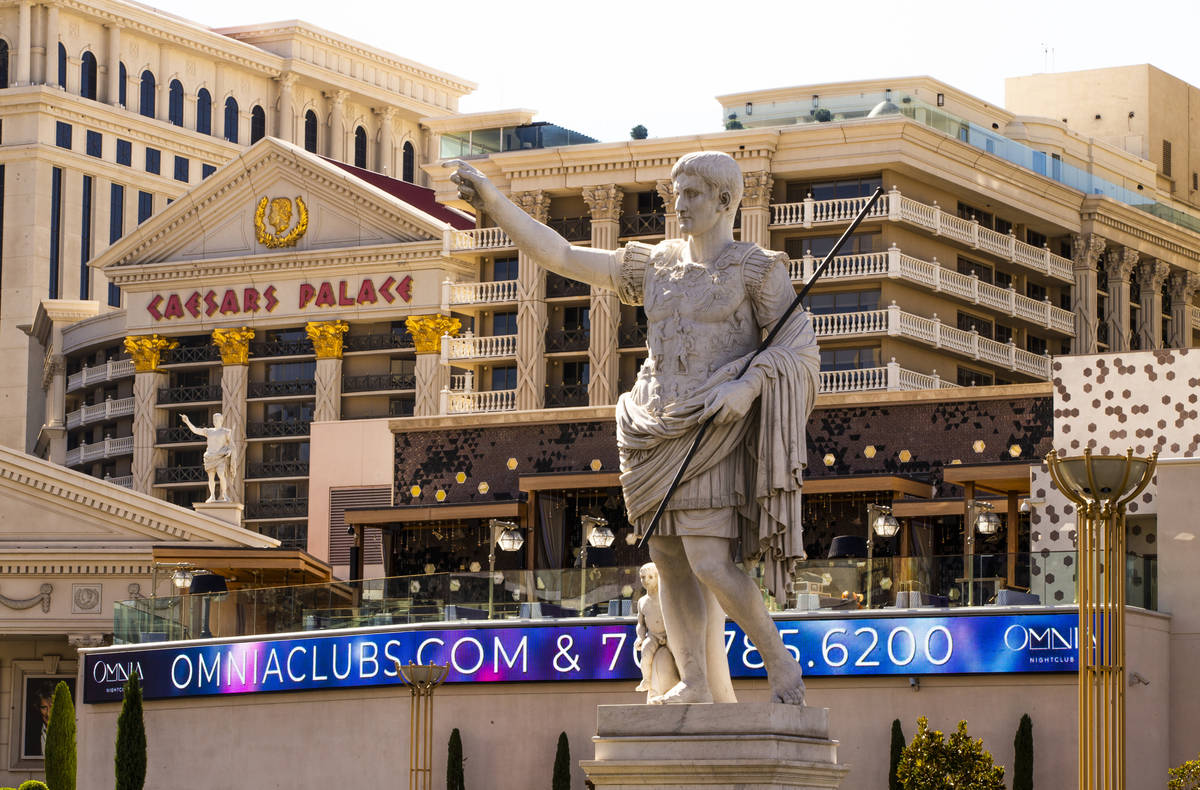 The head of Caesars Entertainment Inc. believes Las Vegas is going to bounce back "much, much quicker" than expected.
If true, a speedy recovery would be welcome news for the Reno-based casino company, which had fourth-quarter results negatively impacted by COVID-19 restrictions across several states.
"We've been wandering in the abyss for almost a year now … and you can clearly see the light shining through at this point in Las Vegas," CEO Tom Reeg said during a Thursday call with investors. "We feel very good that we've seen the bottom in Vegas and in the business, and that we're only going to keep getting better."
Flipping a switch
Caesars reported a net revenue of $1.5 billion in the fourth quarter, up 153 percent compared with the same period the year prior. Same-store net revenues were down 37.5 percent to $1.6 billion. The company saw a net loss of $555 million compared with a net loss of $13 million in the same period last year.
"We are thrilled to close the book on 2020. It was by any measure the most challenging year that we've had operationally and personally to date," Reeg said.
Reeg believes the worst is behind Caesars as bookings begin to accelerate.
"In Las Vegas, we are at our highest level of bookings since reopening," he said. "It's almost like a switch was flipped sometime late January, early February."
Caesars' Las Vegas assets were 95 percent occupied last Saturday, and nine of the top 10 net booking days since casinos reopened in June took place this month.
Things should only get better from here on, according to Reeg. The company's forward-looking bookings show mid-March occupancy percentages above 50 percent midweek and over 95 percent on weekends.
Convention bookings are also on an upward trajectory. Caesars has almost $200 million worth of group business room revenue on the books in the second half of the year, and 32 percent more rooms booked than the second half of 2019.
Overall, Reeg said, travel demand for Las Vegas is "wildly underestimated" by the markets, and he expects a "far more dramatic" recovery than what is modeled.
"(There are) estimates out there that suggest we get back to 2019 numbers sometime in '23," Reeg said. "I'm firmly convinced we'll be at least run rating those numbers the first quarter that Vegas group business is back in earnest, and that could be as early as second half of this year."
Caesars' full-year 2020 results saw net revenues of $3.5 billion, up 37.4 percent from 2019, while same-store net revenues were down 42.5 percent to $6.1 billion. Caesars' net loss was $1.8 billion in 2020, compared to a net income of $81 million the year prior.
Long-term changes
While things are looking up for Las Vegas, Reeg said some of the operational changes Caesars made during the pandemic will be here to stay.
Reduced spending in food and beverage is a prime example. Reeg said the company plans to "be smarter" in the space, cutting costs on buffets and free meals.
"You can't have nothing. But you don't need to lose money — certainly nearly as much money as this industry has lost — feeding people," Reeg said. "God forbid they stop at McDonald's on the way home."
Turning to the company's expansion in the sports-betting space, Reeg said Caesars' pending $3.7 billion acquisition of sports wagering giant William Hill Plc is set to close early in the second quarter, after a final court date in the United Kingdom set for March 30.
"We think we will be well-positioned to have one of the best apps in the industry integrated into Caesars Rewards on both the sports side and the casino side by the beginning of the football season in 2021," he said.
The head of Caesars also made sure to shoot down rumors about an imminent sale of its Planet Hollywood property.
"If whoever knows what's happening can call me and tell me what we're getting for it, I would appreciate it," Reeg joked during the call.
While Caesars does plan to eventually sell an asset, Reeg said nothing in its Las Vegas portfolio is currently for sale. The company is looking to sell off a property in the first half of 2022, and Reeg said any divestment would be "unlikely" to take place this year.
"I want to be marketing that asset on actual performance under our stewardship, not having to build a story, build a bridge from what it's doing today to what we think it will be doing," he said.
As for future developments, Reeg said the company would "certainly take a hard look" at moving into markets such as New York and Texas. He made clear that the company's future investments would remain focused on the U.S., and confirmed that Caesars was no longer involved in plans to build in Korea. The company's plans for a $794.7 million hotel-casino complex in the Asian market were first approved in 2014.
Caesars shares closed down 5.2 percent Thursday to $85.14 on the Nasdaq.
Contact Bailey Schulz at bschulz@reviewjournal.com. Follow @bailey_schulz on Twitter.
Caesars Entertainment Inc.
Fourth-quarter revenue and earnings for Reno-based Caesars Entertainment Inc., operators of Caesars Palace, Flamingo, Harrah's and The Linq Hotel, among other Strip properties. (Nasdaq: CZR)
Revenue
4Q 2020: $1.5 billion
4Q 2019: $592 million
Change: +152.9%
Net income/(loss)
4Q 2020: ($555 million)
4Q 2019: ($13 million)
Earnings/(Loss) per share
4Q 2020: ($1.91)
4Q 2019: ($0.17)