Caesars executives outline Las Vegas growth plans
October 24, 2017 - 5:14 pm
Updated October 24, 2017 - 6:13 pm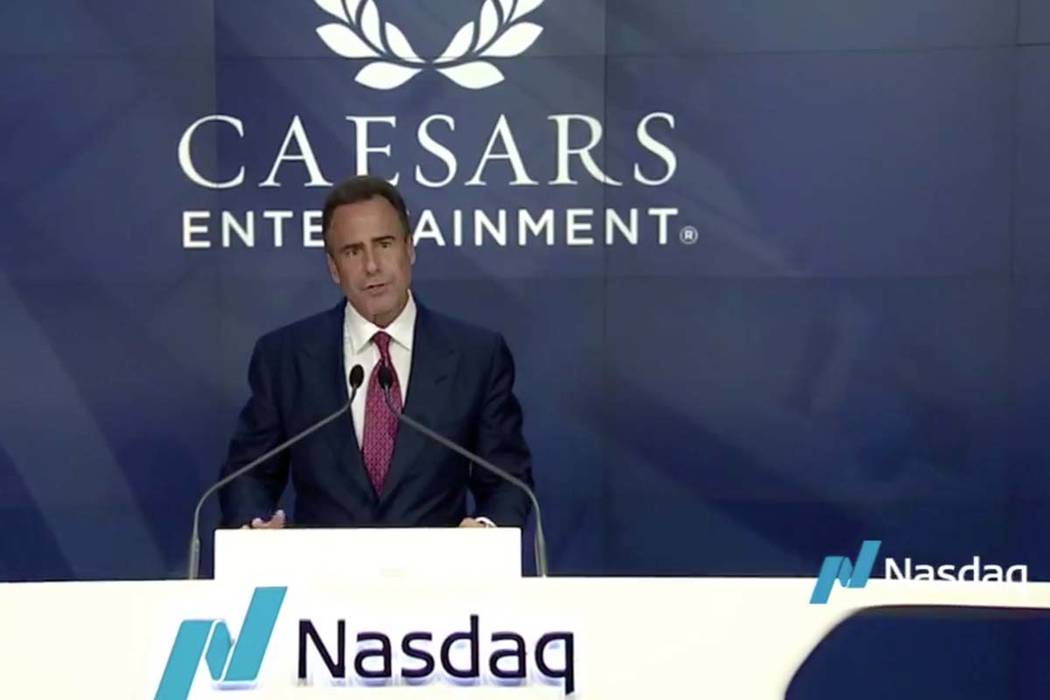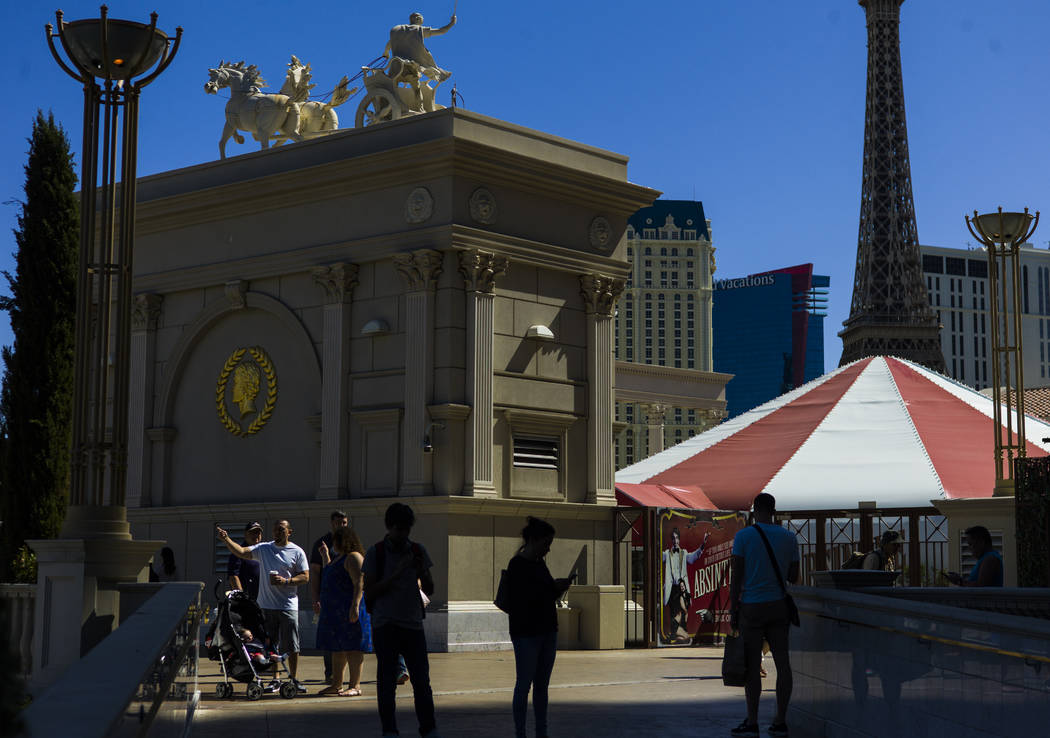 On a day when Caesars Entertainment executives enjoyed a celebratory ringing of the opening Nasdaq bell, company leaders began detailing growth plans for investors, most of those plans relating directly to Las Vegas.
President and CEO Mark Frissora and a handful of his colleagues spent 90 minutes on Tuesday in New York outlining strategies for the company recently moved from bankruptcy protection and answering questions, generally providing more depth on previously announced plans.
The investment presentation was made available online.
It was the company's first appearance before institutional investors since the formal merger of Caesars Acquisition Co. with Caesars Entertainment Operating Company Inc., leading the company out of bankruptcy.
Room renovations
In some cases, plans outlined by Frissora are already in motion — the renovation of more than 10,000 Las Vegas hotel rooms, the rolling out of new celebrity chef concepts and the leveraging of big-name entertainers in music residency programs.
Caesars currently is the No. 3 live entertainment promoter behind Los Angeles-based Anschutz Entertainment Group and Live Nation Inc. in Las Vegas, with Celine Dion, Britney Spears, Elton John and The Who in its stable. Axis, the company's massive theater at Planet Hollywood, is the highest-grossing theater venue in the world, resident Jennifer Lopez has the second-highest average theater ticket price worldwide and the Backstreet Boys have one of the fastest-selling shows in Las Vegas history.
Caesars will continue to leverage its Total Rewards loyalty program and use some of the technology associated with it to generate new revenue streams. The company also looks to franchise some of its top brands with partners worldwide, meaning people can look for Caesars, Harrah's, Horseshoe, Rio, Planet Hollywood, The Linq Hotel, The Cromwell, Total Rewards and World Series of Poker brands to emerge in other locations. In some cases, executives said the company could take a 10 percent or less ownership position in those ventures.
Convention facility
Frissora indicated plans are continuing for a 300,000-square-foot convention facility in what currently is a parking lot east of the High Roller. The company also has designs to develop 7 acres in front of Caesars Palace, 39 acres adjacent to The Linq and about 50 acres near Bally's, Paris Las Vegas and Planet Hollywood.
The company's overseas ventures include South Korea, where Frissora promised shovels in the ground by 2020; Japan, where Caesars is still one of the key players in the bidding for full-scale resorts in that country; and Brazil, where the company already participates in a joint venture at Punta del Este. Frissora said a venture in Japan would likely be with a partner and he said he doesn't expect to outlay the billions of dollars promised by Las Vegas rivals MGM Resorts International and Las Vegas Sands.
Frissora said the company also will commit to one of its core competencies — gaming — under the newly minted Caesars.
Christian Stuart, executive vice president of gaming and interactive entertainment, said the company has committed to developing strategies to appeal to the growing millennial demographic in both gaming and non-gaming amenities.
Triggered offers
One strategy will include an aggressive marketing program that will display food and game offers that will bombard customers as they emerge from concerts, using discounted triggered offers to increase spending at other sites within the casino.
Stuart said floor offerings would include new proprietary side-bet games on tables and fresh slot machines that will include skill-based components programmed to tell administrators when revenue is waning, inviting a change-out.
Caesars has a new mobile gaming platform that has taken $1.4 million in deposits in the first weeks after introduction. The company also is working with Gamblit, GameCo and Competition Interactive for new skill-based offerings designed to be available for free on social platforms so that players can easily transition to paid games once in the casino.
Contact Richard N. Velotta at rvelotta@reviewjournal.com or 702-477-3893. Follow @RickVelotta on Twitter.