Caesars reports 3Q loss despite 2.3% revenue increase
Updated November 5, 2019 - 5:56 pm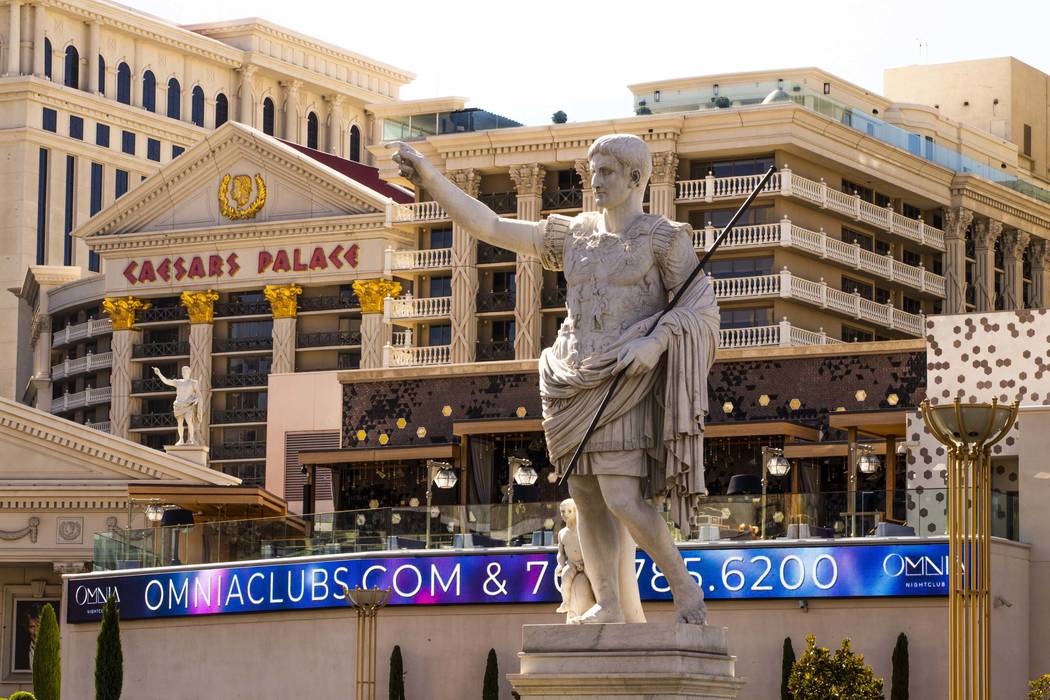 Despite revenue and cash flow increases, Caesars Entertainment reported a third-quarter loss as it awaits the close of the Rio sale this year and a merger with Eldorado Resorts in the first half of 2020.
Third-quarter results, which were in line with analysts' expectations, were boosted by record revenue in Las Vegas.
The company reported a third quarter net loss of $359 million, 53 cents a share, on revenue of $2.236 billion for the quarter that ended Sept. 30. In the same quarter a year earlier, the company reported earnings of $110 million, 14 cents, on revenue of $2.185 billion.
Increased operating expenses, lower gaming revenue in the United Kingdom and an impairment charge related to land and buildings at the Rio contributed to the company's losses.
The Las Vegas-based casino giant reported a 2.3 percent increase in net revenue and a 5.8 percent improvement in cash flow over last year.
"Las Vegas results were strong in the third quarter," said Caesars Chief Financial Officer Eric Hession. "Net revenues totaled $973 million, up 6.9 percent year over year due to strength across all business verticals from favorable customer demand."
Hession said the casino and the hotel product contributed to the strong performance.
"Gaming revenues increased 17 percent due to $37 million of favorable year-over-year hold and increased gaming volumes," Hession said. "Total gaming volumes increased 2 percent year over year. Table volumes were up 2.5 percent, led by baccarat, up 18 percent, and slot volumes were up 1.7 percent. Las Vegas cash hotel revenues grew 8.1 percent year over year making the highest third-quarter Las Vegas cash hotel revenue in company history. Recall that we also achieved similar records in Q1 and Q2 of this year."
Records in Las Vegas
Caesars CEO Tony Rodio said increases in the occupancy rate and the average daily room rate drove the record performance. Hession indicated the occupancy rate at Caesars Palace soared to 95.6 percent and revenue per available room increased 7 percent to $140.
Executives are anticipating strong group business in the fourth quarter and beyond. Advanced bookings of conventions for the company's $375 million Caesars Forum convention center, slated to open in March, are providing a bright outlook.
"We're also seeing a strong quarter in group bookings and we expect double-digit growth in room nights and high single-digit growth in group revenues for the fourth quarter," Hession said. "We anticipate an acceleration in Las Vegas led by our Caesars Forum convention center that is scheduled to open in March. It already has over 1.1 million room nights booked and $390 million in revenues through 2026, 75 percent of which are in the first three years of operations. Total bookings for the Forum in 2020 are currently over $90 million, well ahead of our expectations."
Elsewhere, Caesars expects to continue to drive business with the expansion of sports wagering and the developing of sportsbooks across the country, Rodio said.
The company has Caesars-branded sportsbooks across 29 locations in Nevada, New Jersey, Pennsylvania, Mississippi, Iowa, Indiana and New York. "The new sportsbooks are driving increased visitation and customer engagement across our portfolio and we expect sports betting to be a key value driver for the company over the coming years," he said.
Mobile sports betting, already live in Nevada and New Jersey, is expected to launch in Pennsylvania pending regulatory approval.
Merger, Rio sale
Tuesday's report is expected to be one of the last under the current Caesars management with the company planning to merge with Eldorado Resorts Inc. in the first half of 2020.
The companies announced in June that Reno-based Eldorado would acquire Caesars for $17.3 billion, creating the world's largest casino company. The merged company would make Reno its headquarters.
Eldorado is scheduled to report its earnings Wednesday afternoon.
Both companies have scheduled shareholder meetings, in Las Vegas and Reno, on Nov. 15 at 9 a.m. to consider the acquisition plan.
The company also announced in September that it is selling the off-Strip Rio for $516.3 million to New York-based Imperial Companies. Under terms of the deal, expected to close by the end of the year pending regulatory approvals, Caesars would continue to operate the Rio for at least two years and it would remain part of the Caesars Rewards loyalty network during the term of the lease.
Caesars shares, traded on Nasdaq, closed down 6 cents, 0.5 percent, Tuesday on volume slightly above average, finishing at $12.32 a share.
Contact Richard N. Velotta at rvelotta@reviewjournal.com or 702-477-3893. Follow @RickVelotta on Twitter.
Caesars Entertainment Corp.
Third-quarter revenue and earnings for Las Vegas-based Caesars Entertainment Corp., operators of Caesars Palace, Flamingo, Harrah's and The Linq Hotel, among other Strip properties. (Nasdaq: CZR)
Revenue
3Q 2019: $2.236 billion
3Q 2018: $2.185 billion
Change: +2.3%
Net income/(loss)
3Q 2019: ($359 million)
3Q 2018: $110 million
Change: —
Earnings/(loss) per share
3Q 2019: (53 cents)
3Q 2018: 14 cents
Change: —