California tribes expect better days ahead for casinos
November 19, 2010 - 12:00 am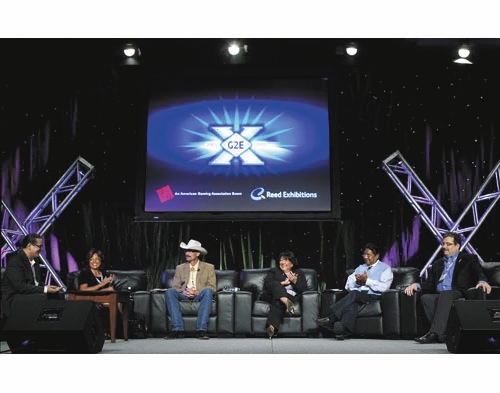 California's Indian gaming leadership is comfortable with the election of Democrat Jerry Brown as the state's new governor, but tribal leaders are more concerned about actions that might emanate from the federal government.
Following a panel discussion Thursday at the Global Gaming Expo on the state of Indian Gaming, Daniel Tucker, chairman of the California Nations Indian Gaming Association, said Brown, the state's attorney general, has shown "an open mind" in dealings with tribal governments.
"I think we're going to have a much better relationship than we had (with outgoing Gov. Arnold Schwarzenegger)," said Tucker, who is the tribal chairman for the Sycuan Band of the Kumeyaay Nation near San Diego. "I see a lot of promise. (Brown) understands our needs, and we understand that the state has needs also."
According to the most recent Indian Gaming Industry report by economist Alan Meister, California has 65 Indian gaming facilities operated by 60 tribes. Gaming revenues fell nearly 6 percent from $7.8 billion in 2007 to $7.3 billion in 2008, but the state accounted for more than 27 percent of the nation's Indian gaming revenues.
In his first term as governor, Schwarzenegger renegotiated gambling compacts with some of the state's largest tribes, allowing the casinos to expand from a mandated 2,000 slot machines in exchange for increased tax dollars.
Tucker said Sycuan negotiated a new compact with the state, but decided not to implement the deal because of the sagging economy and the challenge in getting financing to expand the tribe's casino.
The compacts for 47 tribes expire in 2022. Tucker said the renegotiation process should begin sooner rather than later.
"We need to start now," Tucker said. "The tribes need to get together to find out what we want."
Brown, who takes over as governor in January, opposed expanded state regulation of tribal casinos during his four years as attorney general. Brown served as California's governor from 1975 to 1983, long before Indian casinos were legalized.
California attorney Howard Dickstein, who represents many of the largest tribes, told Gambling Compliance, an online gaming publication, that Brown showed independence from Schwarzenegger in Indian gaming matters.
Cooperation among tribes was a theme during Thursday's panel discussion at G2E, which was moderated by tribal gaming journalist Victor Rocha.
Kurt Luger, executive director of the Great Plains Indian Gaming Association, was the most vocal, saying tribes must band together in the face of a recent U.S. Supreme Court ruling that could prohibit the expansion of Indian gaming.
"Our sovereignty could be at risk," Luger said.
Mark Van Norman, executive director of the National Indian Gaming Association, said tribes not only need to push for a "technical correction" to the Supreme Court ruling, but they need to oppose a measure proposed by Sen. Diane Feinstein, D-Calif., that would block off-reservation casinos.
Leslie Lohse, chairwoman of the California Tribal Business Alliance, said she viewed the shake-up in Congress following the midterm elections as an opportunity "to educate new members" on Indian gaming matters.
Contact reporter Howard Stutz at hstutz@reviewjournal.com or 702-477-3871.