Call from Steve Wynn led Maddox to career in casino work
Updated February 20, 2018 - 5:47 pm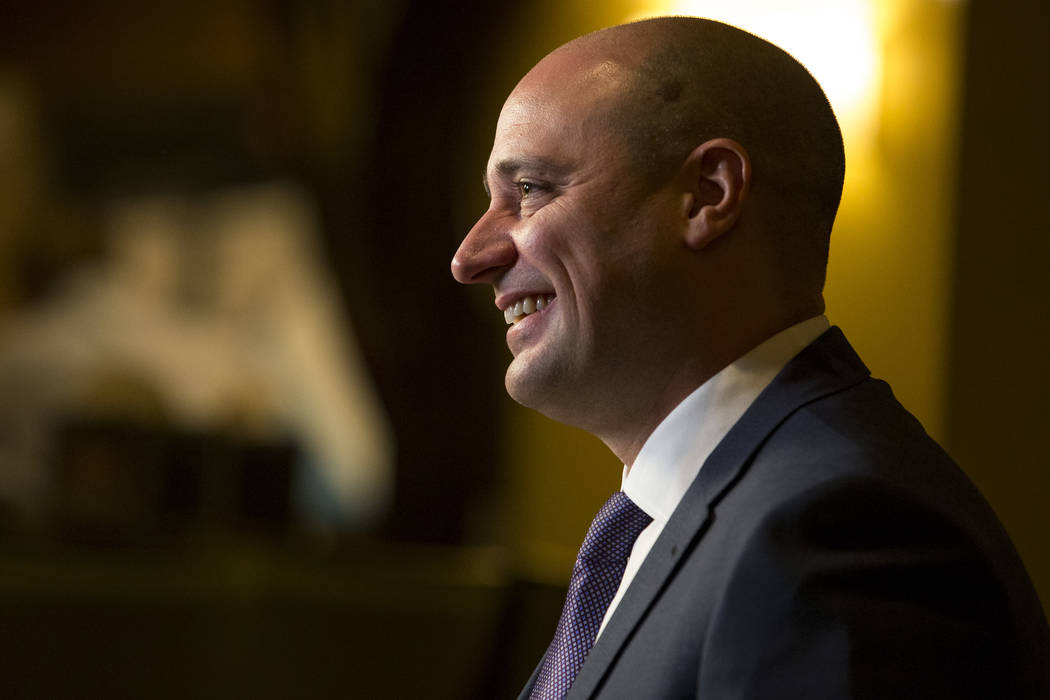 It never occurred to Wynn Resorts CEO Matt Maddox that what he thought was a prank telephone call in 2002 would lead to possible appearances before regulators to answer questions about his boss and mentor, Steve Wynn.
But that's what appears to be on the horizon for the 42-year-old small-town resident with big-city aspirations, who on Monday told Wynn Las Vegas employees that the company's future is bright.
Though Maddox would not answer specific questions about allegations against Steve Wynn, he said he would step up when called upon by regulators.
"The board and the regulators are beginning their investigations, and I'm sure I'll be interviewed as a part of that, and I'll need to provide any and all information that I would have," he said.
He said he was unaware of the misconduct allegations against Wynn until they were aired in numerous publications last month and that he first learned of a $7.5 million settlement payment to a Wynn employee when it surfaced in a court document in 2016.
Gaming industry analysts are also distancing themselves from commenting about the Wynn controversy or about Maddox's meeting with hundreds of employees. Calls to several analysts on Monday or Tuesday were not returned.
While Maddox's meetings with employees have provided assurances about the company's future, it also gave the company's 25,000 workers an opportunity to get to know him better.
What many have found out about his upbringing, his path to Las Vegas and his progressive view about the company's role as an advocate for social change should give them a positive view during a transition that could be difficult.
Maddox gave his first interview as CEO Monday to the Las Vegas Review-Journal after speaking with hundreds of Wynn employees in town-hall-style meetings about his vision of the company's future.
Tapped as CEO on Feb. 6 after Steve Wynn resigned in the wake of sexual misconduct allegations, Maddox unveiled new employee policies and told workers the company would continue with the Paradise Park and Wynn West projects in Las Vegas, complete its Boston Harbor project and expand in Macau.
Population: 5,500
Raised in Mena, Arkansas, population 5,500, Maddox knew early he wanted to work in finance.
"(Mena) really is like Mayberry. When a new neighbor moves in, you have the apple pie on the front door steps," he said. "It's about family and it's about community."
When Maddox was 13, he would grab the morning newspaper, not to look at sports box scores, but to view the stock market charts.
"My parents thought it was really peculiar, but I really wanted to be on Wall Street," he said.
For Christmas and birthday gifts, he asked for shares of AutoZone and Southwest Airlines, not the kind of things most kids want.
He knew exactly what he wanted to major in at college, and after four years studying at Southern Methodist University, he received his finance degree and took a job as an investment banker with Bank of America.
"But what I realized was that I liked the companies I was working for and helping more than just being a consultant," he said.
While employed at the bank's corporate headquarters in Charlotte, North Carolina, he received an email from a friend telling him about a director of finance job in Las Vegas with a new company called Park Place Entertainment — which ultimately became Caesars Entertainment.
Life-changing phone call
After working for a while in Las Vegas, he remembered a phone call he received in April 2002 that changed his life.
"My assistant put a call on hold and said, 'One of your friends is on the phone acting like Steve Wynn,' and so I pick it up and it's Steve. He said he sold his company and bought the DI (Desert Inn). 'I'm starting over, and I got your name from someone. We're hiring, and I know you're a young kid who knows how to hustle and raise money and make things happen. Are you interested?' And I said, 'When can I see you?' and he said, 'Right now.'
"So I told my boss at that time that I had an appointment and had to go, so I drove over to the Desert Inn, and on the ninth floor of the Desert Inn, I met with him for about six hours and took the job on the spot."
Maddox said he was able to convince Wynn that Macau was a market on the verge of exploding, and he offered to move there to secure the company's position as one of the concessionaires for a gaming license.
At the time, Maddox's primary role was to arrange financing to build Wynn Las Vegas, and he had gotten married weeks earlier.
"My wife always wanted to move back east, and I said, 'Congratulations, honey. We're going to the Far East.' So we lived there for three years to get Wynn Macau open," he said.
In his time at Wynn, Maddox was promoted over the years and eventually was named president in 2013. At that time, company leaders began talking about a succession plan for when Wynn retired and Maddox became the heir apparent.
Family time
Still, Maddox values his family time, talking with his parents twice a week and arranging regular visits.
"They come visit me here or we go to Arkansas at least twice a year," he said. "The kids love it. They get to see frogs and snakes and jump in creeks. It's like a foreign place to them."
Maddox has viewed Steve Wynn simultaneously as a boss, a mentor and a colleague.
He said friends in the industry have called him with congratulations about his newest promotion, even though it came years ahead of schedule and not under ideal circumstances.
"They told me don't listen to all the noise out there, because there is a lot of it, and just steady the ship and be sure you guys continue to do what everyone perceives that you're doing," he said.
"That was my plan all along, to move forward and make sure people understand that not only are we stable, but we're strong."
Contact Richard N. Velotta at rvelotta@reviewjournal.com or 702-477-3893. Follow @RickVelotta on Twitter.