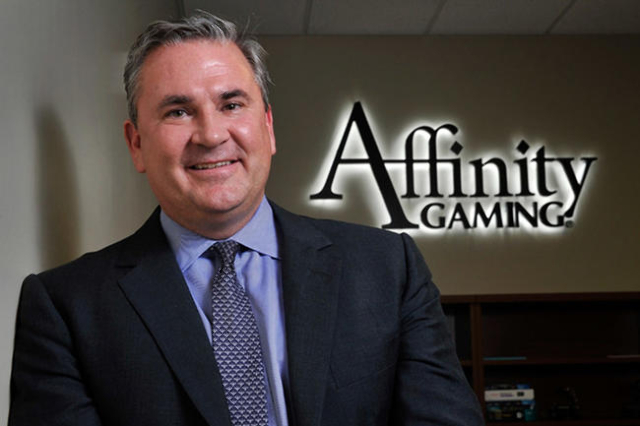 Las Vegas-based Affinity Gaming reversed a net loss in the third quarter, due in part to increased cash flow at the company's Nevada properties.
Affinity, which owns 11 casinos in four states, said Tuesday it had profits of $1.99 million in the quarter that ended Sept. 30, reversing a net loss of $3.6 million from a year ago.
The company, which is privately held, reports quarterly earnings because it has $382.7 million in long-term publicly held debt.
The company reported a 2.7 percent increase in net revenue to $102 million while company wide cash flow increased 33 percent.
"More than half our properties delivered double or triple digit (adjusted cash flow) growth rates," Affinity CEO Michael Silberling said in a statement. "Overall results benefited from an increased customer counts and trips at higher play levels combined with our ongoing focus to engage with customers that generate profitable revenue."
In Nevada, where Affinity operates five properties, net revenue grew 6.1 percent to $61.5 million and cash flow jumped 83.7 percent. In Southern Nevada, the company owns the off-Strip Silver Sevens and the three Primm resorts.
Silberling said the Nevada increases were driven primarily by higher casino and hotel revenue as well as increased revenue from the company's gasoline operation at Primm. Affinity also lowered its promotional allowances.
"As we refine our marketing programs, we continue to see strong demand for our nongaming offerings," Silberling said.
Affinity said its casinos in Missouri and Iowa saw a combined revenue decline 1.6 percent during the quarter while the company's three Colorado casinos saw a 3 percent revenue decline.
In the first nine months of the year, Affinity's revenue is up 2.3 percent and cash flow increased 34 percent.
Contact reporter Howard Stutz at hstutz@reviewjournal.com or 702-477-3871. Find @howardstutz on Twitter.