Casino, pot business slow to adopt bitcoin in Nevada
Updated March 26, 2018 - 6:02 am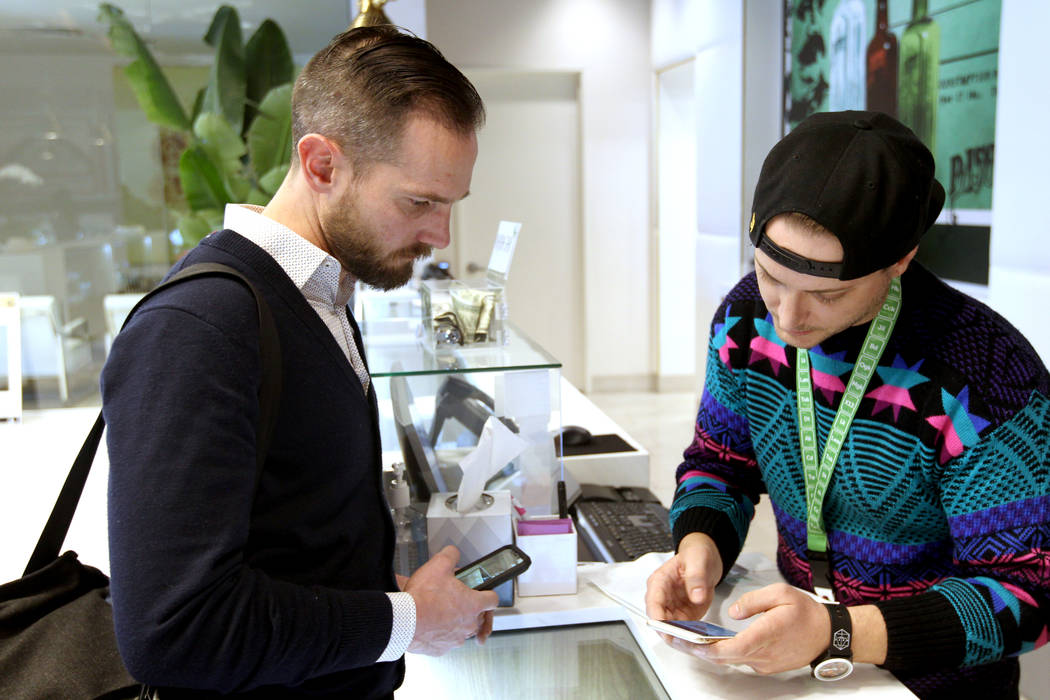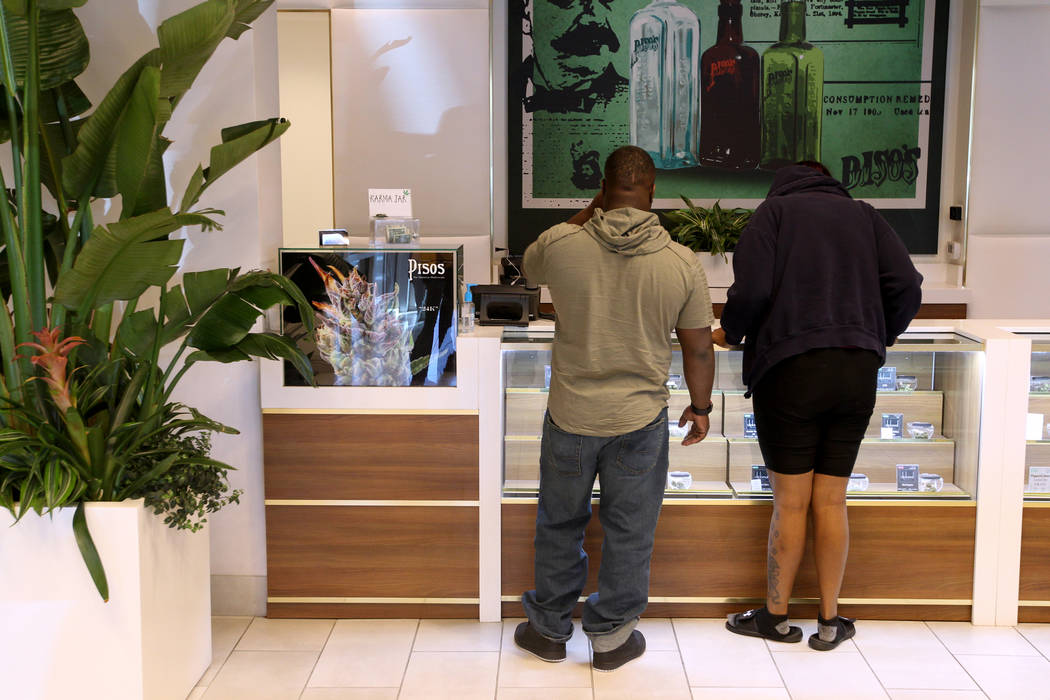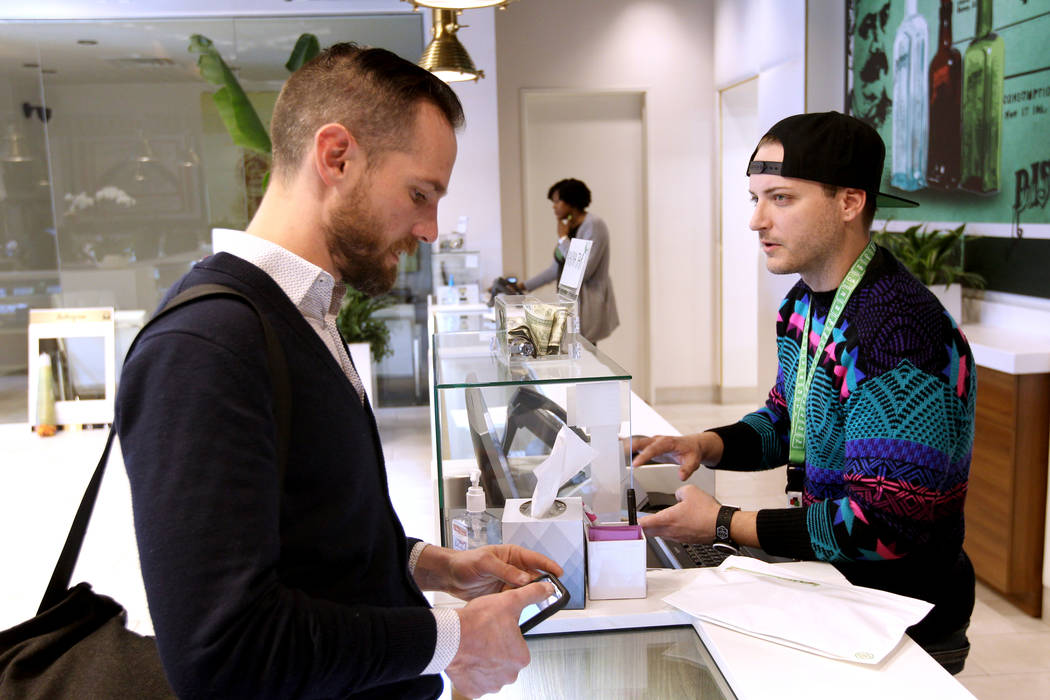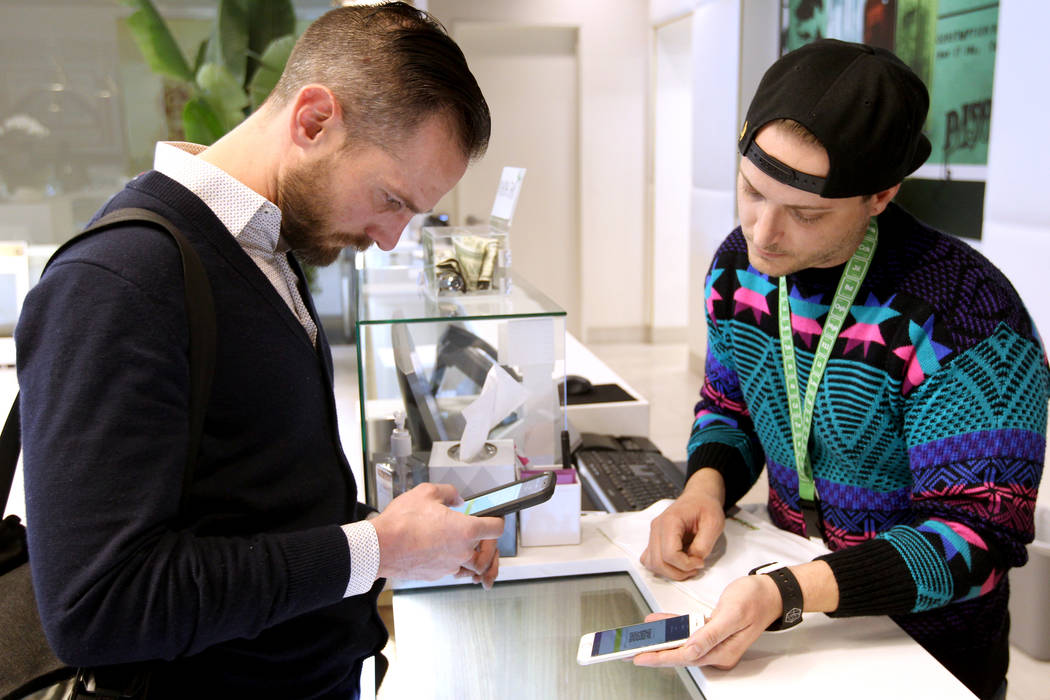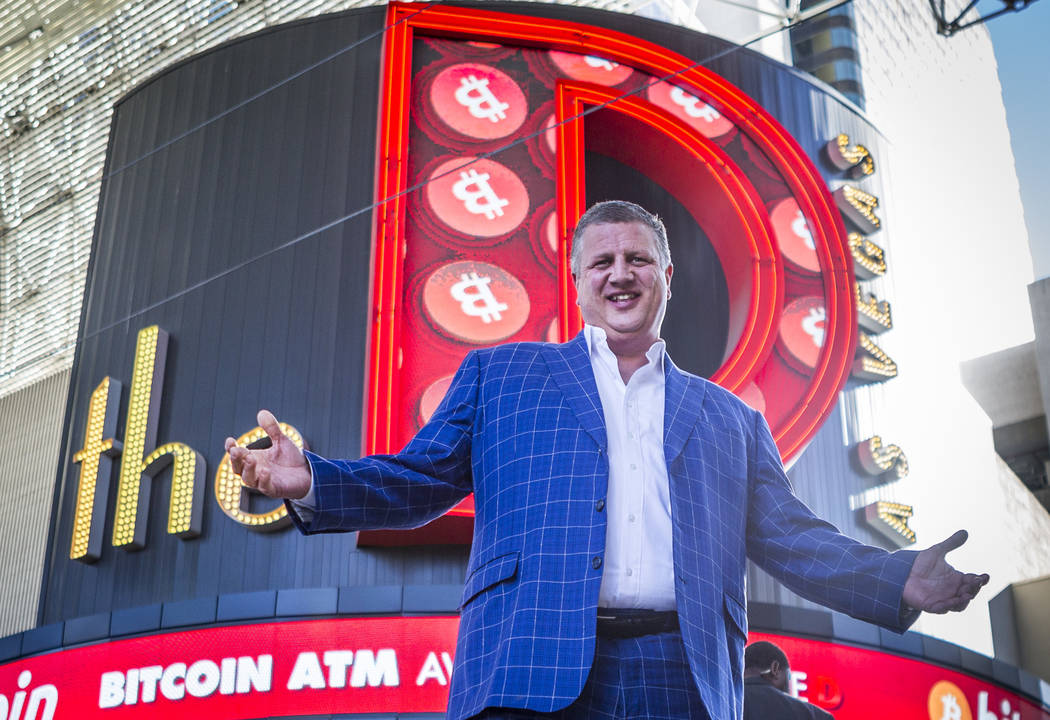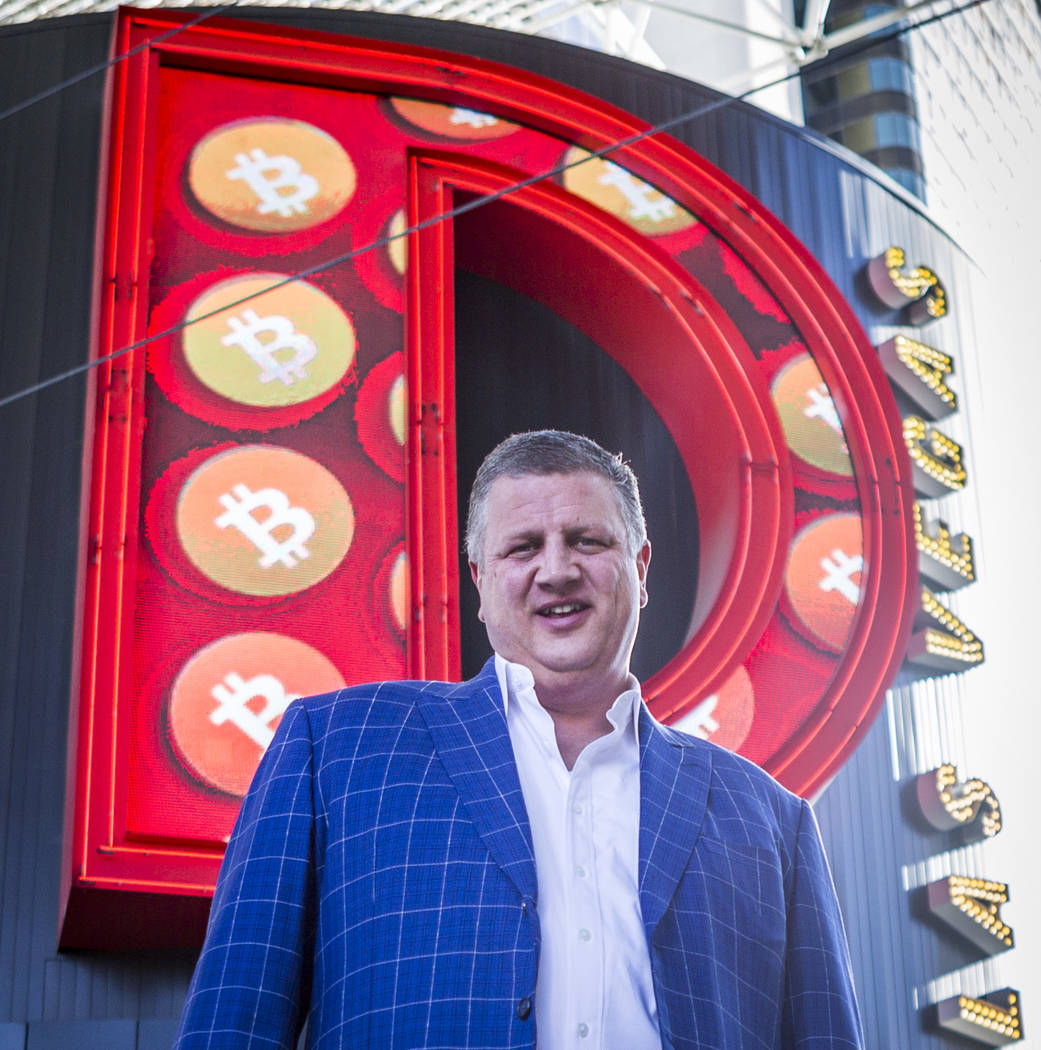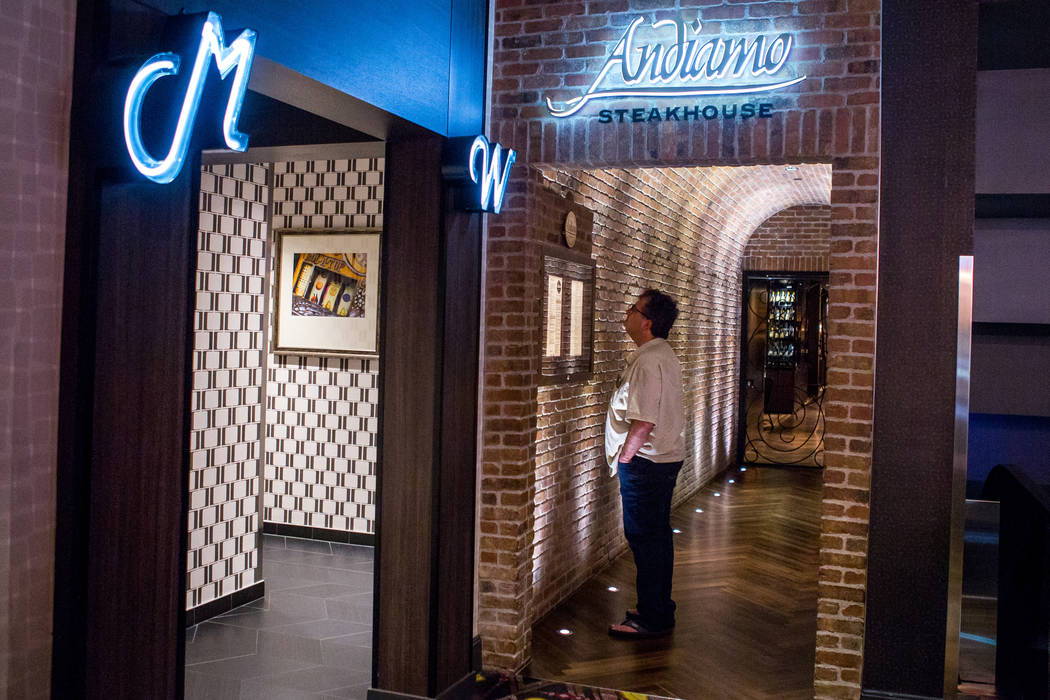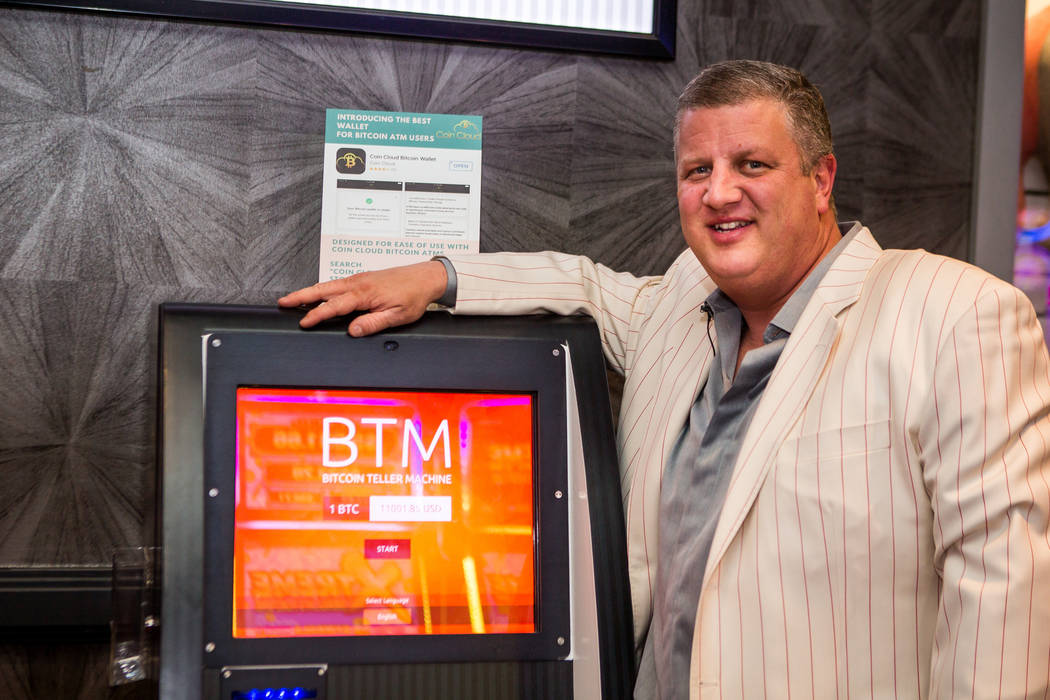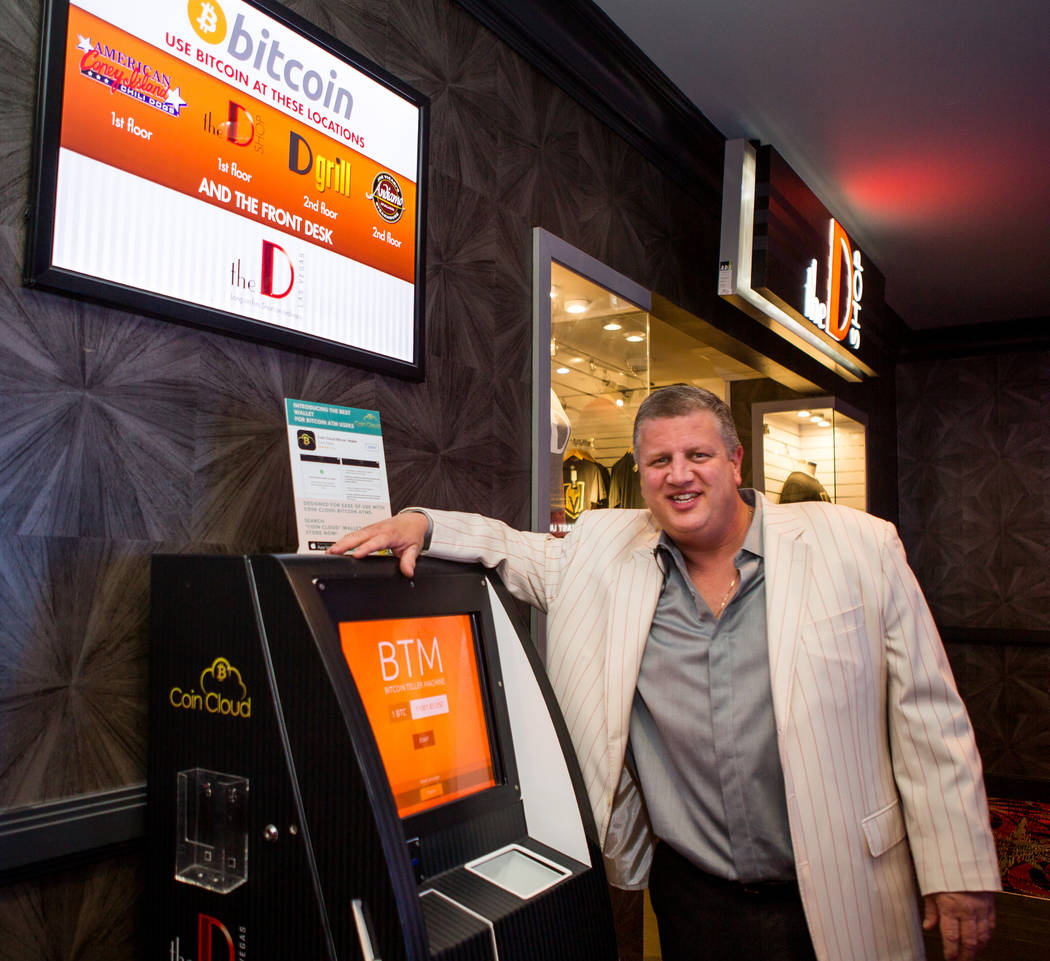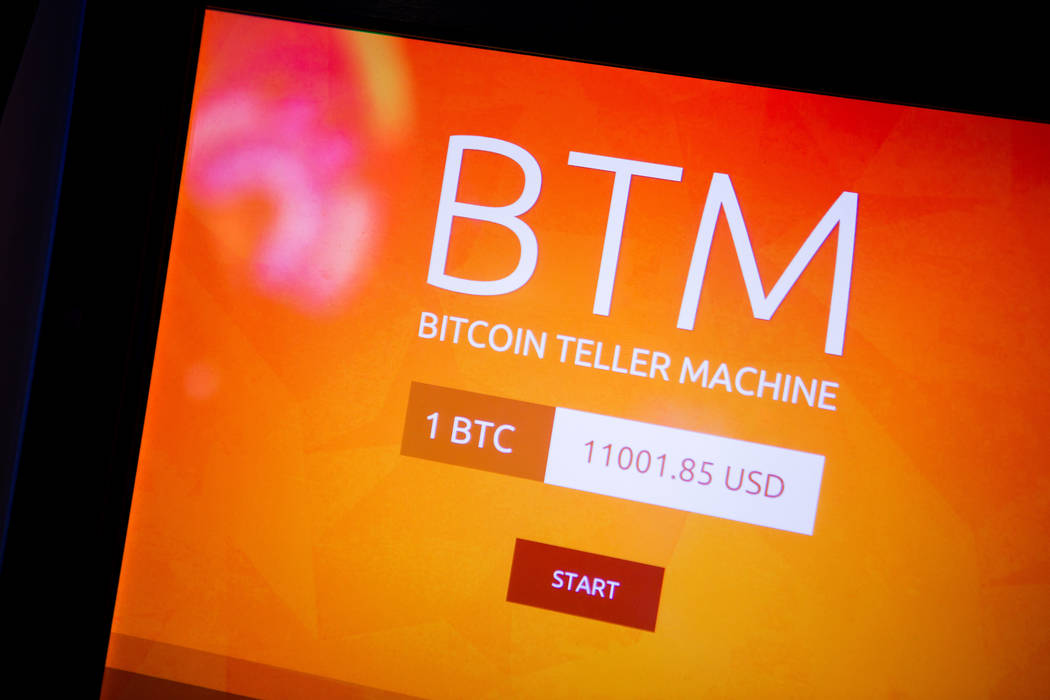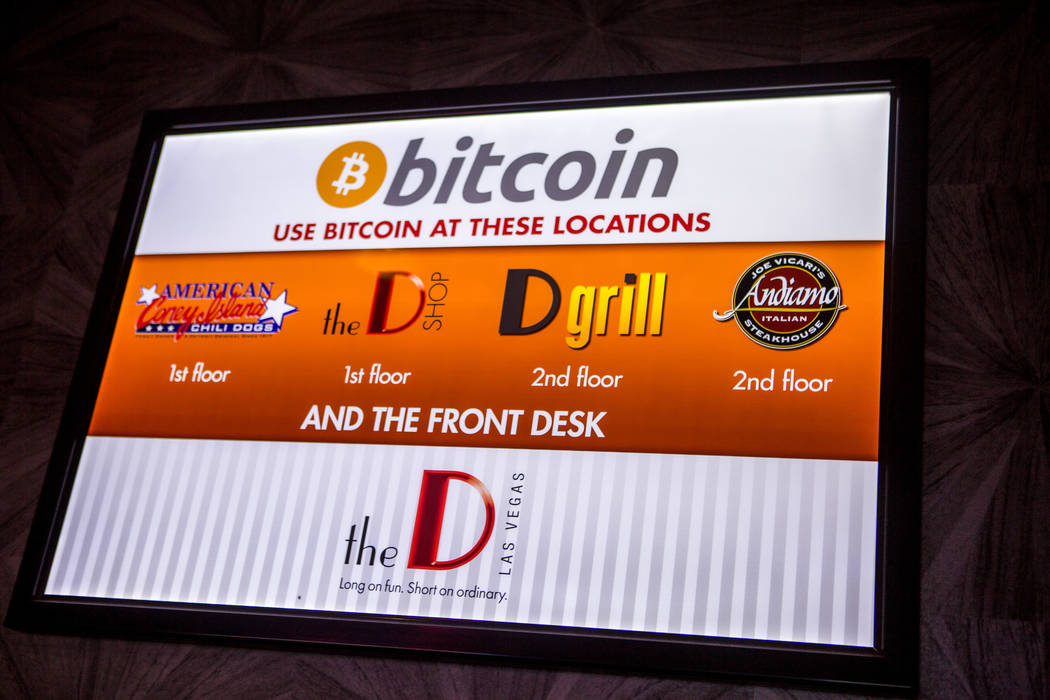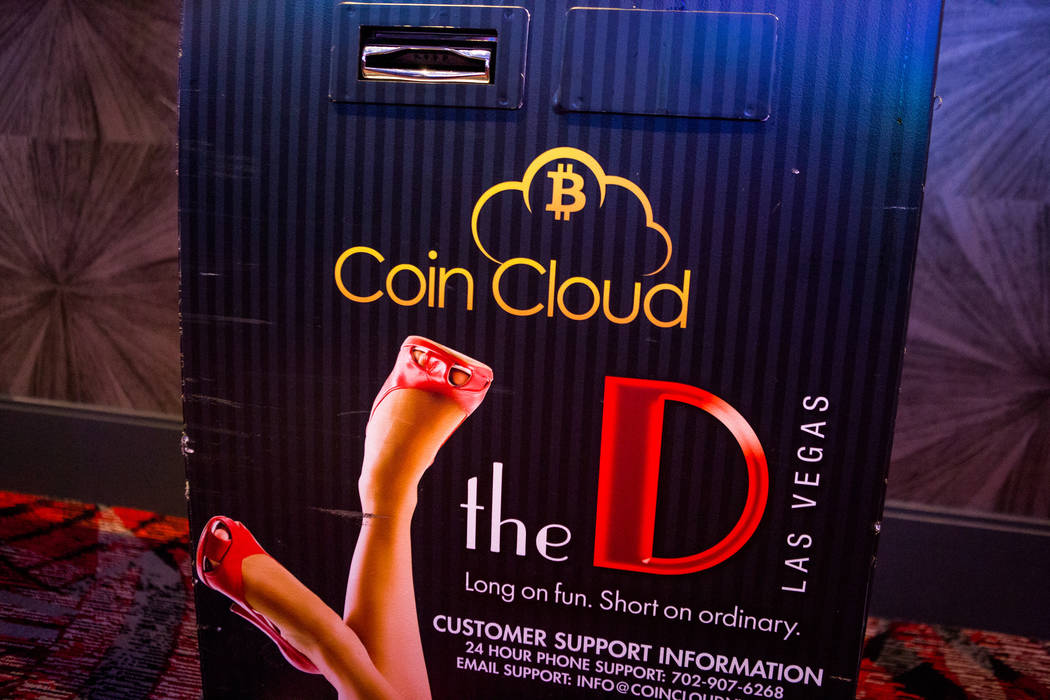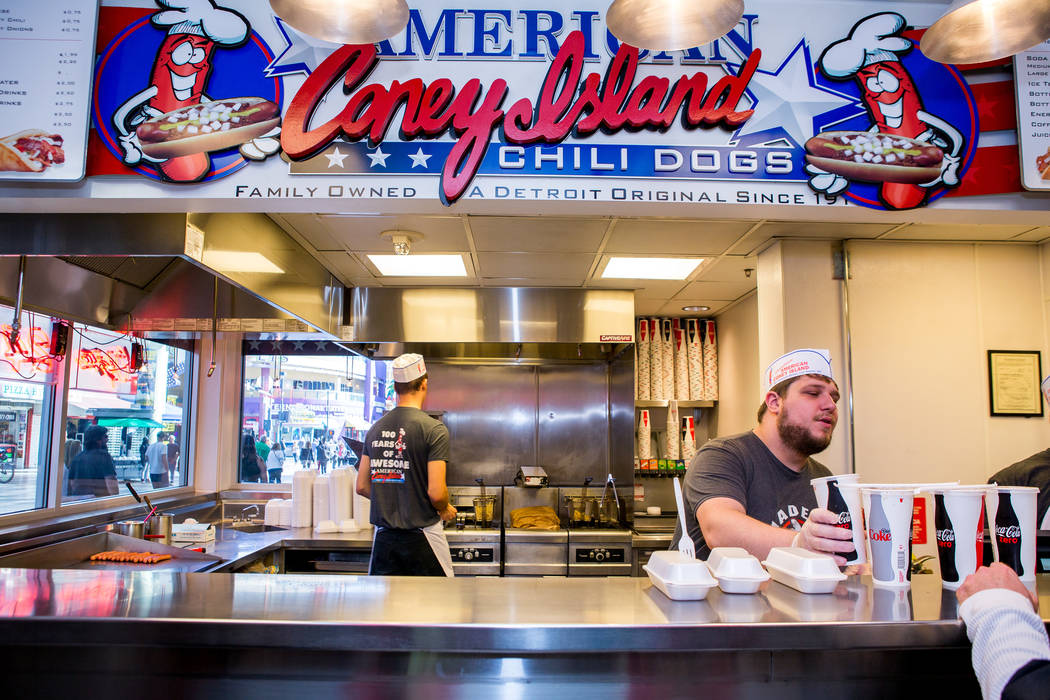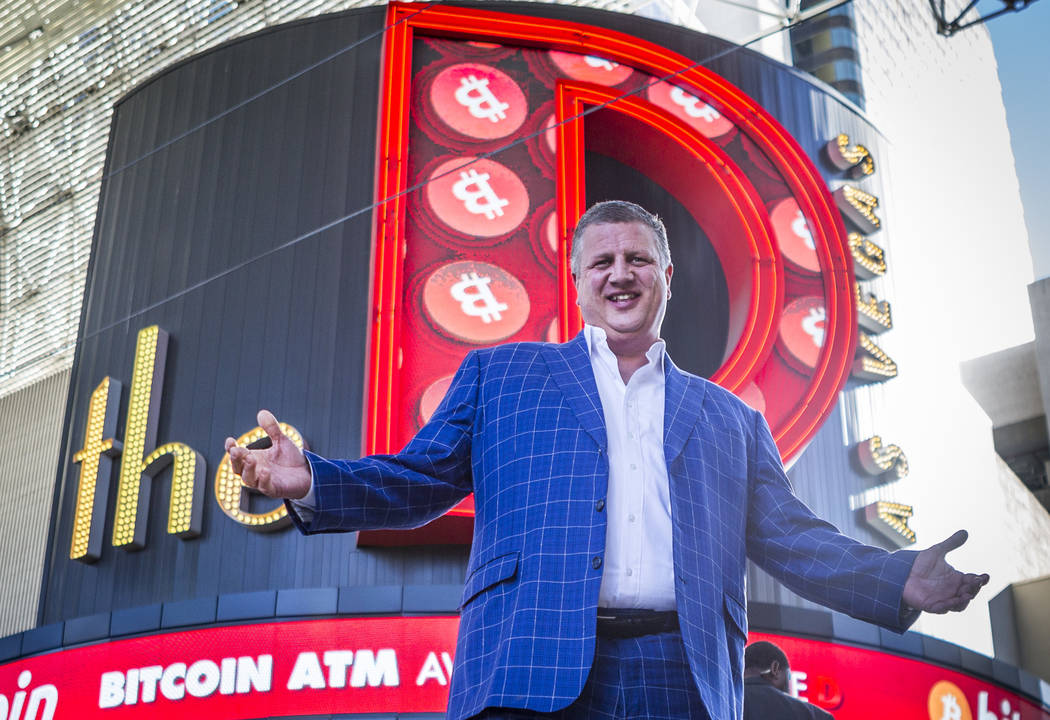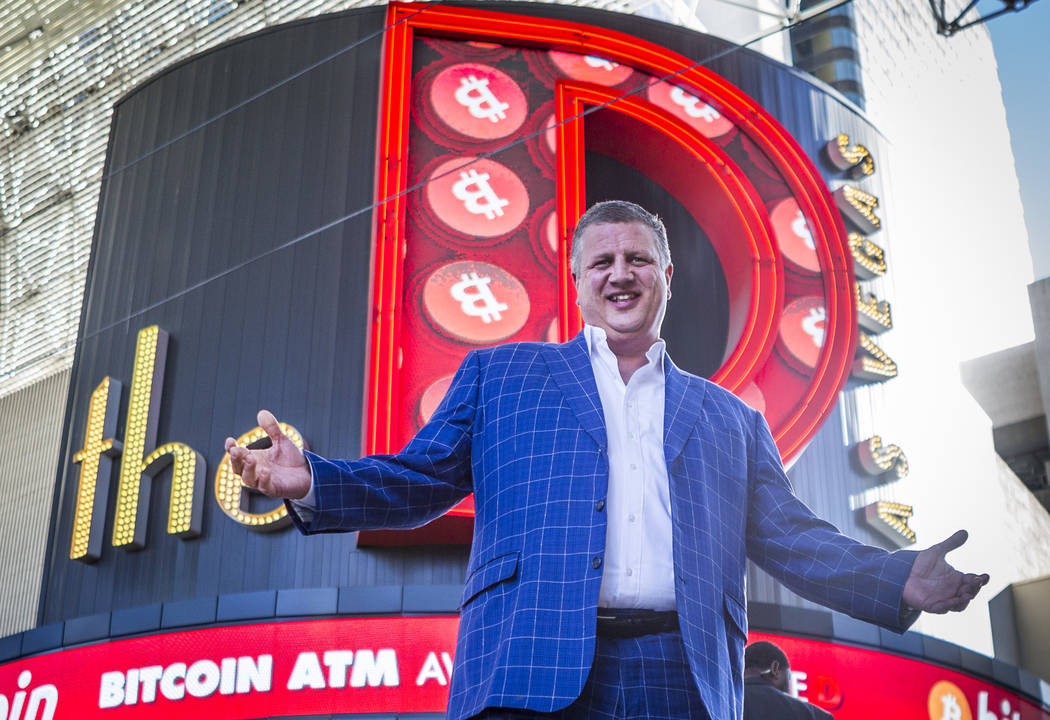 A clerk at Pisos marijuana dispensary, a couple of miles east of the Strip, accepts $37 worth of bitcoinlike tokens to sell a pound of cannabis-infused coffee.
Across town, the D Las Vegas accepts bitcoin for hotel stays, for meals at its flagship restaurant and, sort of, for gambling. The catch: Bitcoin can be wagered at the tables or slot machines only after customers convert it into cash at a special ATM on the casino floor.
Cryptocurrency promises benefits for Nevada's most regulated industries — marijuana and gaming. Proponents say bitcoin's blockchain technology could help marijuana businesses track sales and inventory, and bitcoin helps big gamblers export their money from countries that limit the movement of cash.
But nearly a decade after bitcoin was created, the Nevada Gaming Control Board and the Nevada Department of Taxation have not created rules to address the use of cryptocurrency in casinos and the marijuana industry.
Representatives from those Nevada agencies declined to discuss the possible use of bitcoin at dispensaries and casinos, saying no one has formally requested permission to accept cryptocurrency for casino chips or cannabis.
Privately, several current and former regulators expressed concerns about money laundering in industries that are cash-heavy.
But cryptocurrency advocates say federal regulations and technology have solved security problems, such as exchanges that did not require proper personal identification.
And the Legislature last year prohibited taxing or licensing cryptocurrency.
Las Vegas businessman Michael Wagner, who with Gabriel Allred founded Tokes Platform, a cryptocurrency for the marijuana industry, said Nevada's the lack of regulation could help make the state a cryptocurrency leader.
"Our great business environment, low cost of living and low cost of doing business makes Nevada perfect for it," he said.
Casino cryptocurrency
D Las Vegas owner Derek Stevens was the first Nevada casino owner to embrace bitcoin. About four years ago, he started hearing about the cryptocurrency from tech industry workers who hung out at the bar in his casino.
"They all were showing me their bitcoin, you know, on their phone, and were like, 'Man, we wish we could spend it,'" Stevens said.
Because the D is a small, privately held hotel-casino, Stevens decided to accept bitcoin for hotel stays, gift shop purchases and meals. He also installed a bitcoin ATM on the casino floor that converted the cryptocurrency into dollars.
Stevens invited A.G. Burnett, then-chairman of the Gaming Control Board, to the installation of the bitcoin ATM, although state regulations did not require Stevens to inform regulators.
Stevens said he believes D was the first casino in the world to introduce bitcoin ATMs, though others, including the now-shuttered Lucky Dragon, followed suit. Additionally, D customers can transfer bitcoin from cellphone apps to pay for meals or hotel stays.
Techies weren't the biggest bitcoin users in Stevens' establishment. To his surprise, Stevens saw an influx of overseas visitors attracted to a place where they could spend their cryptocurrency.
"I've seen a lot of people who travel internationally (use bitcoin) because it's an easy way to hold value and an easy way to transfer" money, he said.
No expansion
Countries such as China prohibit citizens from moving large amounts of cash outside the nation's borders. Cryptocurrency experts said bitcoin could be a way to avoid those restrictions for high-rolling casino customers. Stevens is skeptical.
"I've never had a Chinese national come to me and say, 'I've got $8 million; is there a way'" to gamble with it, Stevens said.
He also does not plan to accept other cryptocurrencies or increase the roughly $5,000 daily withdrawal limit on the D's bitcoin ATM.
"I haven't pushed it because I don't know that people with bitcoin are necessarily the biggest gamblers," he said.
But as the surging price of bitcoin created wealth for investors, Stevens saw more customers use it to buy pricier wine and meals at the Andiamo Italian Steakhouse.
He would not disclose how much the D's revenue had increased since it started accepting bitcoin, other than to say the boost is "meaningful."
"If I say a big number, I might light a fire under Caesars to start doing it," he said.
But the big names on the Strip do not seem interested.
Spokespeople at MGM Resorts International and Las Vegas Sands Corp. said the companies are not considering the use of cryptocurrency at their casinos. A Wynn Resorts spokesman declined to comment. Other major casino chains, including Caesars, Station Casinos and Boyd, did not return emails or calls.
There are complications with using cryptocurrency. Bitcoin's value is so volatile that D Las Vegas staff members cash out their virtual coins at the end of each day to avoid a major loss if values drop.
Higher fees make it impractical to buy a $3 item in the gift shop and pay a $15 fee, but bigger purchases such as hotel stays and expensive meals still make sense, Stevens said.
"I'm ecstatic over the fact that we we're the leader in this," he said.
Drug money
The marijuana industry in Nevada has also been slow to adopt cryptocurrency despite its potential benefits.
Selling marijuana is legal in some states but violates federal law, forcing much of the industry to do business in cash. Some locally operated credit unions that are free from federal regulation have opened bank accounts for cannabis entrepreneurs.
But national banks that run credit and debit card networks typically do not work with the industry, fearing federal penalties.
In many cannabis-legal states, growers, distributors and retailers must pay employees and hefty taxes with sacks of hundred-dollar bills, occasionally leading to major robberies.
Cryptocurrencies do not require bank intervention, so the technology could help the industry avoid the need for cash. So far, the problems have outweighed the promise.
John Branch, who owns Ponder, a cannabis retailer in downtown Seattle, spent about $10,000 on tablets that allowed customers to buy bitcoin and then spend it on his products.
He eventually dropped the system. The transactions were slow and cost about twice as much as the usual 2.5 percent credit card fees.
"I wasn't seeing any increase in sales over this," he said.
The push for cryptocurrency in the marijuana industry is so new that Nevada regulators said they have not received any formal proposals to rule on.
A platform for dispensaries
Gabriel Allred and Michael Wagner, the founders of Tokes Platform, hope to overcome technology hurdles to make their system the currency for cannabis in Nevada and maybe the nation.
Currently, it is not easy for most consumers to use. A customer must first acquire bitcoin and then use it to buy Tokes, which can only be used at Pisos, a dispensary near UNLV.
The company is working to add locations and make the platform user friendly. It also plans to install ATM-like machines in dispensaries to buy Tokes and eventually allow customers to buy the cryptocurrency with credit cards through a smarthone app.
To attract users, Tokes plans to provide incentives such as free Tokes for early adopters of the system. And the founders are developing software that the marijuana industry could use to track inventory from bulk purchases to the sales counter.
"The idea is to never have to convert into cash so you can pay your bills," Wagner said.
The blockchain ledger is the ideal way to track money, inventory and sales and provide that information to regulators, he said.
That lack of anonymity concerned some customers of Seattle's Ponder cannabis shop, Branch said.
"Pot is still not socially acceptable in all careers, so they want to keep it on the down-low," he said.
If Tokes is successful, Wagner plans to spend some of the profits on a blockchain incubator in Las Vegas with the hope it will generate cryptocurrency innovation.
Contact Arthur Kane at akane@reviewjournal.com. Follow @ArthurMKane on Twitter.
Crypto terms
Cryptocurrency — Any digital currency such as bitcoin
Blockchain — A public ledger of transactions of cryptocurrency used to verify exchanges of the coins or tokens.
Bitcoin — The first cryptocurrency founded by an unknown person or group to allow transfers of value without banks or government intervention.
Mining — Bitcoins are mined by computers that solve increasingly complex puzzles to put transactions on the blockchain ledger. The reward for the person who solves the puzzle using high-tech computers is additional bitcoins.
Wallets — A computer or app that stores the codes that verify the ownership of the coins or tokens.
Exchanges — Companies that allow cryptocurrency to be used to purchase item or to sell coins and tokens to others.
Anonymity — A cryptocurrency is not tied to an individual but rather a key code that is posted on the blockchain for all to see. Recent regulations, however, have required exchanges to collect personal information of users, which law enforcement could access with warrants.
Related
Bitcoin's origins have roots in dark web
Las Vegas venues use cryptocurrencies to lure new customers
Las Vegas startups seek to capitalize on technology behind bitcoin