Casino reopening clues may come in Control Board workshop Tuesday
Updated May 20, 2020 - 12:23 pm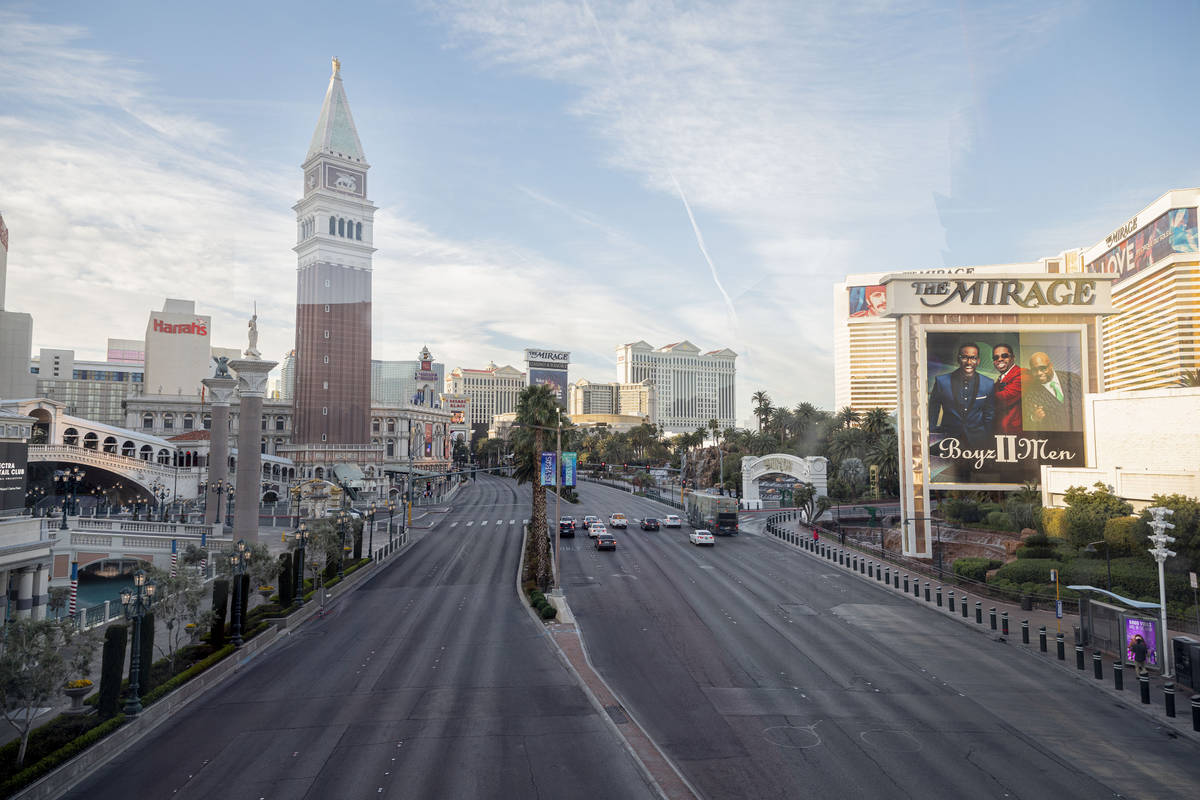 The state Gaming Control Board will conduct a workshop meeting Tuesday that could provide clues to when Nevada's shuttered casino industry will reopen.
Six health and safety experts have been invited to address the board in a videoconference, followed by board deliberations and possible action.
An emailed statement from the Control Board said the board would determine the "how" of reopening and Gov. Steve Sisolak would determine the "when."
Sisolak earlier said gaming would not reopen in Phase One of his "Roadmap to Recovery." Gaming operations, not including licensed online gaming or mobile wagering operations, remain closed through Phase One. The Control Board will develop guidance for a phased and incremental resumption of gaming operations.
Nevada casinos have been closed since March 18, the day after Sisolak issued an executive order closing nonessential businesses, including casinos.
The closures have decimated resorts' gaming and nongaming revenue streams in the last two weeks of March, all of April and most of May. Several casinos are eyeing phased reopenings beginning in June. Initially, several companies were hopeful that they would be able to reopen by Memorial Day weekend.
Sisolak has made it clear that gaming regulators would determine when it is safe for casinos to reopen. Several companies have submitted reopening plans to the Control Board. The plans are required at least seven days in advance of reopening by board policy.
By statute, regulators are keeping the plans confidential and they won't say which casinos have submitted plans, although some of them have made them public and have posted them on their websites.
Nevada is on track to be one of the last states to reopen casinos. Tribal operations in Arizona, California, Idaho, Montana, New York, Oklahoma, North Dakota, South Dakota and Washington have reopened. The first commercial casinos have reopened in South Dakota, Louisiana and Arkansas, and Mississippi casinos are scheduled to reopen Thursday.
Most of those that have reopened have placed limits on the number of patrons allowed on the casino floor. Nevada regulators have already said when casinos reopen that entry would be limited to 50 percent of capacity listed in local fire codes.
When the Control Board meets at 9 a.m. Tuesday, the agenda includes scheduled presentations from:
■ Caleb Cage, COVID-19 response director for the state, on coordination of resources across federal, state and local entities
■ Mason Van Houweling, CEO of University Medical Center in Las Vegas, on UMC's partnerships with gaming resorts to administer COVID-19 tests, telemedicine capabilities and future testing capacity
■ Fermin Leguen, district health officer for the Southern Nevada Health District, on testing, contact tracing and the district's guidance and policies
■ John Steinbeck, chief of the Clark County Fire Department, on its Emergency Management's COVID-19 response, including Southern Nevada community-based testing
■ Anthony Slonim, president and CEO of Renown Health, on its future testing capacity
■ Dean Dow, president and CEO of the Regional Emergency Medical Services Authority in Washoe County, on its COVID-19 response capabilities and its Ready Responders partnership
Contact Richard N. Velotta at rvelotta@reviewjournal.com or 702-477-3893. Follow @RickVelotta on Twitter.