Casinos grapple with where to place new skill-based games
October 6, 2017 - 7:57 pm
Updated October 6, 2017 - 7:58 pm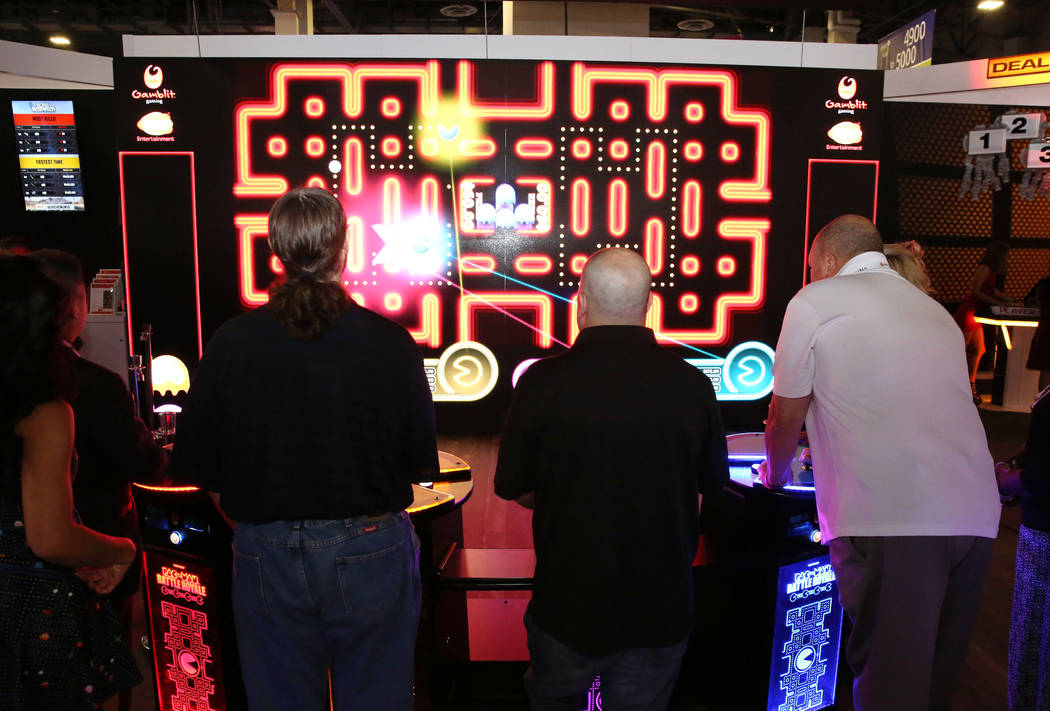 When Blaine Graboyes approached what he estimates as "a dozen or more" casino operators in 2014 with his idea for skill-based video gaming machines, he pretty much heard the same responses.
"They said, 'Oh, it will be 10 years before the games end up on the floor,'" said Graboyes. Or "'By the time you have the games on the floor, we'll have these dedicated areas for' — back then it was called millennial areas, but now it's grown into integrated entertainment zones or adult arcades. I hear different terms, but I don't think any of them are perfect yet in terms of branding the space."
Graboyes, CEO and co-founder of GameCo, got the green light from New Jersey gambling regulators in 2016. And casino operators as a whole haven't quite figured out where and how to install these new skill-based games from GameCo, Gamblit Gaming and others on their casino floors.
Steve Sirianni, vice president of slot operations at the MGM Grand, said this week at the Global Gaming Expo that his company has been tweaking exactly how to market the units in high-traffic areas of the casino floor and at which angles to place the machines so they face customers as they pass by.
Salim Adatia, vice president of iGaming and Canadian services at Gaming Laboratories International, said operators in Canada have tried to create environments within the casino that are more geared toward engaging the youngest demographics.
"Rather than dropping a machine right in the middle of the floor, there might be a portion of a venue allocated to interactive games," Adatia said.
Another risk to dropping a machine right in the middle of the floor is scaring away traditional gaming customers, said Steve Walther, senior director of marketing and product management for Konami Gaming Inc.
"With a skill-based game or different style game, they're (players) are going to look at it and go, 'I don't know what this is' and then move on," he said.
Graboyes said a casino operator should consider putting skilled-base games in high-traffic areas, near bars and restaurants.
"It's so new that no one knows that these games are available," Graboyes said.
Sirianni said the MGM Grand sees "a big opportunity to introduce new" skill-based games to the market with new demographics interacting more with video games, he said, but it will be a gradual process.
"We're not ready to immediately carve out a huge portion of our casino to dedicate to skill-based games," he said. "Traditional gaming is a staple of our business, and we see that as being the case for the long term."
A lot of that is because there aren't very many machines on the market and licensed for casinos yet, he said.
"I'm anxious for other manufacturers to start releasing these games so we can hit these volumes and critical mass," he said.
Graboyes said he understands the hesitancy to jump right into remodeling the entire casino floor, but there is enough product out there to start building out areas on the casino floor to give the games more prominence.
"If I was an operator, I would be looking at how to make these spaces based on the products that are available now. We see people who play our games also play poker, blackjack, roulette and maybe branded slot machines with brands and themes that appeal to younger audiences," Graboyes said.
Mike Stewart, director of design at YWS Design & Architecture, said casinos have a tricky task to appeal to vastly different audiences on the casino floor without alienating any of them.
Contact Nicole Raz at nraz@reviewjournal.com or 702-380-4512. Follow @JournalistNikki on Twitter.