Check out the Plaza's 'reimagined' Main Street entrance
Updated June 8, 2023 - 8:11 pm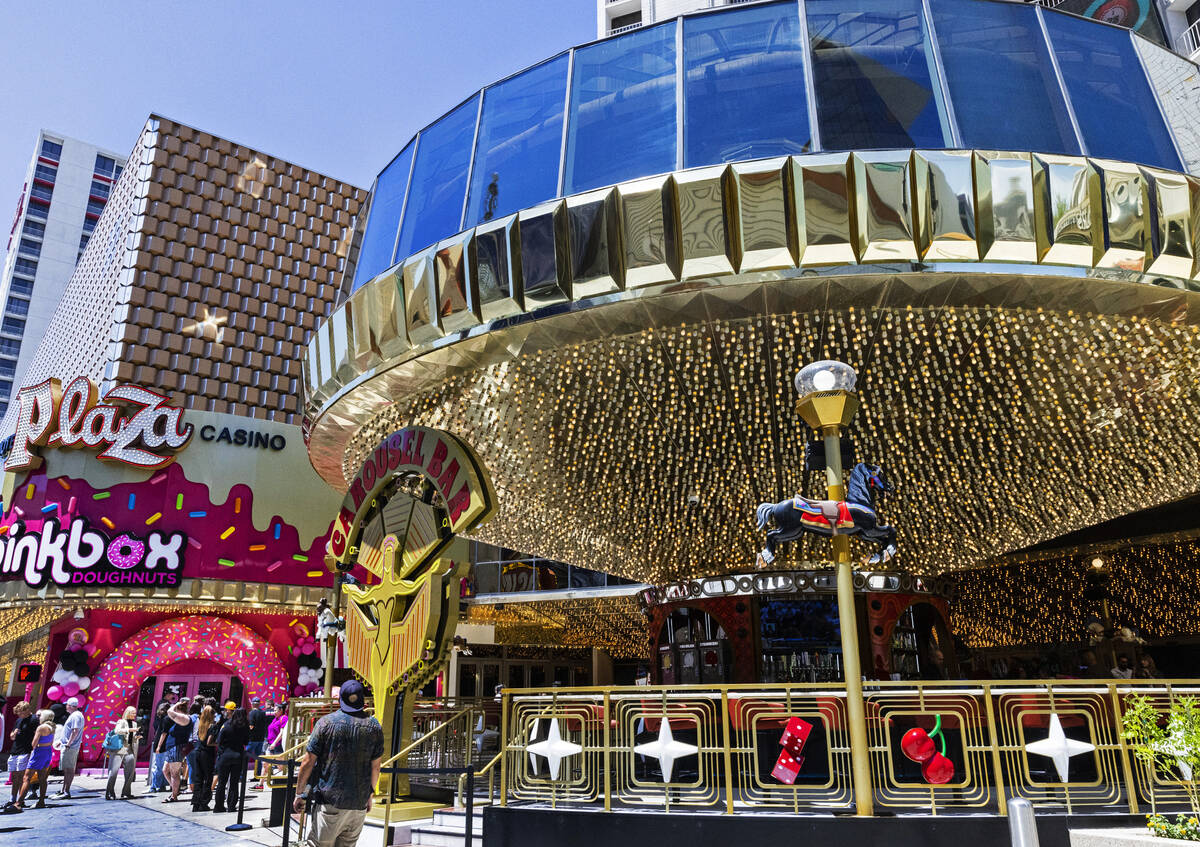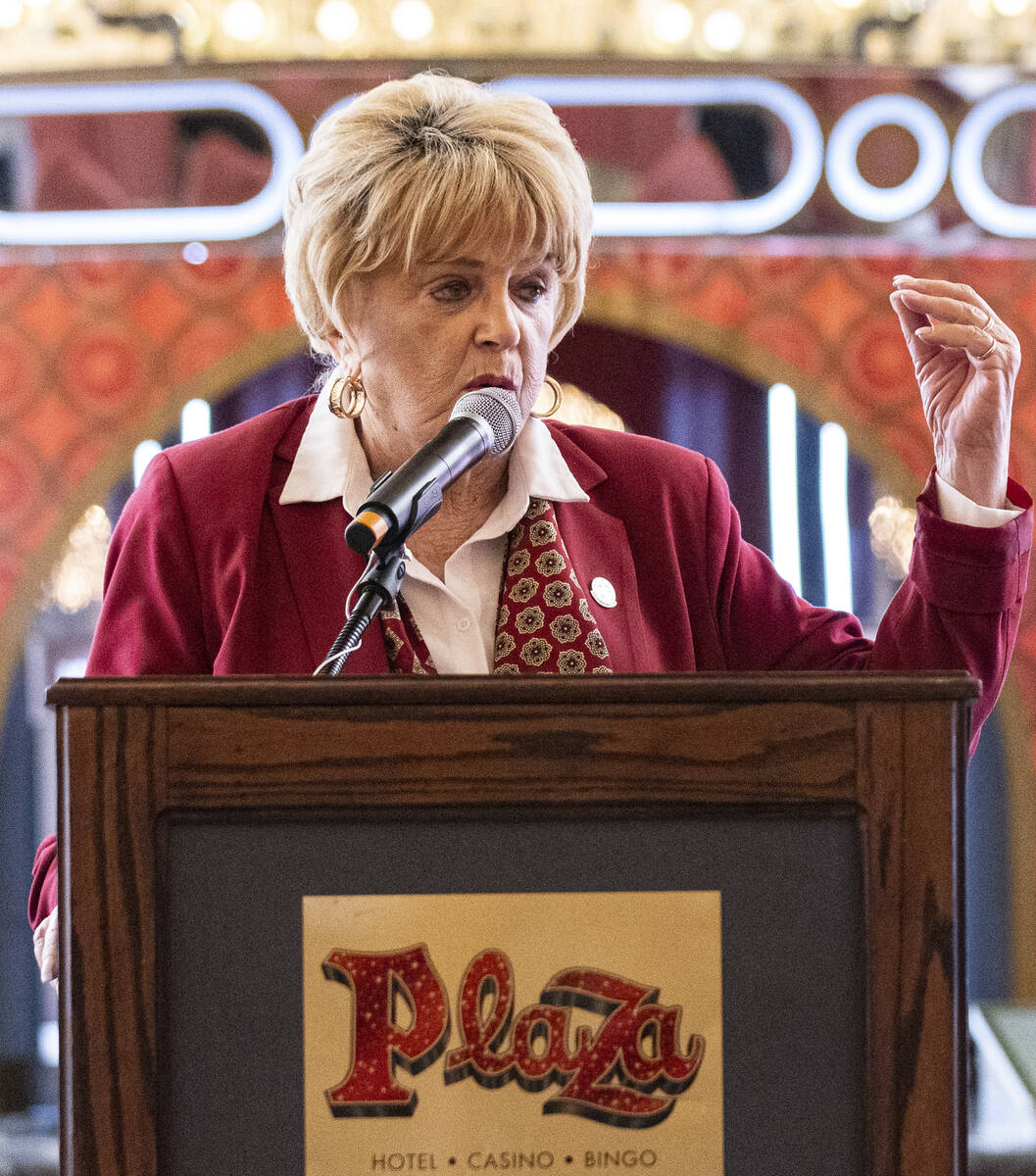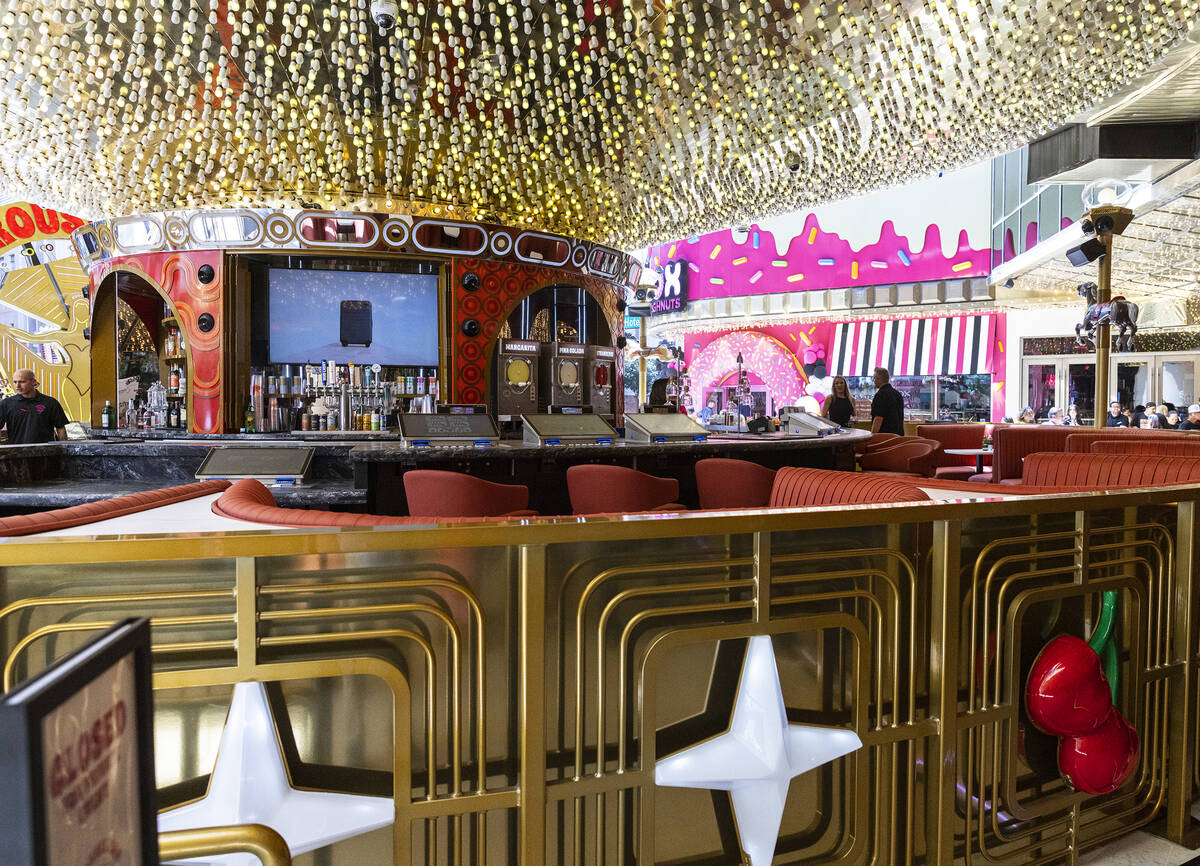 Visitors to downtown Las Vegas have passed construction barriers outside the Plaza hotel and casino for nearly a year — but on Thursday its leaders unveiled the "reimagined" venues behind the walls.
Business and city leaders joined Plaza CEO Jonathan Jossel on Thursday for a ribbon-cutting that introduced the four renovation projects at the historic property in downtown Las Vegas, dubbed the Main Street Reimagination.
The property changed the entrance under its historic dome and lightbulbs to include a new cocktail space, the Carousel Bar; Pinkbox Doughnuts; Brian Christopher Slots at the Plaza, the first smoke-free gaming space in downtown; and an outdoor rooftop patio at Oscar's Steakhouse.
The renovated front entrance still has one constant: the famous lightbulbs.
"As I like to say, no lightbulb was hurt in this project," Jossel joked to the crowd. "We didn't take out a bulb."
The Plaza's new additions play up their photogenic features. The 2,500-square-foot outdoor cocktail patio has carousel horses and larger-than-life showgirl signs, while the nearby Pinkbox Doughnuts has two massive sprinkled donuts for posing.
Pinkbox' Chief Business Officer Michael Crandall said the Plaza shop will be its 10th location and first in downtown Las Vegas. He said it's a fit because the pastry business tries to "capture the essence of Vegas" with unique flavors — something they want to expand to other markets.
"We continue to stretch boundaries with every shop that we open," Crandall said. "In the coming years, we're going to open up a ton of locations all over the country and we're excited that when we do that, we're going to bring a piece of Las Vegas to every customer in every city and state that we move into."
The Brian Christopher Slots, a smoke-free area with its own entrance, has about 70 slot machines and Instagrammable spots featuring the popular casino YouTuber's likeness and sayings. The main casino floor previously had a camera-friendly slot area in his branding.
Christopher said the idea came together after he told the Plaza leadership of his plans to work only with smoke-free casinos in 2023. They collaborated on which games to include in the room and Christopher made the Plaza his "home casino," where he'll have monthly livestreams and other events in the slot area.
"When I told them I was going smoke free as of this year, they really took it upon themselves to make something of it," he said. ""This is like my playground. If I had a 'man cave,' this would be it."
The venues will all officially open to the public on Saturday, though several are already doing business in a soft opening phase.
McKenna Ross is a corps member with Report for America, a national service program that places journalists into local newsrooms. Contact her at mross@reviewjournal.com. Follow @mckenna_ross_ on Twitter.