Circa upping the ante for sportsbooks
Updated October 22, 2020 - 9:30 pm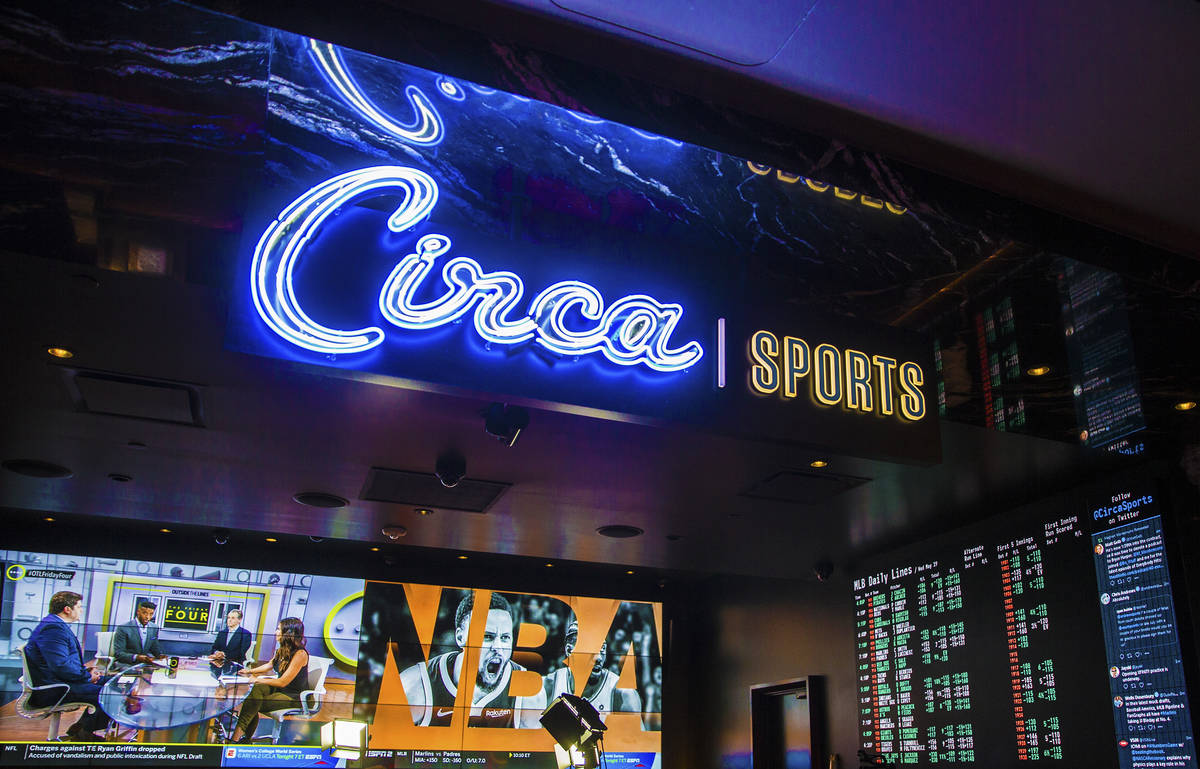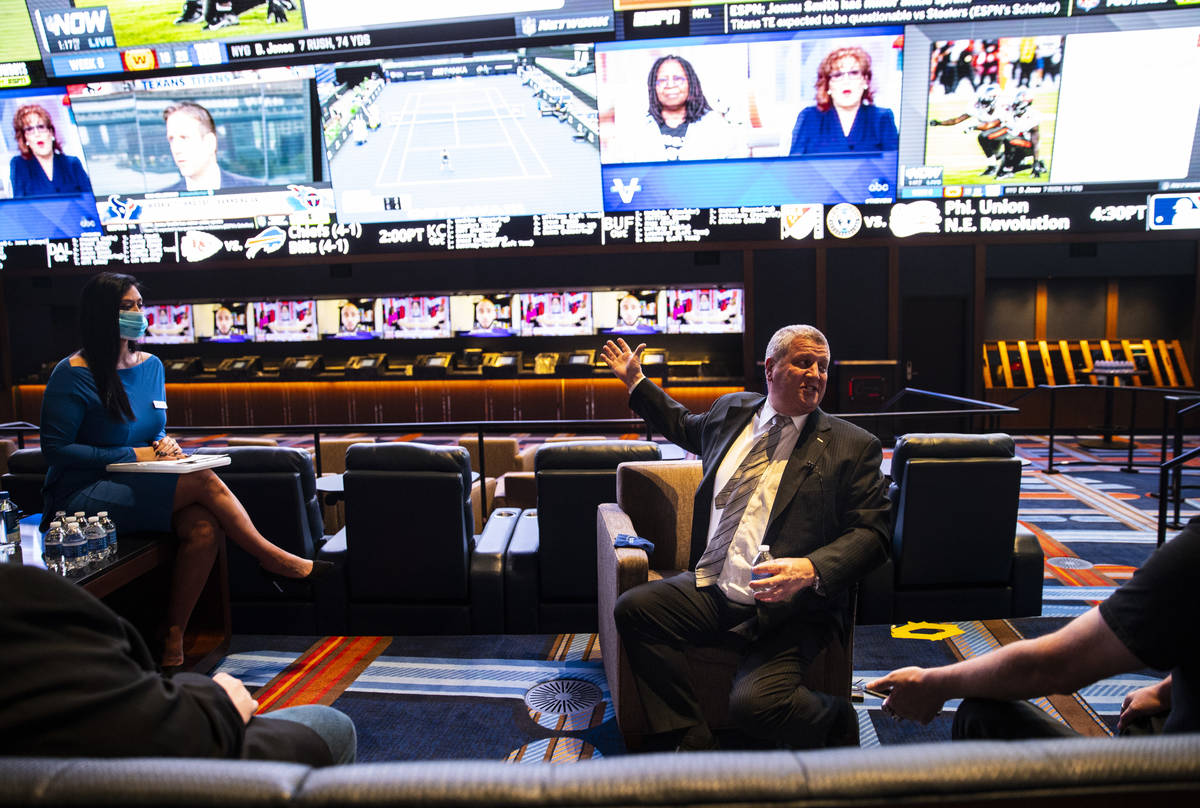 Circa will unveil what it claims to be the world's largest sportsbook on Wednesday.
The stadium-style venue is described as a "one of a kind betting experience" by Circa sportsbook director Matt Metcalf, with single-seat, cushioned chairs in front of a 78-million-pixel, high-definition screen; a dedicated broadcast studio with real-time, in-depth analyses; and enough room for up to 1,000 bettors.
Industry watchers say the glamorous new offering will put pressure on other properties to invest in their sportsbooks, even as the lion's share of many sportsbooks' revenue comes from online bets.
"Things just gain traction in Las Vegas and make their way across the entire Strip," gaming consultant Sara Slane said.
Representatives for Caesars Entertainment Inc., MGM Resorts International, Station Casinos, Wynn Resorts Ltd., Las Vegas Sands Corp. and Boyd Gaming Corp. declined to comment or did not respond to a request for comment on what sort of response, if any, their sportsbooks have to Circa's opening, but public company documents show casino operators have been increasingly focused on their sports betting offerings.
Last month, Caesars Entertainment announced it had agreed to buy sports betting operator William Hill for $3.7 billion. MGM rebranded all of its sportsbooks to fit under the BetMGM brand this year. Wynn Las Vegas renovated its race and sports book in 2017, and its sister property, Encore, debuted its own sportsbook that same year. Station Casinos renovated Palace Station's sportsbook as part of a $192 million modernization project in 2018, adding a bar, raised VIP lounge and special VIP booths. Between August 2018 and the end of 2019, Boyd Gaming Corp. opened seven sportsbooks in four states.
And now, Metcalf says Derek Steven's Circa has created a "mecca" for sports bettors, "where they will be able to experience the electricity that can only be found in a Las Vegas sportsbook."
The investments come as sports betting expands across the U.S. and handle sizes swell. In 2019, the total handle of sportsbooks in Clark County was $299.2 million, more than six times the amount made five years earlier, according to the Nevada Gaming Control Board.
Related: Circa opens next week. Get a first glimpse inside.
Related: A look at Circa's dining options
Westgate Resorts sportsbook Vice President Jay Kornegay said there is no doubt that Circa's opening will affect other retail books in the Las Vegas market.
"Vegas has been known for keeping up with the Joneses over the years," he said. "I think that's going to continue."
Kornegay said Westgate just updated its screens during the shutdown, and more upgrades — which he declined to disclose — are in the pipeline.
"If you look at the history of Las Vegas, we're always new and improved, and everyone's going to continue that, even post-pandemic," he said. "I wouldn't say that happens because of what we see (downtown); I think it's just the way Las Vegas is."
Bigger is 'often better'
While spokespeople for Circa declined to share the sportsbook's square footage, Stevens told the Review-Journal in June that "there's no question" that the property is the largest when measured by cubic feet, which accounts for its height.
Westgate has long held the world's largest sportsbook title, with a 30,000-square-foot venue that can hold 2,019 guests. Kornegay said he sees no problem with a "friendly rivalry" with downtown's newest attraction.
"I've been here for 30 years, and whenever we have a new property or an exciting new venue, everybody in Vegas benefits," he said. "We think we can co-exist (with Circa). We have a good relationship with the team down there, and we welcome them. … As far as the sports world goes, it's still an underserved market."
Kornegay doesn't think every operator will shift sportsbook operations because of Circa's opening, but he does expect Las Vegas sportsbooks to continue to grow and expand.
Chris Grove of gaming consulting firm Eilers & Krejcik said people often come to Las Vegas expecting a larger-than-life experience, and sports bettors are no exception.
"If bigger isn't always better, it's often better," he said.
While sports betting is a notoriously low-margin business — its handle accounted for just 2.7 percent of Nevada's total gaming revenue in 2019 — Slane said high-end venues can attract spending in other areas, such as food and beverage. Extravagant sportsbooks don't make sense in every gaming market, but it's a solid strategy in Las Vegas, where two-thirds of Strip casinos' revenue comes from nongaming amenities, according to data from UNLV.
Metcalf said in an email that Circa's construction "signals to the rest of the world that the demand for the Las Vegas-style sportsbook experience will always be there."
In-person vs. mobile bets
Retail sportsbooks are constantly getting bigger and better, but the majority of many sportsbooks' revenue comes from online bets. That's especially true now, with the pandemic pushing many to stay at home.
Kornegay said occupancy limitations have caused the brick-and-mortar sportsbook's business to drop roughly 30 percent. Even so, August sportsbook numbers were "smashing" old ones, and mobile numbers continued to set records in September.
That has allowed overall numbers to flourish: Kornegay said the September ticket count from retail and mobile was up 27 percent year over year, while the total handle was up 17 percent.
He gave credit to this year's sports schedule, which saw the NBA playoffs and NHL Stanley Cup playoffs overlap for the first time in August, and limited entertainment options.
"It's not like people are traveling often. You can't go to entertainment venues and see a band or concert," Kornegay said. "Sports betting in Nevada, you can do from your couch, and a lot of people are comfortable with it (in a pandemic)."
Before the virus outbreak, Kornegay estimated about 60 percent of the sportsbook's revenue came from mobile. Now, it's closer to 68 percent. He said that growth could continue, even as restrictions on other entertainment options are lifted.
"We introduced sports betting to so many new guests (during the pandemic)," he said. "People that have never done it before, prior to (the outbreak), are having a lot of fun with it."
Many of those users are expected to stick with mobile betting. A 2019 Associated Press report found casino industry leaders expect up to 90 percent of all sports bets to take place on a computer or smartphone within the next 10 years.
Nevertheless, Grove said there is still tremendous value in retail sportsbooks.
"I think the boom of online sports betting is nothing but a positive for retail sportsbooks," he said. "It's worth remembering that online poker and live poker in the U.S. peaked at roughly the same time."
Metcalf believes there's a buzz at retail venues that mobile betting can't replicate.
"There is a certain energy that permeates a big-time sportsbook," he said. "It's the combination of large sums of money being bet, professional and recreational bettors coming together, and the belief that this could be the day that you make the score of a lifetime."
The pressure to create a unique in-person betting experience holds especially true in Nevada, where state laws require bettors to register in person at sportsbooks before they can place a mobile bet, according to Slane. Big, flashy sportsbooks can help ensure those bettors keep coming back.
"(Retail books are) not going away. They're certainly additive, in the right location," Slane said. "They can be extremely lucrative."
And its users are loyal — even during a pandemic. Despite capacity limitations and new pandemic-driven protocols, Kornegay said Westgate has been surprised with the sizable crowds that have shown up since reopening. He, too, said nothing can compare to the unique experience of a Las Vegas retail sportsbook.
"When you have eight or 15 games going on at the same time, there's just no experience like that," he said. "You can't do that at home."
Circa's hotel tower is set to open this year.
The Review-Journal is owned by the family of Las Vegas Sands Corp. Chairman and CEO Sheldon Adelson. Las Vegas Sands operates The Venetian and Palazzo.
Contact Bailey Schulz at bschulz@reviewjournal.com. Follow @bailey_schulz on Twitter.
Top Nevada race books and sportsbooks by square footage
Every year, Nevada casinos report race book and sportsbook square footage to the Nevada Gaming Control board. The counts listed here may differ from how properties count their square footage; the Westgate, for example, considers its sportsbook to be 30,000 square feet, more than twice what's listed by the control board, by including expanded viewing areas from its food court, food court seating and bar seating areas.
South Point: 21,411
Westgate: 14,357
Aliante: 14,200
Red Rock Resort: 14,066
The Venetian: 12,200
Mandalay Bay: 11,693
Sam's Town: 10,500
Sunset Station: 10,247
Aria: 10,156
Texas Station: 9,709
All numbers are from fiscal year 2019. Source: Nevada Gaming Control Board.