Circa's 6-pool swimming area will be open 365 days a year, Derek Stevens says
Updated December 9, 2019 - 5:42 pm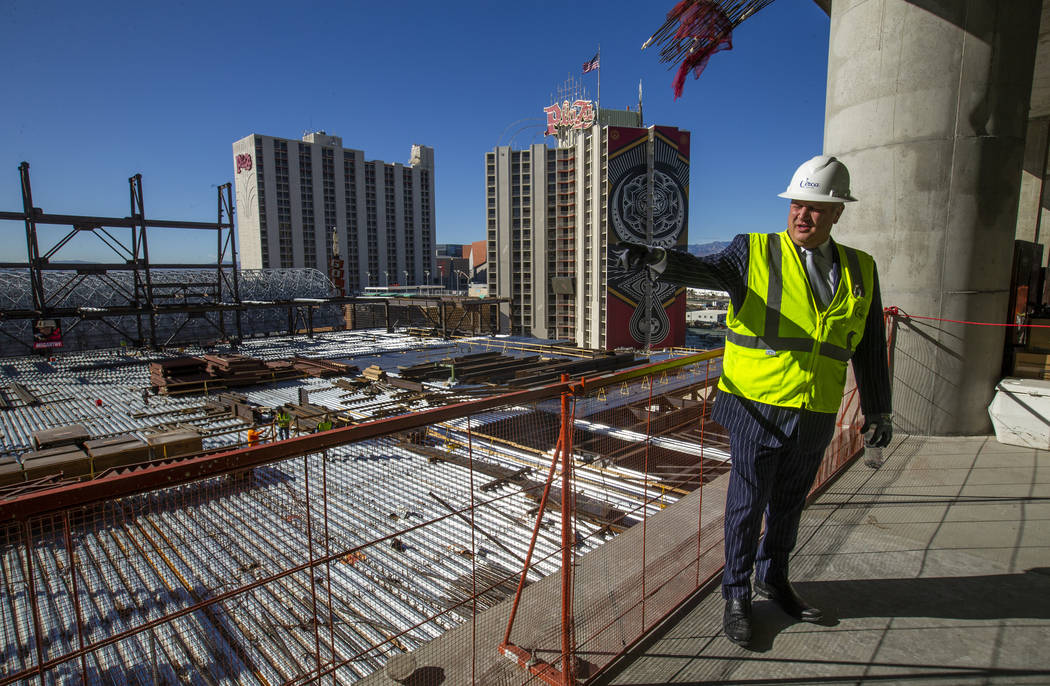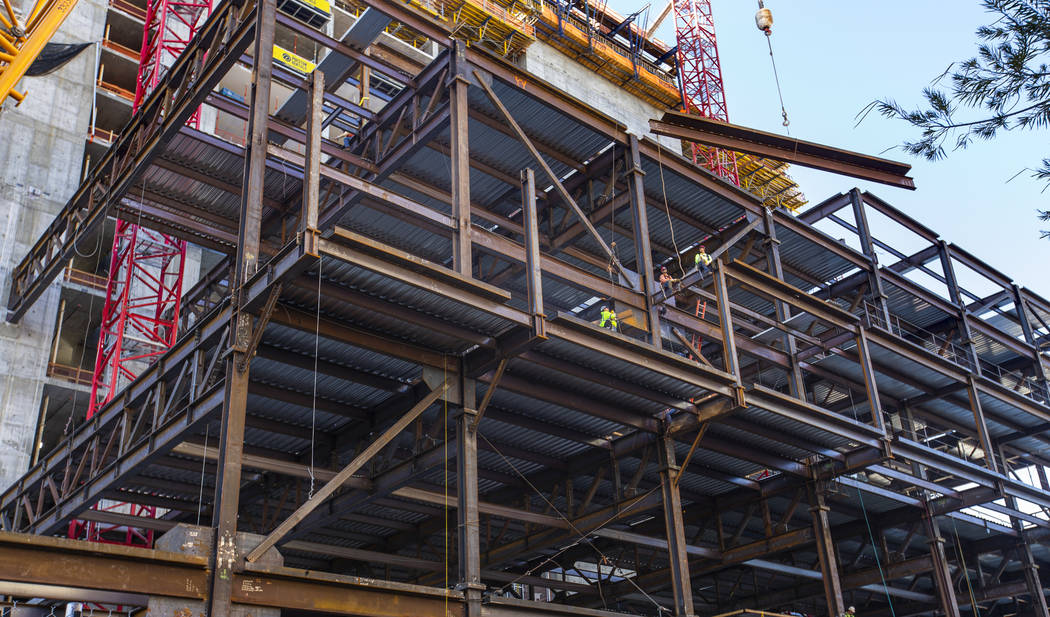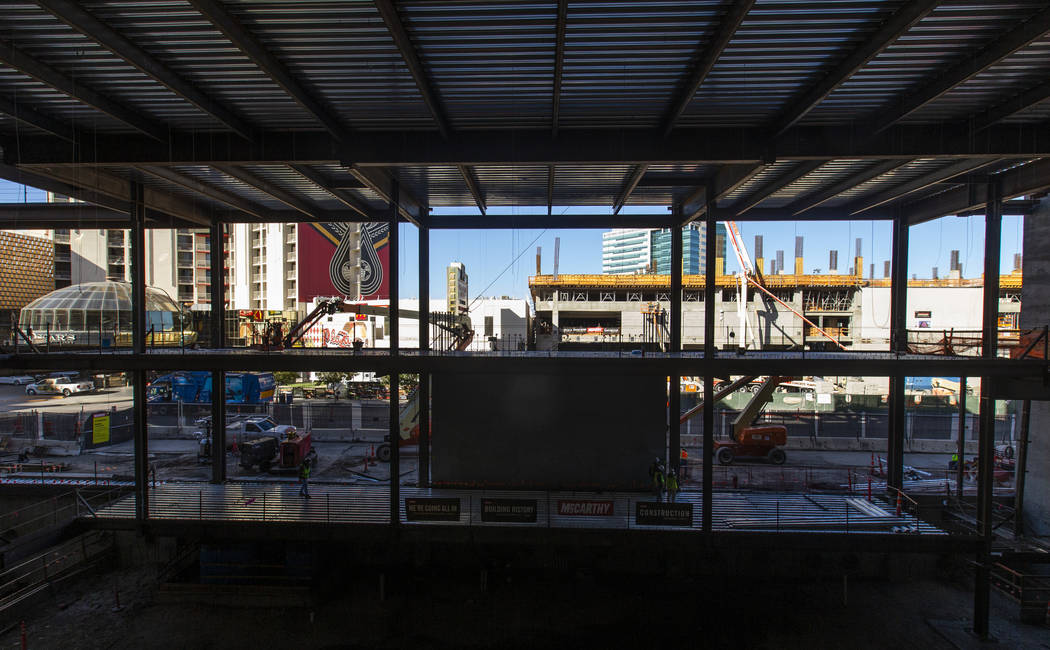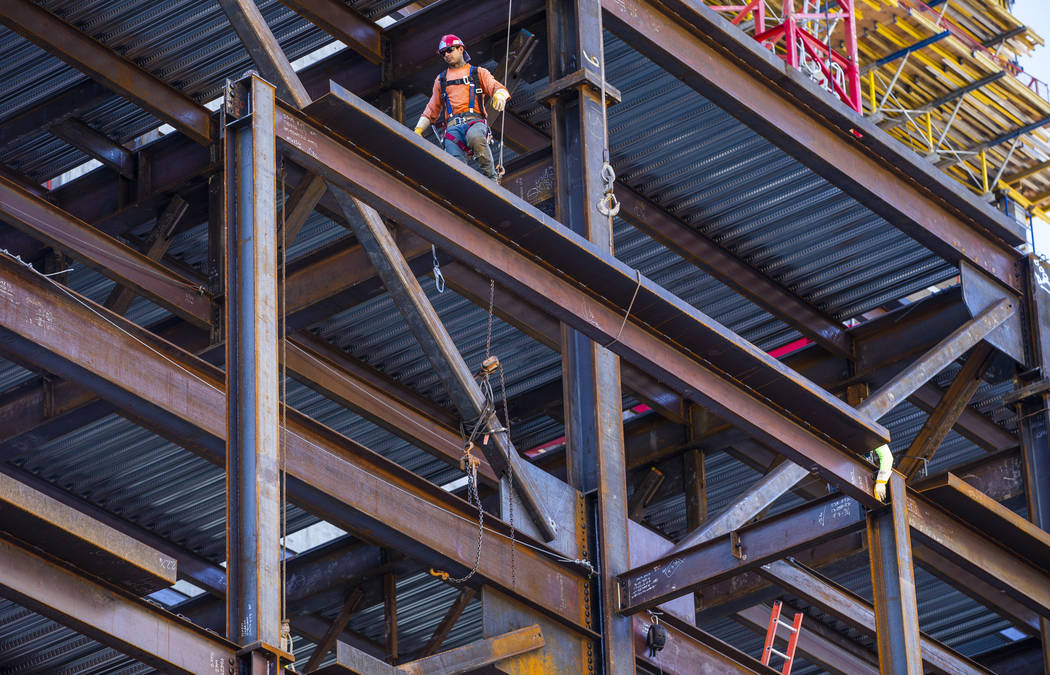 Circa's multitiered six-pool swimming area will be open 365 days a year, CEO and developer Derek Stevens said Monday.
Stevens, who owns downtown's D Las Vegas and the Golden Gate and is building the 777-room Circa at Main and Fremont streets, said Southern Nevada's consistently sunny skies and superheated pool water will be inviting to visitors trying to escape wintry weather.
"These pools are going to be heated in a way similar to what you would have in Vail or Aspen (Colorado), you have an outdoor pool product in the middle of the winter, so we're going to be using these pools year-round," Stevens said.
The pool deck and two other attractions — the property's three-story sportsbook and the separate "Garage Mahal" parking garage and ride-hailing transportation hub — represent signature features Stevens is most proud of in the first resort to be built from the ground up in downtown Las Vegas since 1980.
The rooftop pool amphitheater, which will feature a 134-by-41-foot screen that will show each day's biggest sporting events, is among the key elements of Circa, which reached its construction halfway point and is expected to open in December 2020. Stevens said the project is on time and on budget, although he's never disclosed the cost of the 35-story, 1.25-million-square-foot resort.
Downtown's tallest building
Decked out in in a fluorescent green safety vest over his pinstriped suit, Stevens on Monday also showed off the sportsbook that he says will be the largest in the world and capable of holding 1,000 people, and the "Garage Mahal," a nine-story, 982-space parking facility on the west side of Main Street that will connect to the 458-foot building — downtown's tallest — that has been climbing at a rate of one floor a week since Oct. 3.
The pool deck is on Circa's fifth floor and will have 30 pool cabanas that can accommodate up to 50 people each, 38 day beds and 337 chaise lounges. Stevens said it could accommodate musical acts, but he views it more as a place where people can lounge around and watch sports.
Poolside table games also are planned.
"This is more of an experience. We'll definitely have some music," he said. "But we'll generally be playing key and feature games. I can see us playing audio during 'Monday Night Football' and I can see us playing audio for Golden Knights games. Obviously, the Super Bowl, World Series games, things like that."
But the pool won't be the only place to watch sports. Stevens doesn't talk about square footage when it comes to the sportsbook. But he will brag about pixels.
"I've kind of avoided the square-footage element because this is more of a cubic-foot type of thing," he said, referencing it being three stories. "Obviously, this is going to be a signature feature. You're going to be able to see the sportsbook screen throughout the entire second floor of the casino and the entire first floor of the casino and a screen size of 78 million pixels, which is an all-time record."
The massive high-definition surface will be divisible so that all games can be shown, or it can be turned into one large screen for games like the Super Bowl.
Broadcast facilities
The book also will house the Vegas Stats and Information Network on-site studio offering bettors in-depth analysis from a roster of experts including broadcasters, industry professionals and athletes. There's also space for a "radio row" of visiting broadcasters that want to do their shows overlooking the book and the board of current odds.
The book is right off Main Street, but there won't be access from the street. It will be easily accessible from the Garage Mahal across the street and a bridge over Main.
The parking facility will be the first to include exclusive space for ride-hailing companies.
"It's the very first fully integrated ride-share hub designed into a new hotel-casino resort," Stevens said. "The whole first floor of Garage Mahal is the ride-sharing area. It's going to be very important for Uber, Lyft and everybody else who comes in after them."
The sixth floor is interstitial space, in essence a foundation for the room tower, and the seventh floor, Stevens is saving for future expansion — but it hasn't been determined for what.
Seventh-floor decision
The hotel rooms will start on the eighth floor and Stevens said he'll initially open with 512 rooms and suites. Once the property has been open for awhile, Stevens will make a decision on what to put on that seventh floor — more rooms, more suites or maybe something else.
Branding is already underway for the property since the Circa name is being used for the sportsbooks at the D Las Vegas and Golden Gate.
Stevens expects to make an announcement about what restaurant concepts are planned next month. He said while he hasn't chosen a grand opening date, room sales would begin in April for dates in 2021.
When the property opens, he expects to have 1,000 employees. Currently, about 600 construction workers are on three shifts for the project.
Contact Richard N. Velotta at rvelotta@reviewjournal.com or 702-477-3893. Follow @RickVelotta on Twitter.
Train station?
Could the Garage Mahal transportation hub become something more — like, maybe a train station?
Derek Stevens admitted Monday that he and his team have talked about it.
Stevens acquired the land for the nine-story parking facility from Boyd Gaming for an undisclosed amount with the condition that it be developed within two years of the purchase.
"They always held onto it, waiting for the next property." Stevens said of Boyd. "It really changed the dynamic of what we were building."
The Garage Mahal backs up to the main line of the Union Pacific railroad tracks and Stevens also owns land west of the tracks.
"That property on the other side of the train tracks is where our design headquarters is and we purchased that property on the other side of the train tracks," he said.
Could it someday transition to a train station if passenger service were ever restored? Between 1979 and 1997, Amtrak ran passenger trains with its Desert Wind service between Los Angeles and Salt Lake City with trains stopping at a station at the Plaza.
Stevens smiled when asked if a train station was in the cards.
"You never know what's going to happen."