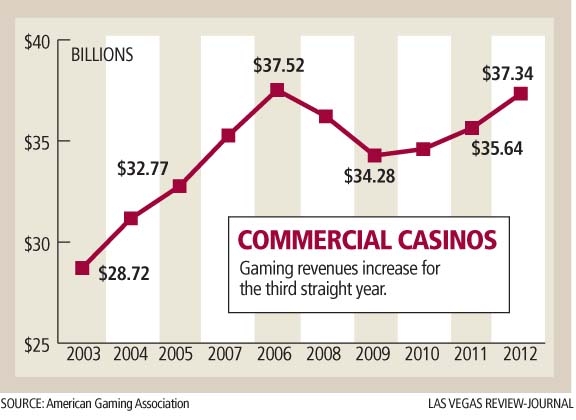 U.S. commercial casinos collected $37.34 billion in gaming revenues in 2012, the second-highest figure ever produced by the nation's gambling states.
Gaming leaders said the figure is a sign that the industry is recovering since the recession zapped consumer spending.
The American Gaming Association, which compiles gaming revenue figures from states with land-based casinos, riverboat casinos and racetrack casinos, on Monday released its annual State of the States report on the casino industry.
In 2012, the casino industry added a 23rd gambling state — Ohio — and saw casinos expand in Maryland, Kansas, Maine and New York. Gaming revenues nationwide grew 4.8 percent over 2011, the third consecutive annual increase after two straight years of declines.
The commercial casino industry reached $37.52 billion in gaming revenues in 2007, the highest total recorded in the 15 years the Washington, D.C.-based lobbying and trade organization has put together the report.
"The state of the industry is good and the prospects are solid," American Gaming Association President Frank Fahrenkopf Jr. said. "It's clear that we have weathered the recession."
Fahrenkopf is retiring at the end of June and is being replaced by Geoff Freeman, a longtime U.S. Travel Association executive.
"Whether we look at jobs, casino visitors served or tax revenues being produced, the bottom line is that there is much to be optimistic about in the commercial casino industry," Fahrenkopf said.
During a question-and-answer session with media members on a conference call, Fahrenkopf shied away from remarks made last week by Wynn Resorts Ltd. Chairman Steve Wynn during discussions with Nevada lawmakers in Carson City.
Wynn, whose company is not a member of the American Gaming Association, warned that the economics of Nevada's gaming industry are "not healthy."
Fahrenkopf said Wynn was referring to potential moves toward "unfair taxation" on the gaming industry by state lawmakers.
"Taxes on the industry, be it increased gaming taxes or nongaming taxes, at a time when recovery is taking place, are not smart things," Fahrenkopf said.
The annual report also looked at visitation figures. More than one-third of all Americans visited a casino in 2012.
Fahrenkopf said the survey of casino customers found that the nongaming amenities, such restaurants, entertainment and retail offers, drew customers into casinos.
Nevada was the No. 1 gaming revenue-producing state with $10.86 billion. Pennsylvania moved into the No. 2 slot ahead of New Jersey with $3.16 billion in gaming revenues. Atlantic City's 12 casinos, the only casino gaming location in New Jersey, reported $3.05 billion in gaming revenues.
New Jersey suffered the largest year-over-year decline of any gambling state, 8 percent, partly a result of lingering effects of the recession and increased gaming competition from Pennsylvania, Delaware, Maryland and other northeast states.
Fahrenkopf, however, did not want to pin Atlantic City's troubles solely on the $2 billion Revel. The year-old Boardwalk hotel-casino is going through a bankruptcy reorganization.
"It's righting itself and added 2,000 jobs to the community," he said.
He also was complimentary to Ohio, which opened three commercial casinos and a racetrack casino in 2012. The state produced $429.83 million in gaming revenues, which disappointed some analysts.
Fahrenkopf said the brand-new market "needed time" to settle into place. Ohio's fourth casino opened in Cincinnati in March, and a racetrack casino opened in April.
"It's way too early to criticize it," he said.
New casinos helped Kansas and Maryland produce triple-digit gaming revenue increases while New York had a 43.1 percent hike.
Of the 22 states that had casinos in 2011, 15 reported revenue increases last year. Eleven states had more than $1 billion in gaming revenues in 2012. West Virginia was the next closest with $948.81 million in gaming revenues.
The gaming revenue increases also fell over into other areas. Gaming taxes paid grew 8.5 percent to $8.6 billion, and the 330,000 workers employed in the casino industry earned $13.2 billion in wages, benefits and tips, a 2.3 percent increase.
Gaming equipment manufacturers reported that direct output grew to $13 billion last year, a 5.7 percent increase for production of new slot machines, tables games, systems and other gambling equipment.
Contact reporter Howard Stutz at hstutz@reviewjournal.com or 702-477-3871. Follow @howardstutz on Twitter.