Court battle over mortgage on JW Marriott delayed a month
January 6, 2012 - 5:06 pm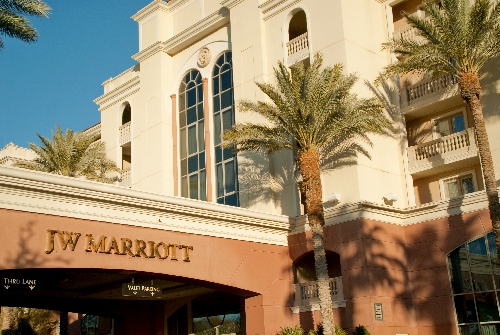 A court battle to control the $160 million mortgage on the JW Marriott Las Vegas in Summerlin — and ultimately perhaps the hotel itself — will remain on hold for as long as a month.
On Wednesday, a trial court judge in New York ruled that a group of investment funds lack legal standing to stop another investor from buying them out, then dissolved a temporary restraining order that had stalled the deal.
However, an appellate judge reinstated the order in an emergency hearing Thursday and gave both sides until Jan. 27 to file briefs. After that, a three-judge panel will rule if the deal can proceed, something attorneys expect to happen in February.
The legal maneuvering comes against an all-to-familiar Las Vegas backdrop of declining revenues and earnings that led the owner, Hotspur Resorts Nevada, to default on the loan in November.
According to Jim Beckham, president of the hospitality consulting firm R&R Global in Las Vegas, the 548-room Marriott is another off-Strip victim of a phenomenon called compression. As thousands of new Strip rooms opened in the past few years and visitor counts declined, rate slashing become a marketing weapon of choice. This compressed the price difference between the Strip and outlying areas, prompting visitors to trade up.
"Any time a customer can get a perceived better room, and in Las Vegas that is the Strip, they are going to book away from the perceived less-desirable, off the Strip," Beckham said. "When the big guys decide to compete on price, it's the smaller properties that suffer."
Further, he noted, the JW Marriott has long touted its proximity to four major golf courses. As the number of rounds played locally has fallen, he said, "There is a high probability that this has also impacted them. They are absorbing a double hit."
However, Sarah Tanford, an assistant professor at the Harrah College of Hotel Administration at the University of Nevada, Las Vegas, discounted the price rivalry because the Strip and outlying hotels target different customers.
Instead, she said, a resort like the JW Marriott appeals more to people doing business in the western valley or visiting friends and family.
"This is just a problem with the general economy," she said. "There is less business travel and less money in the local population to patronize a place like the JW Marriott."
The hotel has a history of problems. It stumbled out of the gate, posting losses from its 1999 opening as the Resort at Summerlin that included the Regent Grand Spa. The next year, its Swiss developers changed the name to the Regent Las Vegas but also put it into Chapter 11 bankruptcy that November, just 16 months after cutting the ribbon. The current ownership bought it in late 2001 and reflagged it the JW Marriott.
According to financial statements contained in a November appraisal by PKF Consulting USA that set the resort's value at $98.4 million, results have deteriorated significantly since 2007 show glimmers of a rebound.
In the three years through 2010, total casino revenues dropped 23 percent to $61.7 million. This year, the budget projects a further decline to $53 million before a recovery takes hold.
The casino, with 1,212 slots and 20 tables, is managed by Cannery Casino Resorts under a lease expiring April 1.
Total nongaming revenues sank from $59.8 million in 2008 to $40.5 million in 2010. The projection for last year shows the resort on track to gross $44.8 million. The hotel's occupancy sank from 74.6 percent in 2007 to 55.8 percent in 2009, before rising to 65.8 percent last year. Average rates have followed a similar pattern, declining from $187.98 in 2007 to $131.62 in 2010, but projected to reach $138.95 last year.
Before mortgage payments, the net operating income of $14.9 million fell to $7.8 million the next year but is supposed to hit $10 million in 2011.
In the New York lawsuit, investors holding most of the debt claim that Galante Holdings, the principals of which were not identified, improperly bought a piece of the loan last February. The investor groups contend in court filings that Galante is now trying to "steal" about $60 million in value from them by purchasing all of the remaining debt at less than face value.
Galante and other defendants counter that the February deal was open and legitimate and came with the option to buy out everyone else.
With a valid appraisal in hand, they say they are going ahead with that option according to the terms of the mortgage contract and were prepared to close in December.
Contact reporter Tim O'Reiley at toreiley@reviewjournal.com or 702-387-5290.