Crews putting final touches on renovation of Planet Hollywood
Updated June 2, 2017 - 8:53 pm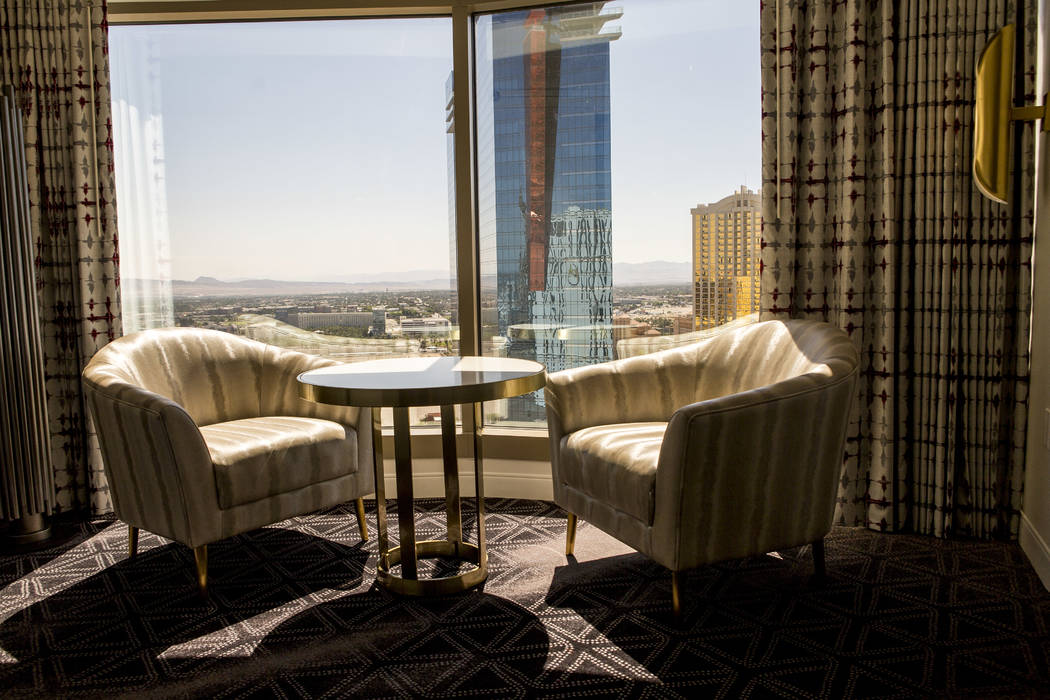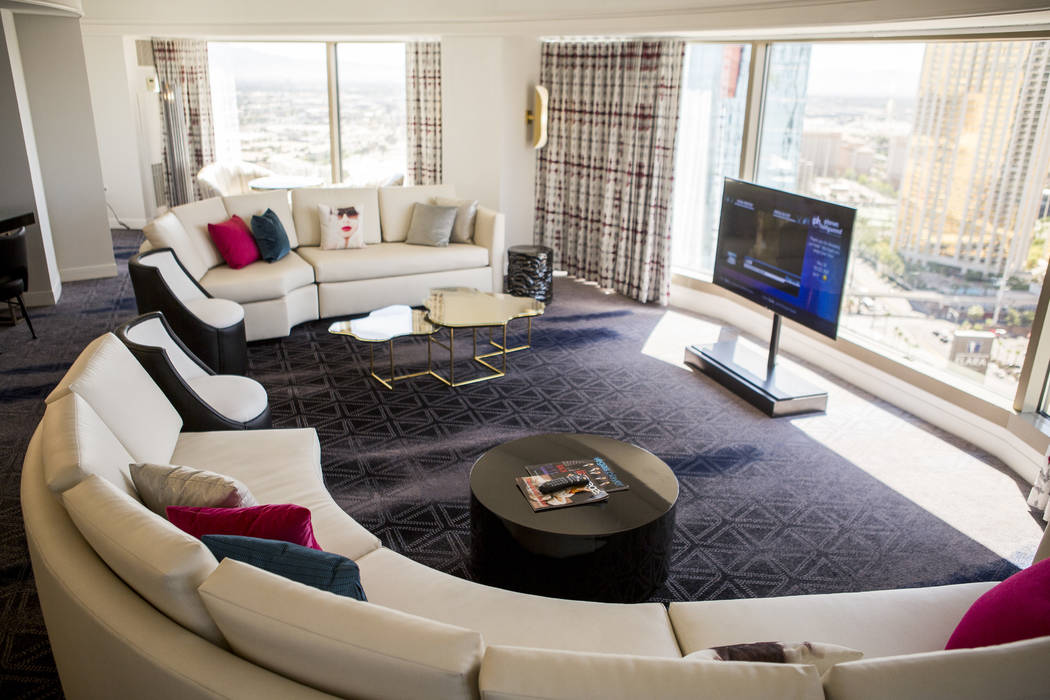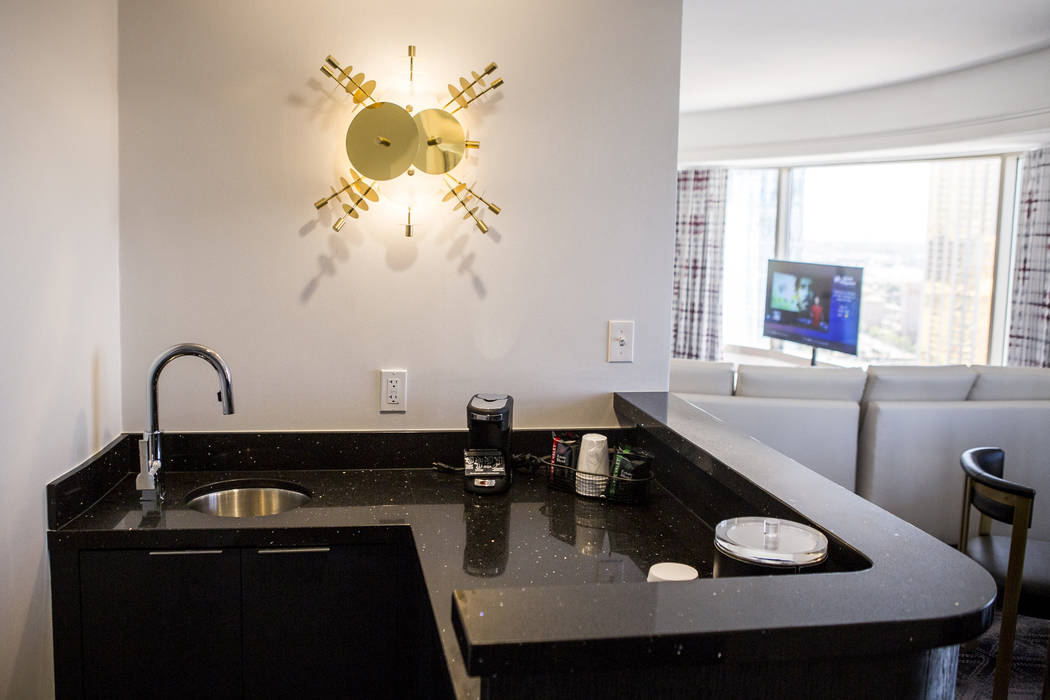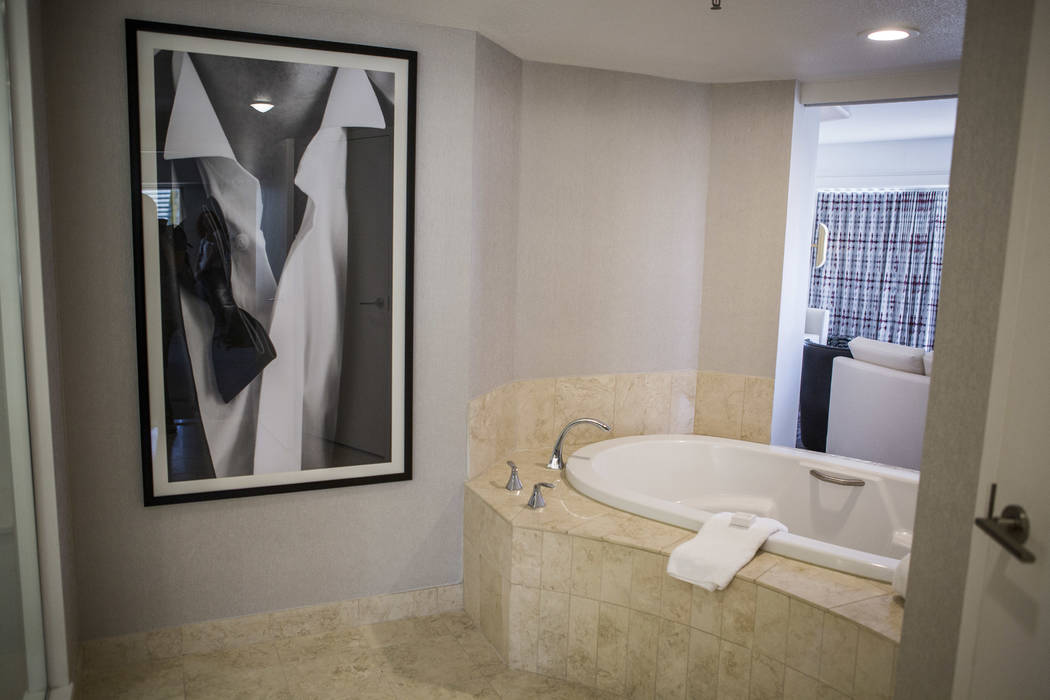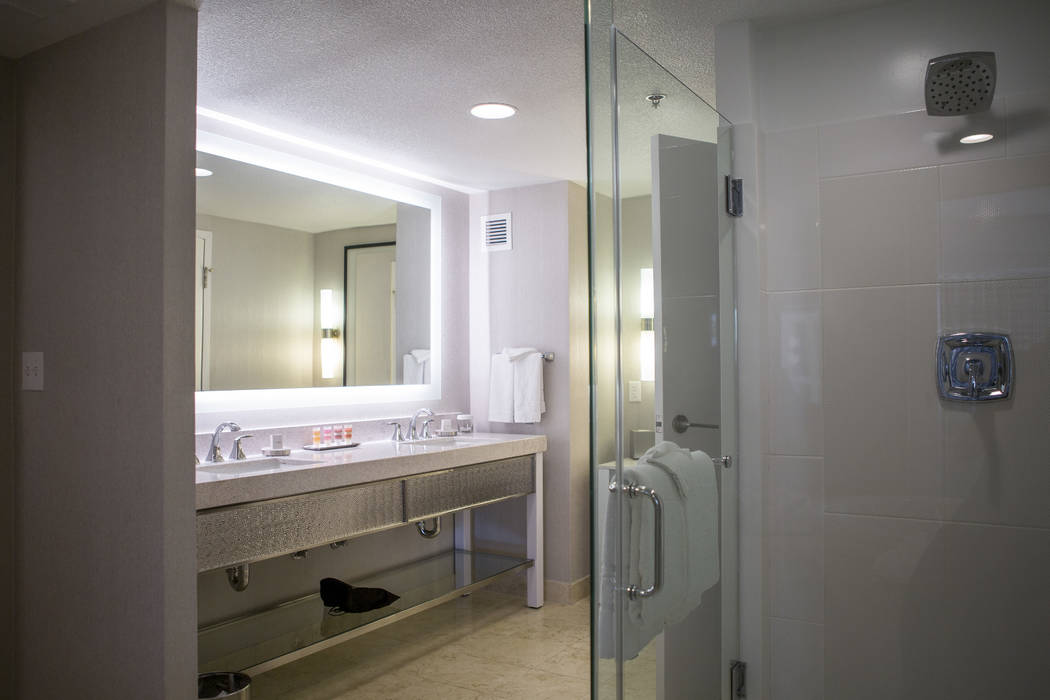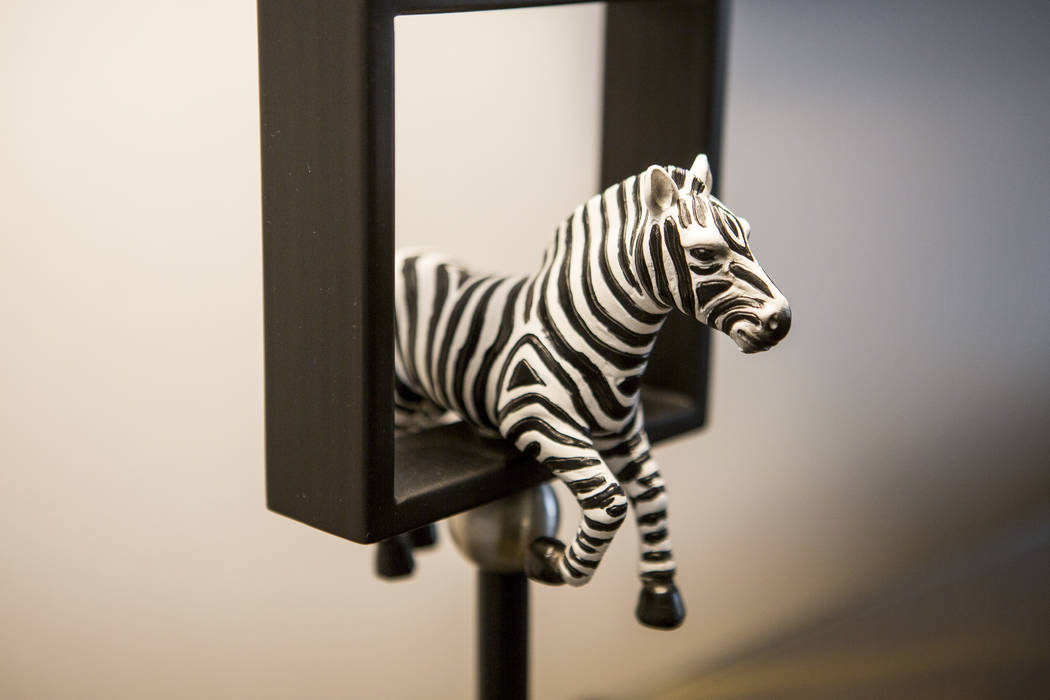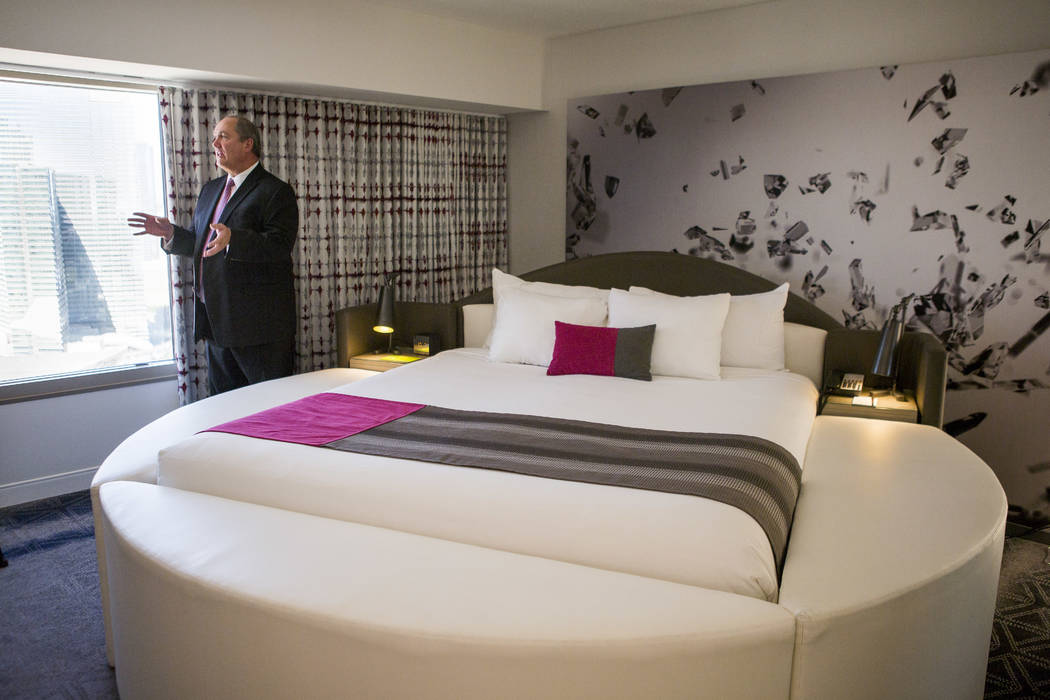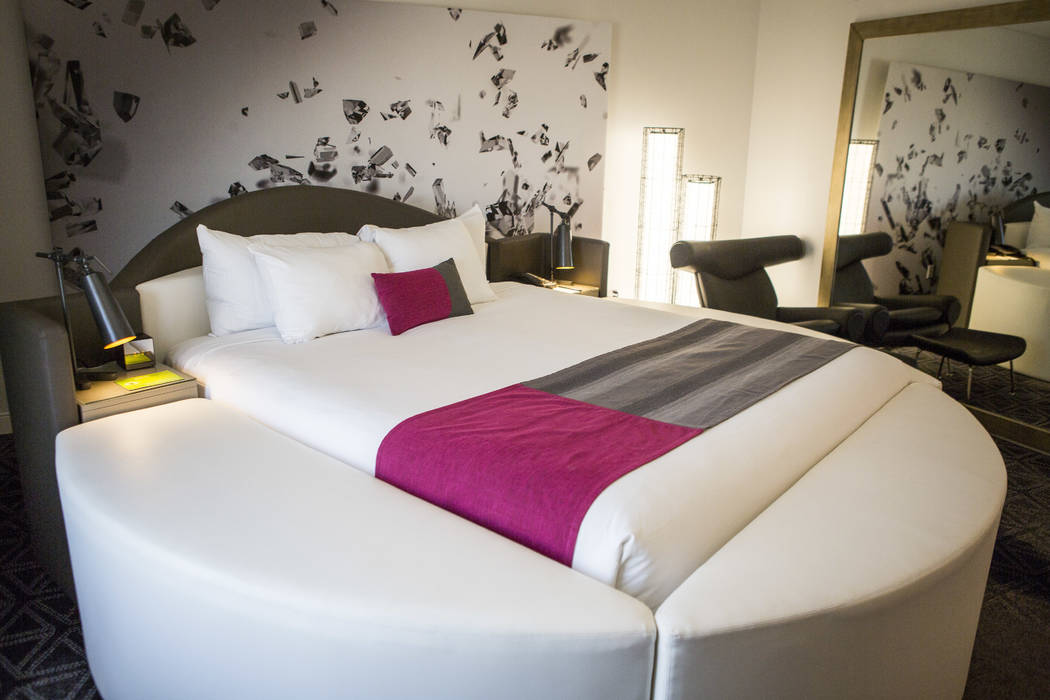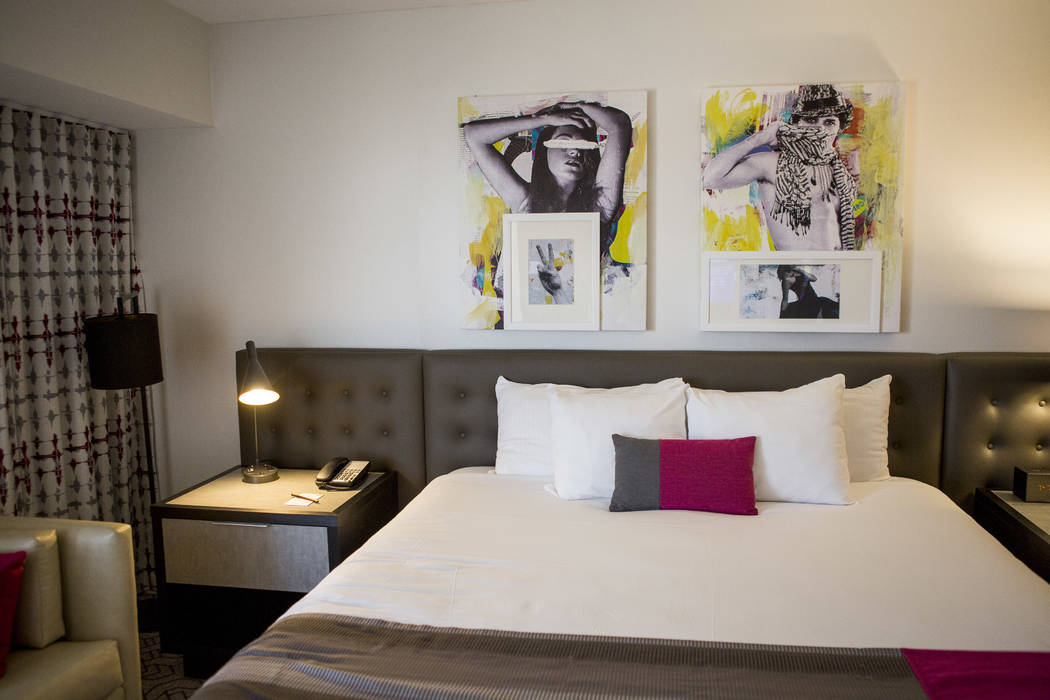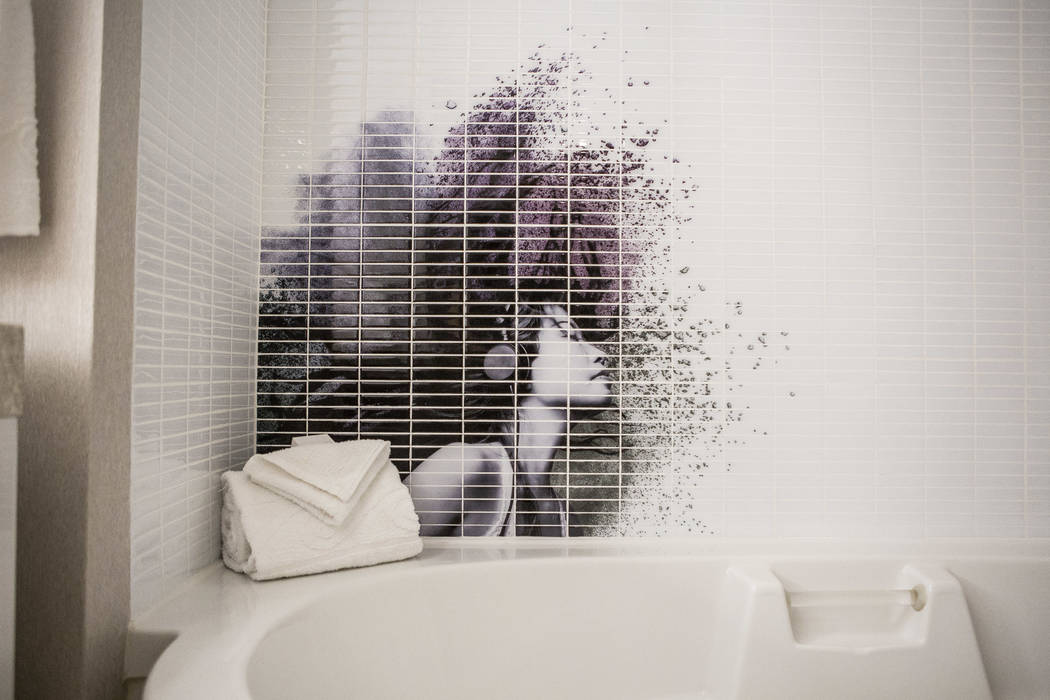 On a late May morning, a dozen construction workers dressed in hard hats and neon vests are hustling back and forth along a section of Planet Hollywood's seventh floor, putting the final touches on its renovation and moving out equipment.
Two floors above, the face-lift of 87 rooms has just finished. Members of the housekeeping team are carrying out a final check to make sure items like hangers and tissue boxes are in place before the rooms are reopened to the public.
By Thursday, rooms on these two floors will be back on the market, ending a nine-month project to renovate all of Planet Hollywood's 2,496 rooms. The completion represents a major milestone for Caesars Entertainment Corp., which is staking its financial future on Las Vegas room upgrades.
The hospitality giant is pumping roughly $350 million this year alone into upgrading 7,000 rooms, mainly in Las Vegas, where the company expects visitation growth to remain strong in the coming years, according to a new report by Oppenheimer. Room upgrades account for more than half of total capital expenditures in 2017.
Planet Hollywood, whose renovation cost likely exceeded $100 million, is the first of Caesars' Las Vegas properties to have all the rooms completely renovated under the new program. Caesars will next tackle the Flamingo and Bally's.
New design
The current Planet Hollywood opened on the Strip as the new Aladdin in August 2000. Ownership soon changed hands and the hotel was re-branded as Planet Hollywood in 2007. Caesars took over the property amid the financial crisis in early 2010. The rooms at the Planet Hollywood were last remodeled in 2006.
The new rooms were designed by Las Vegas-based Bergman Walls &Associates with input from clients, who wanted brighter and "more fun" interiors, said Steve Opdyke, vice president of hotel operations for Planet Hollywood.
"Our previous rooms were really dark and they weren't open enough," he said.
The white bathroom walls in the standard rooms feature portraits made of tile mosaics, including one of a young girl seemingly tossing her head back as she listens to headphones, sending her long hair into the air.
The closet doors are decorated with a full-size, night photo of a city skyline, breaking up the monotony of the white bedroom walls. Two canvasses with digital portraits and splatters of colorful paint adorn the area above the bed.
A black and gold carpet has been replaced with a "washed-out blue jeans" design, according to Opdyke. The panorama rooms feature a round bed, larger paintings and a zebra lamp.
Caesars is installing LED lighting, which consumes 60 percent less energy, in all properties it renovates.
While most of the material is sourced outside of Nevada, Caesars hires local contractors. About 60 percent of the cost of renovating a room is labor, said Opdyke.
Face-lift process
Renovating a floor of rooms takes about seven weeks and "a battalion of workers," said Opdyke, adding work is carried out between 10 a.m. and 6 p.m.
"It is pretty much a complete gut job — we go right down to the concrete. We have taken the bathroom tiles out, replaced the fixtures in the bathroom, all the carpets, as well as all the wall coverings and furniture."
Guests are first checked out of the area scheduled for refurbishment on the same day. Those still staying in the hotel are moved to another room. Then house cleaning enters to remove all the blankets, sheets, pillows, toilet paper rolls and other pertinent items.
Next, a liquidator comes in to remove all the furniture. The liquidator recycles the mattresses and carpets and sells off the remaining items like lamps and televisions.
Once everything is stripped from the room, the construction workers come in with sledge hammers and demolish the bathroom. The plumping is reinstalled, wiring is upgraded, new sheet rock and tiling installed. Then the painting begins.
"There is a lot of painting and wall covering that goes on," says Opdyke. "There is a lot of sprayers in the hallway and guys with masks on making sure it gets done the right way."
Keeping the project under control required a weekly meeting of between 15 and 20 people, including the general contractor, Bergman Walls, the furniture installation team, Caesars design, construction and IT teams, as well as front desk and housekeeping teams.
"There will be a ton of things that pop up" unexpectedly, said Opdyke, a 35-year hotel industry veteran who has overseen more than 10,000 room upgrades in his career. "Making sure that everyone communicates with everyone else" is essential.
$50,000 per room average
Caesars reinvestment program approved in June 2015 foresees upgrading nearly 11,500 rooms in Las Vegas by the middle of next year.
The company spends on average about $50,000 to upgrade rooms, according to Oppenheimer analyst Ian Zaffino, who attended a recent investor presentation by Caesars Chief Executive Officer Mark Frissora.
That would imply more than $100 million for Planet Hollywood's upgrade. The hotel declined to disclose the total investment cost.
Renovated rooms can fetch an additional $20 to $40 a night, according to Frissora. Planet Hollywood could thus generate an extra $16.5 million to $33 million a year in revenue based on the city's current 90 percent occupancy rate.
Caesars' massive Las Vegas renovation program has already helped lift its cash average daily room rate in the city from $119 in 2014 to $140 in 2016, an 18 percent increase that outpaced local competitors.
However that still lags its largest competitor MGM, which generated a room rate of $157.
"We think we have room for upside there," Frissora said referring to Caesars average daily rate.
"The statistics of growth and development over the next three years [in Las Vegas] are fairly staggering" and should "drive continued ADR growth," he added.
Contact Todd Prince at tprince@reviewjournal.com or 702-383-0386. Follow @toddprincetv on Twitter.
Planet Hollywood
— Completed in 2000
— Contains 2,496 Rooms