El Cortez owner: New bars, casino expansion planned to 'spice up' property
Updated May 12, 2023 - 7:40 pm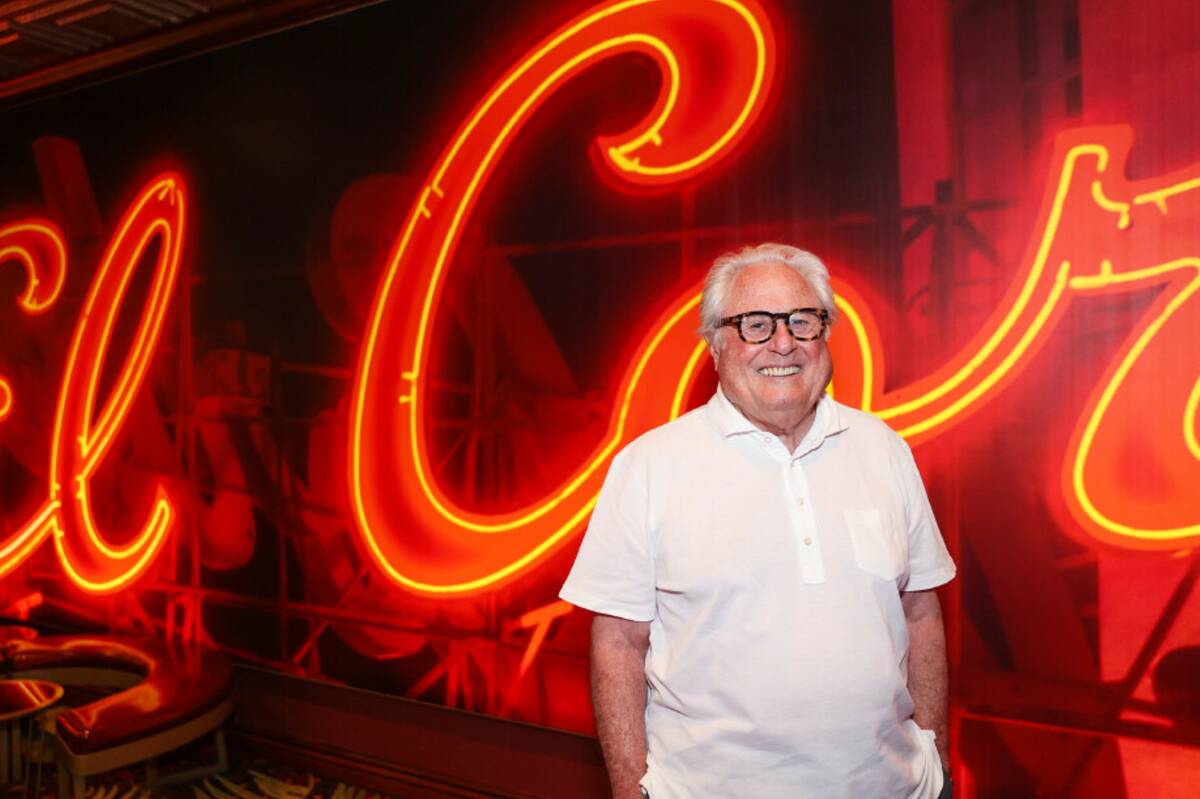 The El Cortez in downtown Las Vegas may be an old casino — in fact, one of the oldest still standing in Southern Nevada — but CEO and Chairman Kenny Epstein is seeing a lot of younger faces at its slot machines, table games and bars.
The gambling hall on Fremont Street has long held a special place in the city's history, since opening its doors in 1941. The property even earned a place on the National Register of Historic Places in 2013.
But recently, the casino's crowd has shifted to a new, younger group of tourists and Epstein views it as a reflection of downtown's changing landscape.
The Review-Journal spoke with Epstein this month to discuss the casino's legacy and how it stays fresh in an evolving city. This interview has been edited for length and clarity.
Review-Journal: El Cortez is such a historic property, but how do you balance historical significance and staying modern?
Epstein: We're time-warping. We're part of history, and we want to keep this place an original gambling house like in 1941. In fact, we're remodeling this place, and we've had a couple architects and designers working on several new bars. They were designer bars and real sleek and beautiful. But my daughters and son said, 'We gotta keep to the original feeling of the El Cortez hotel of 1941.' We don't want to build something that looks like it's outlandish. It doesn't belong. To give you a feeling of what we're trying to do, we want to keep this place authentic.
Tell me more about the new bars. Are there any other projects in the works?
We're putting two new bars in — putting in a new bar where Ike's is now — and we're expanding the casino east. What used to be a big restaurant, we're taking that out and extending the casino into what we call the fiesta room, adding about 5,000 square feet of new floor and (remodeling) 9,000 square feet of existing (casino floor). We're at capacity on weekends and we just don't have enough room to take care of the customers. We're just getting together with our designer right now. They're drawing pictures; we haven't really picked anything out yet. We'll probably start next year.
You've said publicly that the local-to-tourist ratio and age demographic is changing. How did that happen?
I guess we spiced this place up. It used to be 75 percent locals and 25 percent tourists and now we're 50-50, or maybe 60-40. It's more tourists than it is local. We get people from all over the Strip that come down to visit us and the history. The Desert Inn isn't here anymore — a great hotel ripped out. The Dunes, ripped out. The Last Frontier, ripped out. El Rancho Vegas, ripped out. All the hotels that made Las Vegas, they're not here anymore. But what changed was Tony Hsieh. He spent several hundred million dollars buying land down here in downtown Las Vegas. He was like the Pied Piper for young people; they all wanted to be around him. He opened up bars and restaurants and invested heavily, he really revamped downtown. We miss Tony, and it really was a tragedy, what happened to him.
Are there other people or organizations that have championed downtown since Hsieh's 2020 death?
If someone builds a home that's 10 times more (expensive) and puts it next to you, that makes your house worth more, doesn't it? That's what Derek Stevens did by building Circa downtown in our neighborhood. He made it that much better for everybody.
What have you noticed about customers, especially since the pandemic?
It's changed. It's a lot of younger people. They're coming down here and they really love the place. I just think they love downtown. It's sort of like New Orleans' Bourbon Street. People go from bar to bar to bar — it's not like they go to one, they keep on going. It's a party town like Las Vegas is and that's what Fremont Street is.
You and the previous owner, Jack Gaughan, were longtime friends. He sold the property to you in 2008, but tell me about some of your first memories at El Cortez.
The first time I was at El Cortez was just after Jackie bought it. It wasn't doing too well and he saw the future. To tell you the truth, he bought this place from Mr. (John) Houssels for $4.45 million. He was here about five or six months before he went to Mr. Houssels and said, 'You can keep the down payment. I'm giving this back to you.' And Mr. Houssels said, 'I spent a lot of time with El Cortez and I shed many a tear and so will you. I'm not taking it back.' I'm glad he didn't because Jackie made it a success and we're following in his footsteps.
What do you think was unique about how he approached the casino operations?
He was the first to set the fun books (discount coupon booklets). We told Jackie we needed more rooms and he said he had 10,000 rooms: 'All these motels are my customers — I give them these fun books and they eat here and play here.'
What have you done differently than Gaughan?
The only thing we've done differently is we've tried to improve on what he started. We're modernizing the place. We fixed up every room in the hotel. We put in new stacks for the plumbing, new sewer lines, new electricity, new air conditioning — we sort of rebuilt this place, but all on the inside. You don't know what we did, but we did it.
McKenna Ross is a corps member with Report for America, a national service program that places journalists into local newsrooms. Contact her at mross@reviewjournal.com. Follow @mckenna_ross_ on Twitter.