Elaine Wynn opposes Wynn Resorts board member's re-election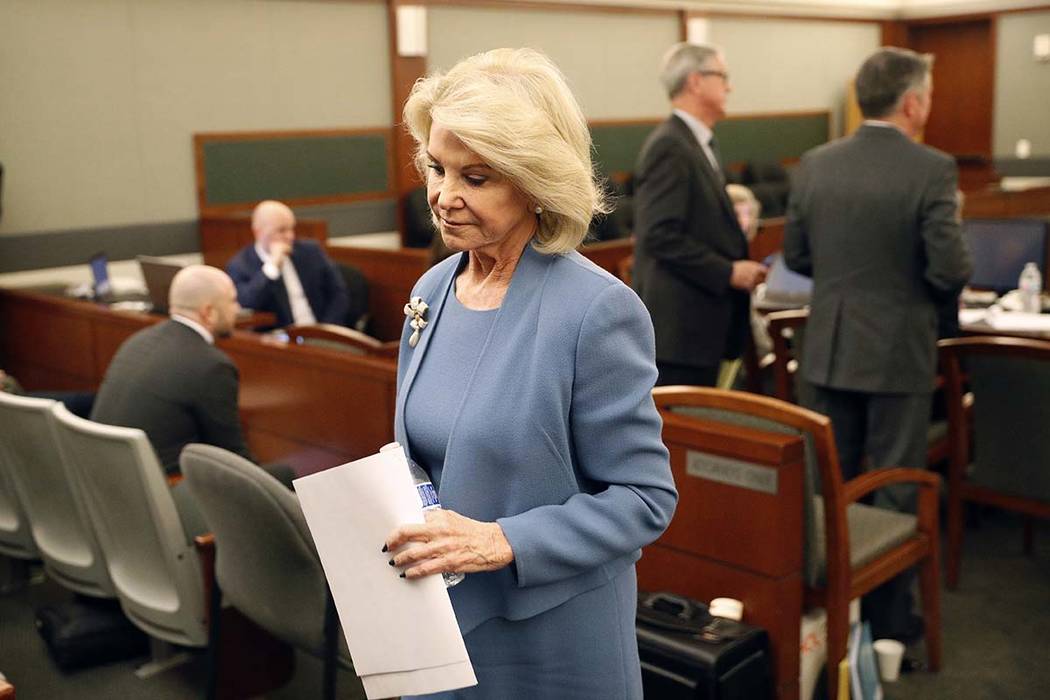 Elaine Wynn, the largest shareholder of Wynn Resorts Ltd., is seeking to kick a friend of her ex-husband Steve Wynn off the company's board of directors.
As she tries to regain influence over the casino operator she helped co-found 16 years ago, the 75-year-old Elaine Wynn urged fellow shareholders Monday to withhold their vote for John Hagenbuch.
Hagenbuch is a six-year board member who serves on on the compensation committee, the audit committee and the special committee that was created to look into sexual harassment allegations that emerged in January against the company's former chairman, Steve Wynn.
The Wynn board has come under scrutiny in the aftermath of the allegations. Recent shareholder lawsuits allege that board members lack independence, either because of their close personal friendship with Steve Wynn or because of their business relationships with the casino founder. Steve Wynn stepped down as chairman Feb. 6 and sold his his entire $2.1 billion stake in Wynn Resorts on March 22.
Hagenbuch is the only one of the three directors up for re-election this year that Elaine Wynn opposes. A private equity investor who shares a Ketchum, Idaho, home near Steve Wynn, Hagenbuch has been on the board since 2012. Betsy Atkins, who joined the board this month, and Patricia Mulroy, who joined in late 2015, are also running for re-election.
"I believe it is time for Hagenbuch's departure from the board so that new board members can seek change, free of holdovers from the past," Elaine Wynn said in a letter to shareholders. "My opposition to Hagenbuch serves as a referendum on all of the longstanding legacy directors, including those who are not up for re-election."
Wynn Resorts directors who fail to receive more than 50 percent of the "for" vote in an uncontested election should step down within five days, according to the the company's charter. Wynn Resorts shareholders will vote during the annual meeting on May 16.
Compliant board
Elaine Wynn said she was "troubled" that the special board committee investigating her husband included his friend Hagenbuch.
"Mr. Hagenbuch's service on the special committee is disconcerting. I find this obvious conflict deeply troubling," she said in her letter.
The 10-member board has been in flux ever since the allegations of misconduct emerged. After Steve Wynn stepped down as chairman in February, director Ray Irani quit in March. Alvin Shoemaker said in March he would retire from the board when his term ends in 2019.
Wynn Resorts announced last week it had expanded the board to eleven members and had hired three female directors to fill the vacant seats. It promised to make additional changes to the board in the coming months. The company reiterated that promise today in a response to Elaine Wynn's letter.
"The Board is working in an orderly fashion to refresh its composition," Wynn Resorts said.
The board still consists of eight members that joined prior to the sexual harassment allegations, including 15-year veterans D. Boone Wayson and Governor Bob Miller.
Elaine's fight
Elaine Wynn helped her then-husband Steve Wynn create the eponymous casino operator in 2002 and served as a director over the years. Elaine and Steve Wynn divorced in 2010, setting the stage for a bitter fight starting in 2012.
The board declined to renominate her in 2015, prompting Elaine Wynn to nominate herself. She lost the vote and filed a lawsuit for breach of contract against her husband and the company.
Though she settled that acrimonious lawsuit last week with both parties, it hasn't stopped her from seeking to regain some influence over company decisions by voting against some board members. Elaine Wynn, who owns 9.2 percent of Wynn Resorts, declined to nominate herself this year.
In her letter Monday, Elaine Wynn said she was "troubled" by the amount the company awards to executives. Matt Maddox, who took over as chief executive officer after Steve Wynn stepped down, was paid $24 million last year. Hagenbuch, as a member of the compensation committee, helps design pay packages.
Maddox's pay "is exorbitant for a first-time, untested pubic company CEO" and "demonstrates that very little has changed," Elaine Wynn said in her letter. "Voting withhold will send a strong signal to the entire compensation committee that the company's executive pay practices much change."
She also reiterated her concern over Maddox's comment to media that the company is open to a sale of Wynn Boston Harbor, the $2.4 billion casino expected to open next year.
The Massachusetts Gaming Commission is investigating Wynn Resorts over the sexual harassment claims and could decide to withdraw its license. Wynn Resorts has invested over $1.1 billion in the project to date.
"I believe that before any decisions about Wynn Boston Harbor are made, a reconstituted board must be in place. In my opinion, [Massachusetts] regulators would look favorably upon a change in a majority of the board."
The Massachusetts Gaming Commission did not immediately respond to a request for comment.
Contact Todd Prince at 702-383-0386 or tprince@reviewjournal.com. Follow @toddprincetv on Twitter.