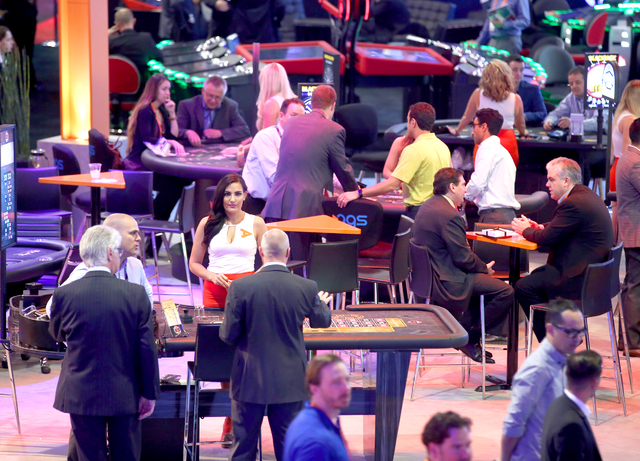 Interblock d.d., a developer of multi-player electronic table games, continues to expand its staff in Las Vegas as sales expand at a double-digit clip, Chief Executive Officer John Connelly said.
Interblock, whose corporate headquarters and manufacturing facilities are located in Slovenia, has nearly tripled Las Vegas staff to 73 since January 2015 as it hires for its several departments including legal, marketing, finance and compliance departments.
Local offices are at 1106 Palms Airport Drive in Las Vegas.
The company plans to have more than 80 employees by summer, Connelly said in an interview this week.
"We have seen sales growth over the past 24 months that we have not seen before," said Connelly. The company's earnings before interest, taxes, depreciation and amortization grew more than 30 percent in 2016. Connelly forecasts similar growth in 2017.
North America is one of the company's fastest growing markets, he said. Interblock received a boost from the opening of several casinos in recent months in New York, where live table games are still banned, as well as the opening of MGM Grand's Level Up, an e-gaming venue at the Strip hotel.
The U.S. now accounts for about 40 percent of Interblock's revenue, while Asia makes up 10 percent to 15 percent. Europe accounts for the rest. Interblock is seeing double-digit growth in Latin America but from a very low base, Connelly said.
Unlike Scientific Games and International Game Technology, Interblock is privately held and is not required to release its profit and loss statement.
Interblock has tripled the number of engineers at its research and development center in Slovenia over the past two years to expand its game offering, Connelly said. The company presented 10 new games at G2E in Las Vegas last year.
Electronic table game penetration in North America is still very low, not exceeding 1 percent, he said. Electronic table games are slightly more prevalent at casinos in Las Vegas at around 2 percent to 3 percent, Connelly added. Interblock estimates it has about 60 percent of the North American market for electronic table games.
Connelly, who joined Interblock after a decade at Bally's, believes casinos will add more electronic table games to their floors as they attract new customers, especially women.
"Depending on region we are seeing approximately 50 percent female play across certain ETG products, such as blackjack and roulette," he said.
He is also upbeat on the outlook for Interblock's new product, Pulse Arena, which has a stadiumlike environment and offers players the opportunity to play various casino games from a single play station. MGM's Level Up features a 40-seat gaming arena by Interblock.
"Electronic table games five years ago are nothing like they are today. Pulse Arena is where this segment is heading."
Contact Todd Prince at tprince@reviewjournal.com or 702-383-0386. Follow @toddprincetv on Twitter.