Ex-Gov. Brian Sandoval takes position with MGM Resorts
Updated January 8, 2019 - 6:58 pm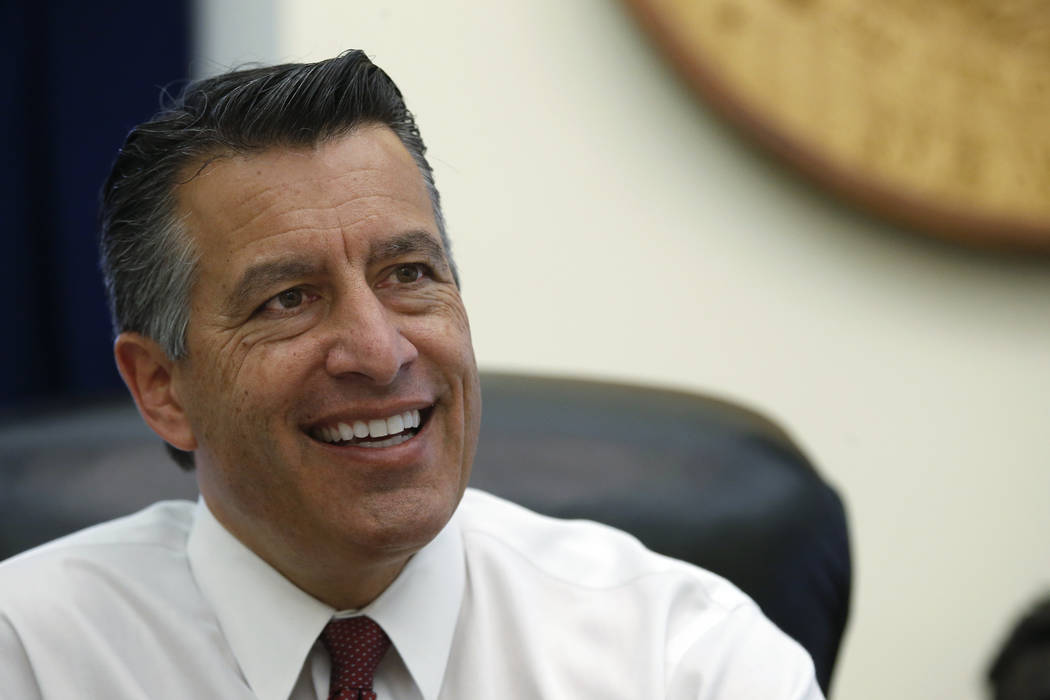 MGM Resorts International upped its game for expansion plans in Japan and sports betting in the United States when it hired former Nevada Gov. Brian Sandoval as its first president of global gaming development, an industry expert said Tuesday.
Sandoval, 55, a Republican who turned the governor's office over to Democrat Steve Sisolak on Monday, will head MGM's global expansion plans in Japan and focus on state public policy efforts around sports gaming.
Bo Bernhard, executive director of UNLV's International Gaming Institute, who accompanied Sandoval on some of his international trade missions abroad, said the former governor has traits that will play well in relations with foreign leaders.
"He's extremely impressive and well prepared and extremely well liked and, of course, those are all things that go over really well with global governments that are contemplating whether to welcome these integrated resorts into their backyards," Bernhard said. "Japan certainly is the big prize in all this."
Licensing in Japan
Japan is in the midst of establishing procedures to award licenses for at least three resorts across the country. MGM is among the companies expected to compete for licensing when the Japanese government completes its rules and procedures for granting a license.
Caesars Entertainment Corp., Wynn Resorts Ltd., and Las Vegas Sands Corp. also are expected to be in contention for licensing.
Bernhard called Sandoval "our most global governor" and said his work in sports betting last year as chair of the Gaming Policy Committee gave him fresh perspectives on issues that arose when the U.S. Supreme Court struck down the Professional and Amateur Sports Protection Act. The court's action essentially legalized sports wagering nationwide.
"In doing that, he was very much looking at emerging technologies and how they intersect with the industry," Bernhard said. "Well, MGM is looking at exactly that. How do we transform the sports-betting experience in ways that fit in with our conventional business models? From a substantive perspective, Sandoval was chairing those meetings where that was exactly what they were looking at."
MGM Resorts International Chairman Jim Murren was delighted with the hire.
"Few leaders are as widely respected, accomplished and knowledgeable as Brian Sandoval, and we couldn't be more excited to have him as part of the MGM family," Murren said in a statement announcing the appointment.
"Governor Sandoval brings an unparalleled level of skill, leadership and experience to the company and we will benefit greatly from his in-depth expertise in gaming, public policy and economic development," Murren said.
Government experience
Sandoval — who prior to being elected governor was a state assemblyman, the youngest chairman of the Nevada Gaming Commission, attorney general and a federal court judge — said he's looking forward to his new role.
"As I return to the private sector for the first time in over 20 years, finding the right professional opportunity to best suit my experience as a former legislator, gaming regulator, attorney general, federal judge and governor was important to me," Sandoval said in a statement. "MGM Resorts is a global leader in gaming and entertainment, and I look forward to joining the MGM team led by Jim Murren, someone who I greatly respect. Jim has formed critical relationships in Japan and in sports, and I look forward to building upon this strong foundation."
MGM also announced that MGM Resorts President Bill Hornbuckle will now lead global casino marketing by leveraging company assets to drive revenue growth, including MGM's efforts in Macau.
The Review-Journal is owned by the family of Las Vegas Sands Corp. Chairman and CEO Sheldon Adelson.
Contact Richard N. Velotta at rvelotta@reviewjournal.com or 702-477-3893. Follow @RickVelotta on Twitter.