Experience plays at World Series of Poker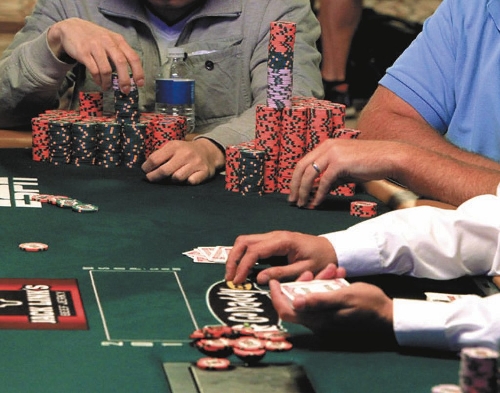 Sometimes experience does matter at the poker table.
The World Series of Poker's Main Event trudged Monday toward determining the final table of nine players who will return to the Rio in November to compete for their share of a $64.5 million prize pool.
Two of the game's more decorated players had differing experiences during the day.
Of the 57 players who took their seats in the Rio's Amazon poker room for Day 7 of the $10,000 buy-in No Limit Hold'em World Championship, Erick Lindgren and John Esposito were the best known
They weren't the richest.
Lindgren and Esposito each own a World Series of Poker individual event championship bracelet. Combined, they had 51 in-the-money finishes at the tournament, not counting this year's Main Event.
However, their combined stacks of a little more than 3 million in tournament chips at the start of play Monday wasn't even a quarter of the stack held by Day 7 chip leader Ryan Lenaghan.
Instead, the two Las Vegas residents relied on other means. They had differing results.
For Lindgren, who won the World Series of Poker's Player of the Year honors in 2008, experience wasn't enough. He was eliminated in 43rd place, taking home $196,174.
Esposito, who began tournament poker playing when many of his competitors still were learning how to count to 10, was able to nurse his stack of chips back to health and remain in contention.
"I've got some chips, so hopefully I can command some respect at this table," said Esposito, 57, during an afternoon break. He was playing at the ESPN feature table, sitting opposite Lenaghan, a New Orleans resident who continued to push his lead throughout the day.
"This is the chip leader's first Main Event," Esposito said. "Hopefully I have time to size everybody up."
Esposito has cashed in at the Main Event six times going back to 1989, when he won $12,500 for finishing in 11th place. That was the year the filed was 178 players total. In 1995 and 1996, Esposito finished 12th and 19th, playing in fields of 273 and 295 players.
This year's No Limit Hold'em World Championship drew 6,865 players, third highest in tournament history.
"Times have changed," Esposito said. "The players commit a lot more chips (before the) flop than we used to back in the day. You have to adjust."
The tournament was expected to see the field reduced to a maximum of 18 players by the end of play Monday. The players still in competition would play into early Wednesday morning to determine the final table of nine.
Esposito, who won his bracelet in 1999, was the second-oldest player in the competition Monday. He also was looking for his single-largest tournament poker payday, topping the $219,225 he earned when he won his only World Series of Poker individual event bracelet in 1999.
Esposito began the day with 1 million in chips, but built his stack to more than 3 million by the afternoon.
"Experience should help," he said.
It did for much of the day. Esposito was bounced shortly after the dinner break when his pair of jacks lost to Lenaghan's pair of aces, finishing 32nd. He collected $242,636 for his effort, his largest tournament payday ever.
Experience didn't help Lindgren. His career World Series of Poker earnings of $2.1 million, however, never included money from the Main Event until Monday. The farthest run he previously had was to Day 3.
On a break before being eliminated, Lindgren said he was "channeling" some of the best short-stacked players.
"My game became pretty simple," said Lindgren, who won his bracelet and $374,505 in a Mixed Limit/No Limit Hold'em event in 2008, when he cashed in five events on his way to Player of the Year honors.
"I've been here before, and I know how to deal with it," he said.
Among the group that entered play on Day 7 was Erika Moutinho of Easton, Conn., the only woman left in the tournament.
The entire starting field included 242 female players, 3.5 percent of the total.
Moutinho hoped to match Barbara Enright's 1995 feat of being the only woman to reach the final table (she finished fifth). The best finishes in recent years by a woman were Maria Ho, 38th in 2007, Tiffany Michelle, 17th in 2008 and Leo Margets, 27th in 2009.
Chip leader Lenaghan is originally from Mobile, Ala., and has been playing professional poker for roughly two years. A graduate of Louisiana State University, Lenaghan has recorded about $120,000 in World Series of Poker earnings, most of which has taken place on the tournament's Circuit events.
Among the players eliminated Sunday during Day 6 of the competition was Joseph Cheong of La Mirada, Calif., who was the last remaining member of the 2010 Main Event final table still in the running for a seat in 2011.
Cheong, who finished third a year ago and won $4.3 million, came in 114th position this year, collecting $54,851.
Other notable players eliminated Sunday were former Player of the Year Allen Cunningham, who went out in 69th and won $108,412 and Jean-Robert Bellande of Las Vegas, who became known to the nonpoker following public when he was a contestant on the reality television series "Survivor." Bellande placed 65th and also won $108,412.
The nine participants returning to the Rio in November will play for the top prize of $8.7 million. Eight of the nine will win in excess of $1 million.
Contact reporter Howard Stutz at hstutz@review
journal.com or 702-477-3871. Follow @howardstutz on Twitter.
World Series of Poker
$10,000 buy-in No Limit Hold'em World Championship Payout Structure
Final Table
1st place — $8,711,956
2nd place — $5,430,928
3rd place — $4,019,635
4th place — $3,011,611
5th place — $2,268,909
6th place — $1,720,396
7th place — $1,313,851
8th place — $1,009,910
9th place — $782,115
Others
10th-12th place: $607,882
13th-15th place: $478,174
16th-18th place: $378,796
19th-27th place: $302,005
Note: Payouts began with 693rd place: $19,359
Total number of entries: 6,865
Total prize pool: $64,531,000
Source: World Series of Poker