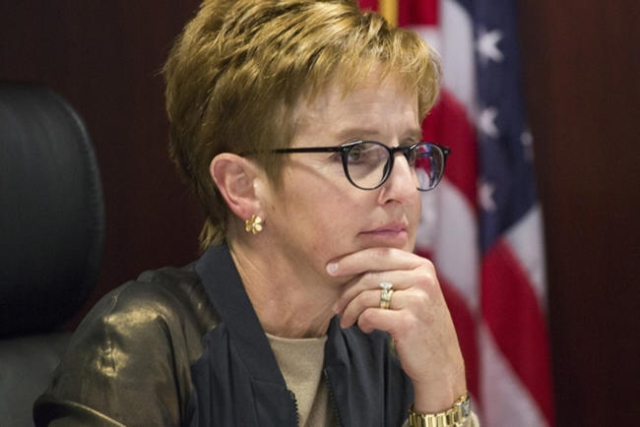 The Sparks Nugget, overseen for 16 years by Nevada Gaming Commission member Michonne Ascuaga, is under a federal investigation for failing to implement effective anti-money laundering programs at the casino, according to court papers filed Wednesday in relation to the property's 2013 sale.
The property was still under investigation by the U.S. Department of Treasury's Financial Crimes Enforcement Network (FinCen) when Gov. Brian Sandoval appointed Ascuaga to the commission last April.
"The governor did not know she was under investigation when he appointed her," said Sandoval spokeswoman Mari St. Martin.
Reno attorney John Echeverria, who represents Sparks Nugget, Inc. in the lawsuit, said Ascuaga is not named in a pending draft consent order between FinCen and the casino.
"Michonne is not named as an individual. That is not how FinCen works," said Echeverria, adding that he is bound by confidentiality concerning the order. "It doesn't make her the target of an investigation. More often than not, it's the entity."
Ascuaga in a written statement late Thursday also said the FinCen investigation was aimed at her company, not at her.
"As a result, I did not feel it necessary to inform the governor," she wrote. "Let me be direct — I did not purposely hold back information from the governor. I did disclose to Governor Sandoval and his staff the pending contractual litigation related to the sale involving the Nugget. I had no reason to believe that the litigation associated with the sale of the Nugget would become so hostile that it would result in this kind of personal smear."
FinCen Public Affairs Chief Steve Hudak said in an email that "FinCEN has no comment and will neither confirm nor deny any investigation's existence."
Ascuaga was CEO of the Northern Nevada property built by her father, gaming pioneer John Ascuaga, from 1997 until its sale in 2013.
According court filings, FinCen has been investigating the resort's anti-money laundering programs and suspicious activity report practices since 2010. FinCen is looking into reports the casino lacked a compliance culture and operated with insufficient internal controls during Ascuaga's tenure.
The FinCen investigation taints Ascuaga, whose term ends April 2017, because the commission has to approve any discipline of Nevada gaming licensees who violate federal anti-money laundering laws. Last September she voted to approve a $1.5 million fine paid by Caesars Entertainment Corp., for money-laundering violations at Caesars Palace.
Wolfhound Holdings, a private investment group, bought the Sparks Nugget in 2013 and leased it to Global Gaming & Hospitality, a management company. Sparks Nugget Inc., and members of the Ascuaga family, filed a breach of purchase agreement lawsuit in Washoe County District Court a year ago, naming Wolfhound and other financial partners.
In the filing, Wolfhound said it was unaware of the FinCen probe until the eve of the sale closing in December 2013.
"The sellers informed Wolfhound about the FinCen investigation at the last minute, and completely downplayed its significance," lawyers for Wolfhound wrote in the filing.
Echeverria said it is "flat untrue" that Wolfhound learned of the FinCen investigation after the deal was done.
Wolfhound attorneys wrote that they believe the FinCen investigation is on-going and "no determination has been made."
According to the filing, the Nugget's operators were accused of violating the Bank Secrecy Act's program, reporting, and record-keeping requirements; failed to establish and implement an effective anti-money laundering program; failed to report suspicious activity; failed to secure and retain required records; and lacked adequate internal controls regarding, among other things, monitoring and reporting suspicious activity and record-keeping requirements.
"Despite all of these allegations regarding the Nugget's quality of management during the Sellers' operation and ownership, Michonne Ascuaga … who served as CEO of the Nugget for 16 years until the sale … to Wolfhound, during which time she described her management style as "hands on" and inspired by her father's legacy, was appointed to Nevada Gaming Commission," Wolfhound's attorneys noted in their filing.
The FinCen investigation does not involve the Nugget's operations under Global Gaming & Hospitality. Las Vegas-based Marnell Gaming on Wednesday announced it is buying the Sparks Nugget for an undisclosed price.
— Contact reporter Howard Stutz at hstutz@reviewjournal.com or 702-477-3871. Follow @howardstutz on Twitter.