Fertitta brothers investing $500M in media, entertainment, and technology sectors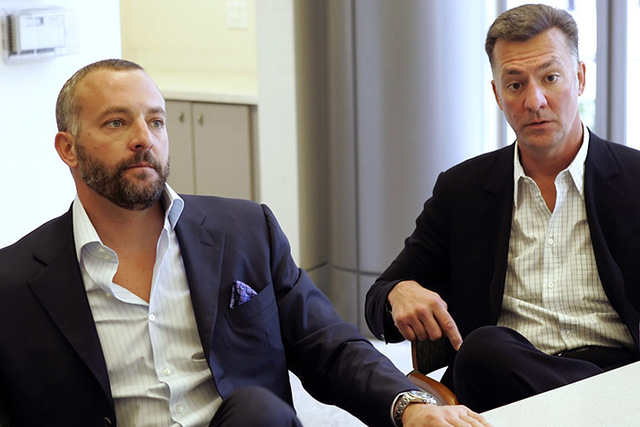 Frank and Lorenzo Fertitta are getting back into the ring.
The former owners of Ultimate Fighting Championship are now preparing to battle other investors in the search for the next Facebooks, Googles and Ubers of the world.
Flush with cash from the sale of UFC and the initial public offering of their Red Rock Resorts in 2016, the brothers are putting half a billion into a fund that will invest in fast-growing companies in the media, entertainment and technology sectors.
"This is a new platform that has $500 million of capital and that will pursue new opportunities for the family portfolio,'' said Fertitta Capital Chief Executive Officer Nakisa Bidarian from the fund's office in Los Angeles. Bidarian previously worked as chief financial officer of UFC.
Fertitta Capital, which was founded in February, now has a team of eight that will rise to 10 by the end of the year, Bidarian said.
The fund will primarily invest between $20 million and $75 million into U.S.-focused growth companies, taking either minority or majority stakes, Bidarian said. The fund will have between 10 and 12 investments in this size-range when fully invested. Exceptions can be made, he said.
"If we have deep conviction in a company, nothing would stop us from committing $150-$200 million," Bidarian said. Fertitta Capital would also co-invest with other private equity funds in companies that need larger amounts of capital to grow, he said.
Fertitta Capital will also invest a small portion of the money into 10 to 12 startups. Those investments would range between $1 million and $20 million, Bidarian said.
Private equity funds are traditionally long-term investments with typical holding periods ranging between three and five years, though these periods tend to increase during economic downturns. Funds exit their private equity investments generally through initial public offerings or sales to larger competitors.
Fertitta Capital will face tough competition from the hundreds of deep-pocket private investment firms scouting the U.S. for the next big thing in technology, media and entertainment.
Bidarian says that Fertitta Capital has the advantage of not having a strict, finite time frame for holding investments. The Fertittas held their stake in UFC for 15 years and sold a stake in their casino business nine years after taking it private.
Lorenzo and members of Fertitta Capital would be willing to take board seats on the companies they invest in "if it adds value,'' Bidarian said. "We won't be dictating how they should be running their business."
Bidarian said his team has looked at about 80 private companies since starting and has spent "a meaningful amount of time" on three to five of those companies. It has yet to make an investment.
The melting of the boundaries between technology, media and entertainment companies was the focus of the National Association of Broadcasters trade show held in Las Vegas last month.
Facebook and Google, once considered technology companies, own leading video platforms and are expanding into the world of entertainment with virtual reality.
Contact Todd Prince at tprince@reviewjournal.com or 702-383-0386. Follow @toddprincetv on Twitter.