Final table at World Series of Poker will have an international flavor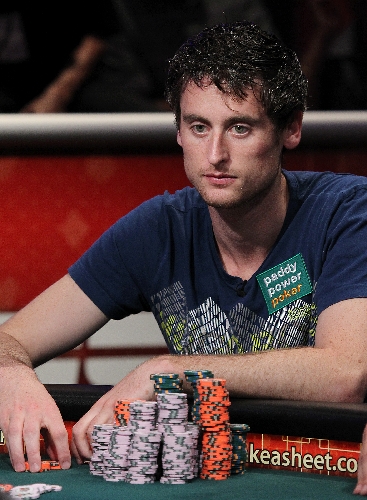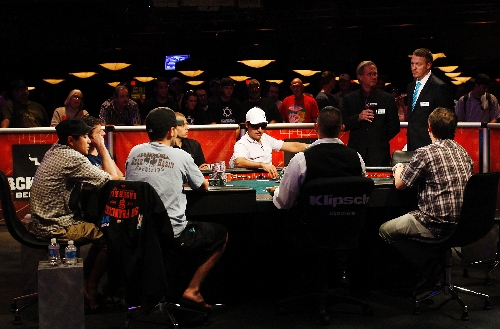 The World Series of Poker's Main Event is an international geography quiz.
With a field of players that resembles a mini United Nations, it's a good thing World Series of Poker media director Nolan Dalla once worked in the U.S. State Department.
A majority of seats at the final table of nine players in the $10,000 buy-in No Limit Hold'em World Championship will belong to international-based players following Tuesday's action at the Rio.
The final table make-up includes players from seven countries:
1st – Martin Staszko, 35, of the Czech Republic, 40.175 million in chips
2nd – Eoghan O'Dea, 26, of Ireland, 33.925 million in chips
3rd – Matt Giannetti, 26, of Las Vegas, 24.75 million in chips
4th – Phil Collins, 26, of Las Vegas, 23.775 million in chips
5th – Ben Lamb, 26, of Tulsa, Okla., and Las Vegas, 20.875 million in chips
6h – Badih Bounahra, 49, of Belize and Ft. Lauderdale, Fla., 19.7 million in chips
7th – Pius Heinz, 22, of Germany, 22, 16.425 million in chips
8th – Anton Makiievskyi, 21, from Ukraine, 13.925 million in chips
9th – Samuel Holden, 22, of the United Kingdom, 12.375 million in chips
John Hewitt of Costa Rica, the 10th and last player eliminated from the Main Event on Tuesday night, earned $607,882.
The final nine players return to the Rio Nov. 5-7 to play for a piece of the $64.5 million in total prize money. The winner of the Main Event takes home more than $8.7 million. Eight of the nine players at the final table will collect in excess of $1 million.
Lamb, 26, who was third in the chip count, has experienced one of the best runs ever by a player at the tournament.
He won his first-ever gold bracelet in the $10,000 buy-in Pot Limit Omaha Championship on June 24, earning $814,436. He also has second-, eighth- and 12th-place finishes and has won more than $1.3 million total.
In 2009, Lamb placed 14th in the Main Event, just missing out on the final table.
Collins, 26, who was backed by boisterous supporters, held on to fifth in the chip count while Giannetti was ninth.
The chip leader was Ireland's Eoghan O'Dea, 26.
O'Dea was second in chips starting Tuesday. Going into the Main Event, O'Dea had five total in-the-money finishes at the World Series of Poker, including three this year. His total winnings were $37,516.
Martin Staszko, 35, of the Czech Republic, is in second. Staszko is trying to become the first Czech player to make the Main Event final table .
John Hewitt of Costa Rica, 23, is in fourth place. Hewitt is originally from Chicago but moved to Costa Rica to play Internet poker.
Anton Makiievskyi, a 21-year-old gambler from Ukraine, who had been the chip leader much of the day, was sixth in the competition. Makiievskyi, making his first trip to the World Series of Poker, began the day as the chip leader.
Pius Heinz of Germany, 22, playing in his first World Series of Poker Main Event, was seventh. In June, Heinz finished seventh in a $1,500 entry no limit hold'em event.
Samuel Holden, 22, of the United Kingdom, also playing in his first World Series of Poker, was in eighth place.
Belize resident Badih Bounahra, 49, who also lives in Fort Lauderdale, Fla., was in 10th.
Henderson's Bryan Devonshire was eliminated in 12th place and collected $607,882 following the dinner break, leaving three Americans in the running.
The elimination of Scott Schwalich of West Carrollton, Ohio, who went out of the competition in 14th place, left just four American players in the field, assuring the international dominance at the final table.
Khoa Nguyen of Canada was eliminated in 11th place and earned $607,882, and South African Konstantinos Mamaliadis went out of the tournament in 13th place, earning $478,174.
International players have done well in recent tournaments.
Jonathan Duhamel of Canada won the 2010 World Series of Poker championship.
Other international winners of the tournament have included Peter Eastgate of Denmark (2008), Joe Hachem of Australia (2005), Carlos Motensen of Spain (2001), Noel Furlong of Ireland (1999), and Mansour Matloubi of England (1999).
When the Main Event championship began with 6,865 players, there were 85 nations represented.
Non-U.S. players made up 33 percent of the total field, resulting in the largest percentage of international-based players in World Series of Poker history.
The Americans dropped quickly as the play began Tuesday with 22 players still competing.
The first three eliminations were Americans before Russian Aleksandr Mozhnyakov went out in 19th place.
After Azusa, Calif., gambler Kenny Shih went home in 18th place, the tournament lost its southern feel when two quick eliminations brought the field down to 15 players.
Sam Barnhart of Little Rock, Ark., the current World Series of Poker's National Circuit Champion, went out in 17th place.
Meanwhile, Ryan Lenaghan of New Orleans, who held the chip lead several times earlier in the tournament, busted out a few minutes later in 16th place.
Both players earned their biggest poker paydays ever, $378,796.
Barnhart, a 50-year-old software specialist and data analyst, won the Circuit championship in May, earning $300,000. While pleased that he finished 17th in the Main Event's field of 6,865 players, he still had visions of reaching the final table.
"That's where everyone wants to be," he said. "It was a real tough field."
Winning the Circuit title might have hurt Barnhart, who went right from that tournament into the World Series of Poker. He cashed in one event, but the long stretches of poker might have taken its toll on Barnhart.
"The Circuit, fortunately, is only a three-day event," Barnhart said. "In this one, fatigue was a big issue. You play day in and day out for several days, and I think that's what happened to me. I was exhausted."
It was still a good year for Barnhart in poker, who also won a Circuit event in Tunica, Miss., that was worth $148,612.
"I'm really pleased. I've had a good year," he said.
Lenaghan, 26, was disappointed not reach the final table, but figures he will feel better in a few days.
"I'm happy to have a nice score money wise," he said. "I always wanted to win and make the last nine. Maybe another time."
Lenaghan is originally from Mobile, Ala., and has been playing professional poker for roughly two years. A graduate of Louisiana State University, Lenaghan had recorded about $120,000 in World Series of Poker earnings, most of which took place on the tournament's Circuit events.
He led the field on Day 6, but felt his luck might have run out.
"I just couldn't catch any cards the last few days," he said. "Nothing really went my way. I had a bad couple of days."
Contact reporter Howard Stutz at hstutz@reviewjournal.com or 702-477-3871. Follow @howardstutz on Twitter.
World Series of Poker blog
Postings by Howard Stutz